Nikon Introduces MONARCH 7i VR Laser Rangefinder
October 6, 2016
Nikon Vision Co., Ltd., a subsidiary of Nikon Corporation, is pleased to announce the release of the Nikon Laser Rangefinder MONARCH 7i VR — an innovative model that employs an optical Vibration Reduction function.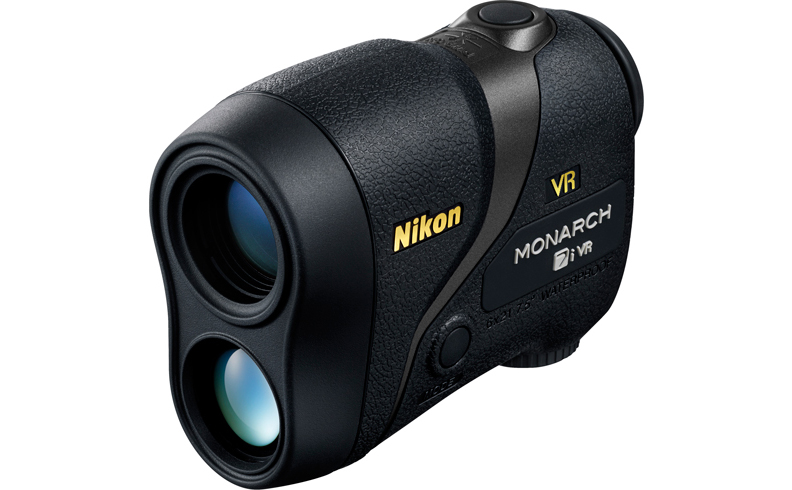 The MONARCH 7i VR effectively reduces vibrations in the viewfinder caused by hand movement (sinusoidal waves) to approx. 1/5 or less, based on Nikon's measurement standards. The image in the viewfinder remains stable, so it is easy to aim at the target at the centre of the target mark. This technology remarkably improves the ease of measuring, and reduces errors such as measuring to a different subject or the laser beam not hitting the subject. Besides, long distance measurement is achieved up to 915 metres (1,000 yards) in actual distance. This feature and VR (Vibration Reduction) technology realise easier measurement to even farther and smaller subjects.
The MONARCH 7i VR Laser Rangefinder also offers a multilayer-coated 6x high-quality finder for bright, clear images. The ID Technology displays horizontal distance. Nikon's original data-processing algorithm — HYPER READ — is employed for displaying the measured distance with a fast and stable response regardless of how far you are from the target. It shows you the result in approx. 0.5 second, ensuring stress-free measurement.
The MONARCH 7i VR Laser Rangefinder has a compact and easy-to-grip body, yet delivers high optical and measurement performance. It allows shooters to obtain the distance to the target accurately and rapidly, which is beneficial in critical situations where every second counts, and is the ideal companion for outdoor applications. What's more, with its waterproof and fogproof structure (battery chamber is rainproof), the MONARCH 7i VR Laser Rangefinder is ready for use in sudden rain.
Key Features
Measurement range: 7.3-915m/8-1,000 yd.
VR (Vibration Reduction) function is employed for reducing the vibration caused by hand movement.
The effect of Vibration Reduction: Vibrations of the image in the viewfinder caused by hand movement (sinusoidal waves) are reduced to approx. 1/5 or less.*1

*1

Based on Nikon's measurement standards.

Easy operation as the VR (Vibration Reduction) function is always activated when the Laser Rangefinder is ON
Horizontal Distance display mode and Actual Distance display mode can be easily switched — ID (incline/decline) Technology
Target Priority Switch System for measuring overlapping subjects:
First Target Priority mode displays the distance of the closest subject — useful when measuring the distance to a subject in front of an overlapping background.
Distant Target Priority mode displays that of the farthest subject — useful in wooded areas.
Quick and stable measurement response regardless of distance — HYPER READ
Displays the measurement result in approx. 0.5 second
Distance measurement display step: 0.1m/yd.
Single or continuous measurement (up to 8 seconds)
High-quality 6x monocular with multilayer coating for bright, clear images
Large ocular for easy viewing (18mm)
Wide field of view (7.5 degrees)
Long eye relief design affords eyeglass wearers easy viewing
Dioptre adjustment function
Compact body design for comfortable holding
Waterproof (up to 1m/3.3 ft for 10 minutes) and fogproof, but not designed for underwater usage; the battery chamber is rainproof
Wide temperature tolerance: -10°C to +50°C/14°F to 122°F
Specifications
MONARCH 7i VR
Measurement range (actual distance)
7.3-915m/8-1,000 yd.
Distance display (increment)
Every 0.1m/yd.

Accuracy*2 (actual distance)
±0.5m/yd. (shorter than 700m/yd.)
±1m/yd. (700m/yd. and over)
Finder
Magnification (x)
6
Effective objective diameter (mm)
21
Actual field of view(°)
7.5
Exit pupil (mm)
3.5
Eye relief (mm)
18.0
Dimensions (L x H x W) (mm/inch)
99 x 75 x 48/3.9 x 3.0 x 1.9
Weight (excluding battery) (g/oz.)
200/7.1
Power source
CR2 lithium battery x 1 (DC 3V)
Auto power shut-off (after approx. 8 s unoperated)
Laser classification
IEC60825-1: Class 1M/Laser Product
FDA/21 CFR Part 1040.10: Class I Laser Product
Electromagnetic compatibility
FCC Part15 SubPartB class B, EU:EMC directive, AS/NZS, VCCI classB, CU TR 020
Environment
RoHS, WEEE
*2

Under Nikon's measurement conditions.
The specifications of the product may not be achieved depending on the target object's shape, surface texture and nature, and/or weather conditions.
For more information
The information is current as of the date of publication. It is subject to change without notice.