Nikon Speedlight SB-300
August 6, 2013
A compact and lightweight Speedlight that is easy to use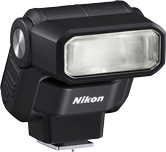 TOKYO - Nikon Corporation is pleased to announce the release of the SB-300, a compact and lightweight Speedlight that can easily be taken anywhere.
The SB-300 is a compact and lightweight Speedlight that can be rotated up to 120° for bounce flash photography. It is compatible with Nikon FX-format and DX-format digital SLR cameras, as well as Nikon COOLPIX compact digital cameras that support i-TTL flash control. The SB-300 expands the ways in which users enjoy photography, providing lighting capability not possible with a built-in flash.
SB-300 Primary Features
1. The flash head can be tilted up 120° for excellent bounce flash performance
The flash head can be tilted up 120° for bounce flash photography. When shooting indoors, light from the flash can be reflected off walls and ceilings for softer lighting of the subject and more natural photos.
2. A compact and lightweight design that is extremely portable
Measuring approximately 57.4 x 65.4 x 62.3 mm (W x H x D) and weighing approximately 97 g, the compact and lightweight, extremely portable design makes it possible for users to enjoy more creative lighting expression just about anywhere. Furthermore, the SB-300 can be powered by AAA alkaline batteries or AAA Ni-MH rechargeable batteries.
3. Simple operation
Developed for use by even those using an external flash for the first time, simply turning the SB-300 on enables flash photography. i-TTL flash control provides automatic control over flash output level for optimal results under a variety of lighting conditions.
Additional SB-300 Features and Functions
Guide number: 18/59 (ISO 100, m/ft)
FV lock function with which flash volume is determined based on monitor flashes and saved so that composition may be changed while maintaining the flash value (not supported by D5200, D5100, D5000, D3200, D3100, D3000, D60, or D40-series cameras; among COOLPIX cameras, only supported by the COOLPIX A)
Flash color temperature information communication transmits flash color temperature information to the camera for optimal white balance control when a digital-SLR camera is used.
*

Specifications, design, product name and supplied accessories may differ by country or area. Specifications and equipment are subject to change without any notice or obligation on the part of the manufacture.
The information is current as of the date of publication. It is subject to change without notice.