5x Reduction i-line Stepper

NSR-2205iL1

New Product Information
Announcement on August 31, 2023

Lithography system that is compatible with existing systems while responding to a wide variety of process demands
The NSR-2205iL1 is an i-line stepper that will be utilized to manufacture a wide range of devices. It provides excellent affordability and will enable optimized production of various semiconductor devices regardless of the wafer material. It is fully compatible with existing Nikon i-line lithography systems and can be used to supplement or replace existing steppers that no longer meet manufacturing requirements.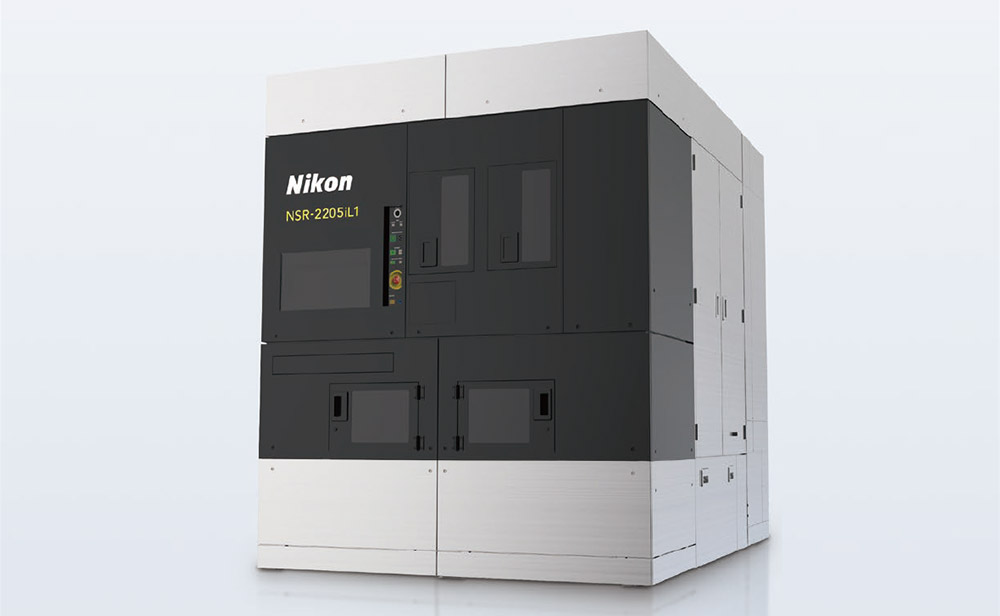 Features of NSR-2205iL1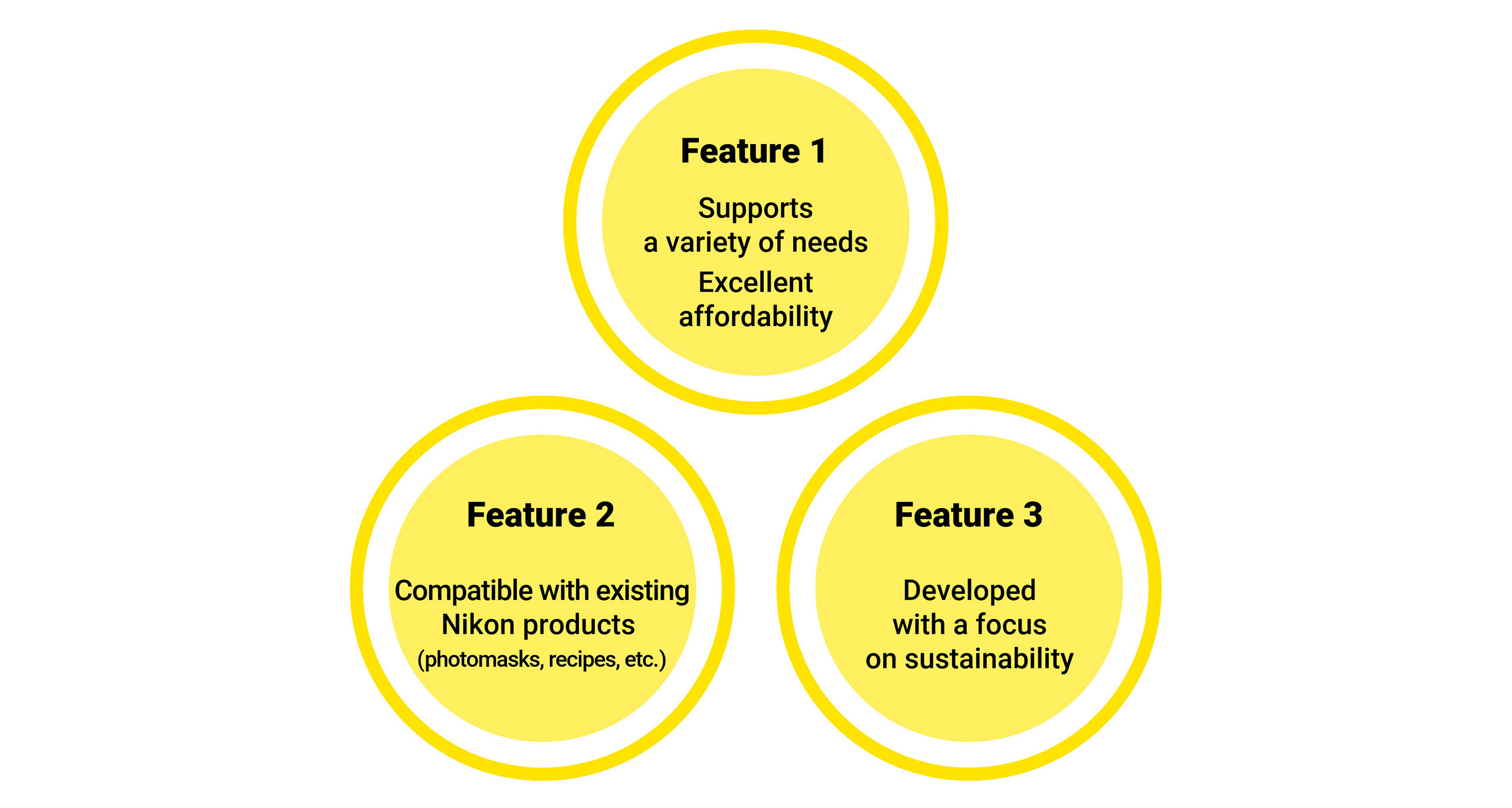 Feature 1: Supports a variety of needs/Excellent affordability
Supports a variety of devices such as
power and communications semiconductors and MEMS
Products positioning map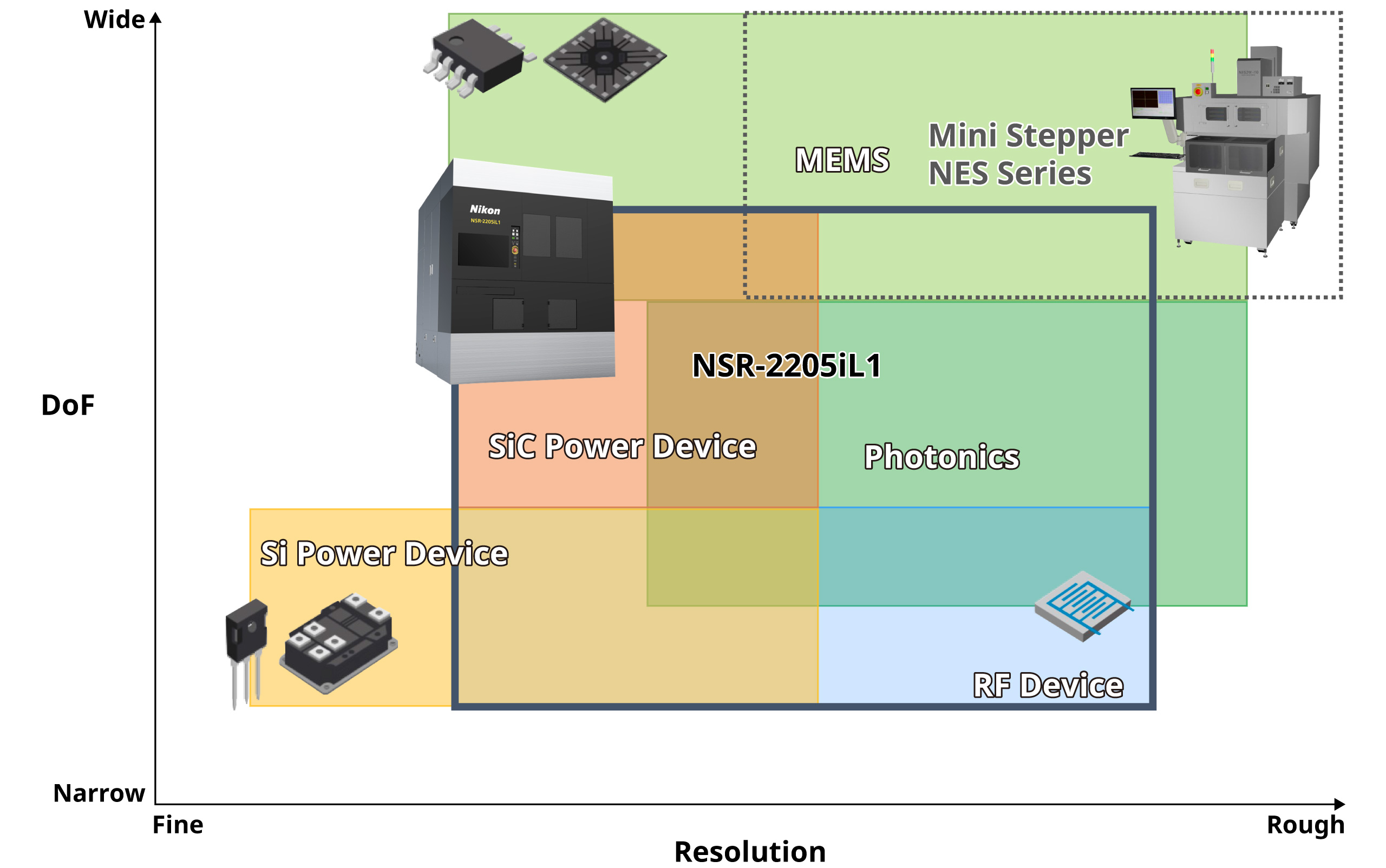 Accommodates various wafer sizes, thickness, and warpage
Responds to wafer size switching, expanding customer's usage range
Equipped with Wide DOF (expanded depth of focus range) and multipoint AF (autofocus)
Supports customers' varied production applications including SiC (silicon carbide) and GaN (gallium nitride) processes
Feature 2: Compatible with existing Nikon products
Feature 3: Developed with a focus on sustainability
Customers' assets, such as photomasks and recipes, are usable
Continuously supports customers' device production with the goal of being a long term business partner to our customers

Main specifications of NSR-2205iL1
Resolution
≦ 350 nm*1
NA
0.45
Exposure light source
i-line (365 nm wavelength)
Reduction ratio
1:5
Maximum exposure field
22 mm × 22 mm
Overlay
SMO*2: ≦ 70 nm*1
Main options

Handles transparent wafer
Accommodates various wafer thickness and warpage
Applicable wafer size: 2 to 8 inches
Accommodates different wafer sizes
Backside alignment (IR transmission type)
Wide DOF expansion function
Multipoint AF function (improving the leveling correction performance)
*1

When option is applied

*2

Single Machine Overlay: machine-to-self overlay accuracy
Please feel free to contact us
We look forward to responding to your inquiries and consultations regarding NSR-2205iL1 5x reduction i-line stepper. Please feel free to contact us.