Research
Nikon is committed to furthering R&D while advancing technological innovation to ensure the creation of novel manufacturing technologies and new solutions to a variety of issues. Also, in order to highlight advanced technical capabilities and corporate value based on Nikon's opto-electronics and precision technologies, we launched the Nikon Research Report, a technical bulletin.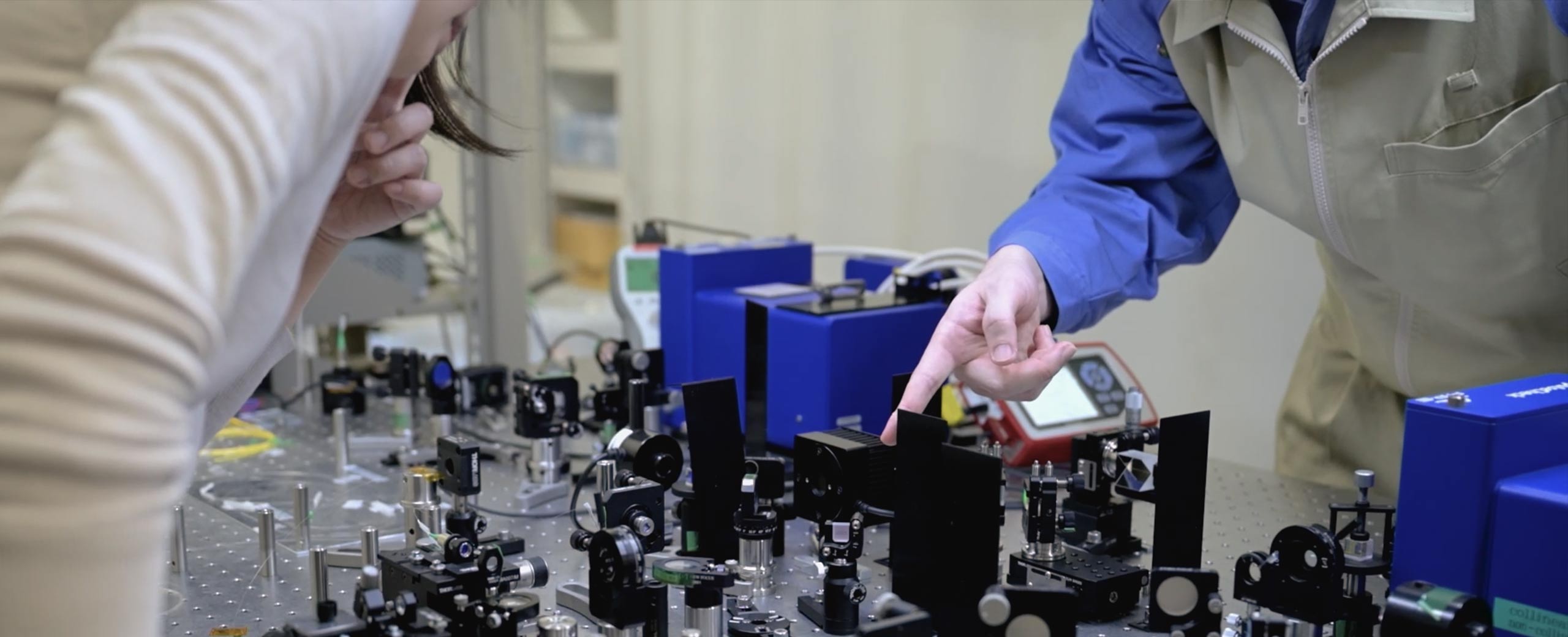 Basic Technologies that Support Nikon
To strengthen Nikon's existing businesses and create new businesses, it is vital to continue basic R&D activities based on a long-term perspective. With opto-electronics and precision technologies as a foundation, Nikon is conducting R&D in a wide range of technologies, such as optics, precision measurement and manufacturing, image processing, materials, and software and systems.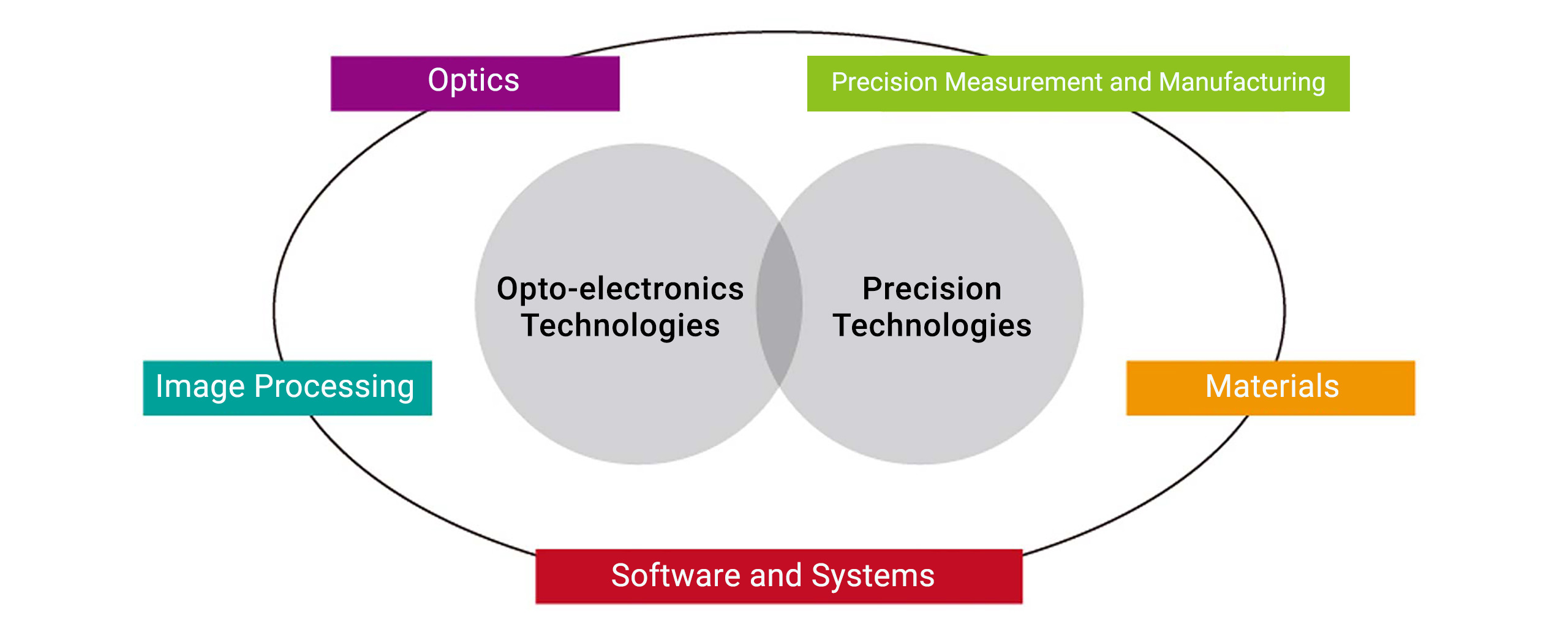 R&D Organizations
Nikon is conducting R&D in each business including the Research & Development Division for basic R&D, the Optical Engineering Division for optical design technology development, the Next Generation Project Division that conducts R&D in order to realize growth strategies, the Production Technology Division for production technological development, the Imaging Product Business, the Precision Equipment Business and the Healthcare Business. By associating research and development with each business/division, Nikon's reliable technology is more effectively nurtured.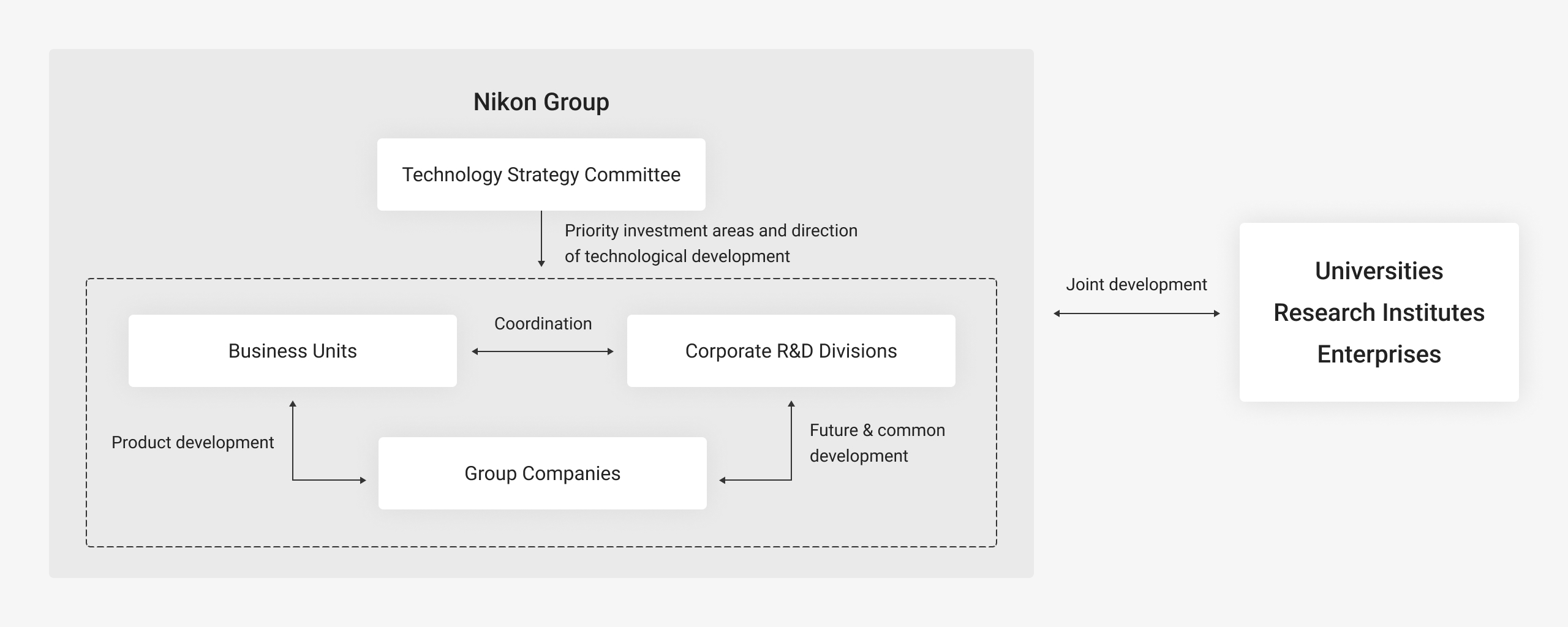 Nikon Research Report
As a result of our research and development based on Nikon's core technologies of "opto-electronics" and "precision", technologies incorporated in new products and those evaluated by organizations such as academic societies are mainly introduced.
Technology Strategy Committee
This committee is working on establishing the direction of technology development and priority investment areas, while identifying technology strategies that will aid in developing new areas of focus and enhance the competitiveness of our existing businesses. We are proceeding with technological development based on the mid/long-term plan in the three areas of long-term growth set last year: Digital Manufacturing, Vision Systems/Robotics, and Healthcare. This process will help Nikon achieve long-term growth while actively responding to a wide range of social issues and needs.
Accelerating Product Development with a Platform for Utilizing AI
The Nikon Group has established a platform and environment for utilizing AI efficiently and effectively. Based on this platform, we are currently accelerating product development that combines AI with opto-electronics technologies and precision technologies. We are also working to optimize the platform for AI-based autonomous production processes in order to enhance the foundation for manufacturing of the future.
R&D by Group Companies
Nikon Research Corporation of America, a U.S.A.-based R&D subsidiary, is engaged in research and development related to lithography systems, imaging technologies, artificial intelligence, software, and high-precision systems.
Fellow System
Nikon has introduced a system that grants fellowships to engineers who demonstrate world-class expertise and knowledge. We seek to promote cutting-edge R&D that leads the industry with specialists who are widely recognized both within Nikon and far beyond.
Industry-Academia R&D Alliance
Nikon has established "Nikon Optics & Precision Frontiers" in The University of Tokyo with the aim of contributing to the fostering of talented individuals who will lead the next-generation optics industry and create value for future society. And at ten locations throughout the world — in Asia including Japan, the U.S.A., and Europe — we have opened Nikon Imaging Centers, which use advanced Nikon microscopes in the study and education of imaging technology.