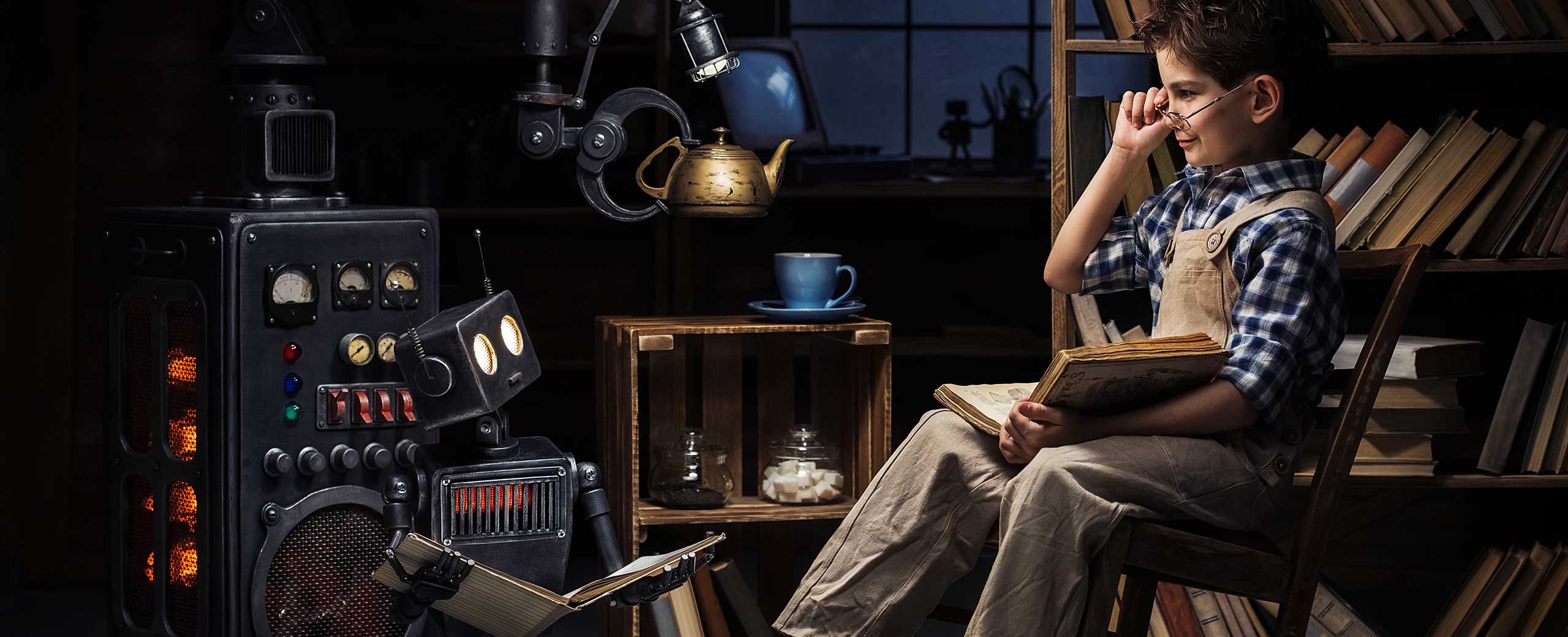 In the future, robots will work alongside you
Supporting the evolution of robotics, and creating a better future for human beings
An encoder is a sensor that detects rotation angles, such as those of robot joints. Nikon's accumulated technologies such as opto-electronics technologies and precision technologies greatly contribute to the development and evolution of robotics technologies.
Robots are supporting our lives in a wide range of different ways

Service robots, pet robots, humanoid robots... unknowingly, robots are increasingly becoming a part of our familiar everyday lives.
What's more, in manufacturing fields, industrial robots are already helping us with their smooth movements as if they are living, intelligent creatures, in such ways as selecting merchandise, sorting operations in distribution warehouses, as well as manufacturing. Our lives and society as a whole cannot effectively function without the work of robots any more.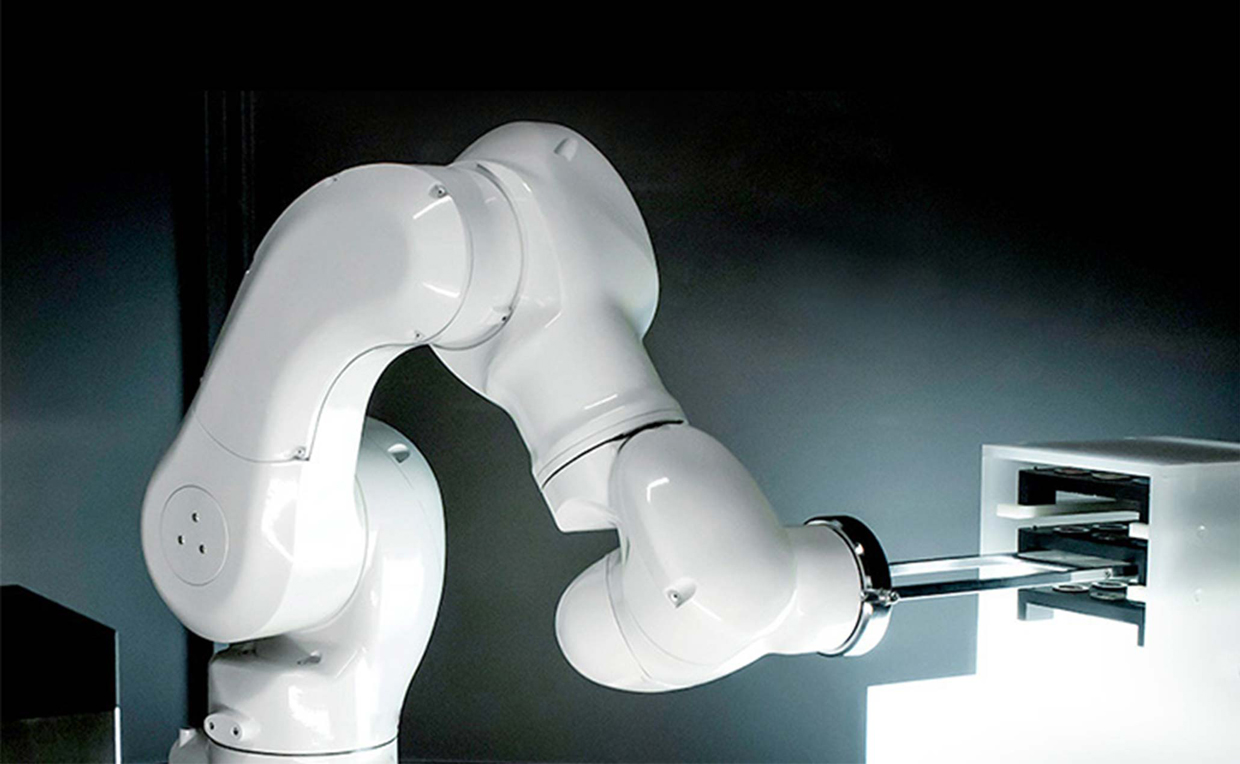 The demand for industrial robots due to factory automation and for labor-saving is drastically increasing worldwide amid a background of labor shortages. Nikon contributes to the development of the robotics industry by providing sensors called encoders, which are essential components for supporting the control of movements such as those required for robotic arms.
Encoders are essential for achieving high-precision motion control
Encoders are the equivalent of the nerves in the human body. Nikon's encoders are mainly integrated into joints such as those in the movable sections of robotic arms. They can detect rotation angles extremely precisely, outputting this information as digital data to support a robot's highly accurate movements. In particular, encoders that are able to detect absolute location, that are known as absolute type encoders, and are being employed for many kinds of industrial robots.
Multi-turn absolute encoder "MAR-M50A" irradiates LED light onto a disk where patterns are created extremely precisely. The location is detected from the signal of the absolute pattern through reflected light, while a magnetic sensor counts the rotation times of the disk. Applying processing to the obtained signal realizes high definition. As the earth's circumference is about 40,000km, this level of positioning precision is equivalent to approximately 2.4m intervals on the earth's surface. This is the key factor in realizing a robot's precise movements.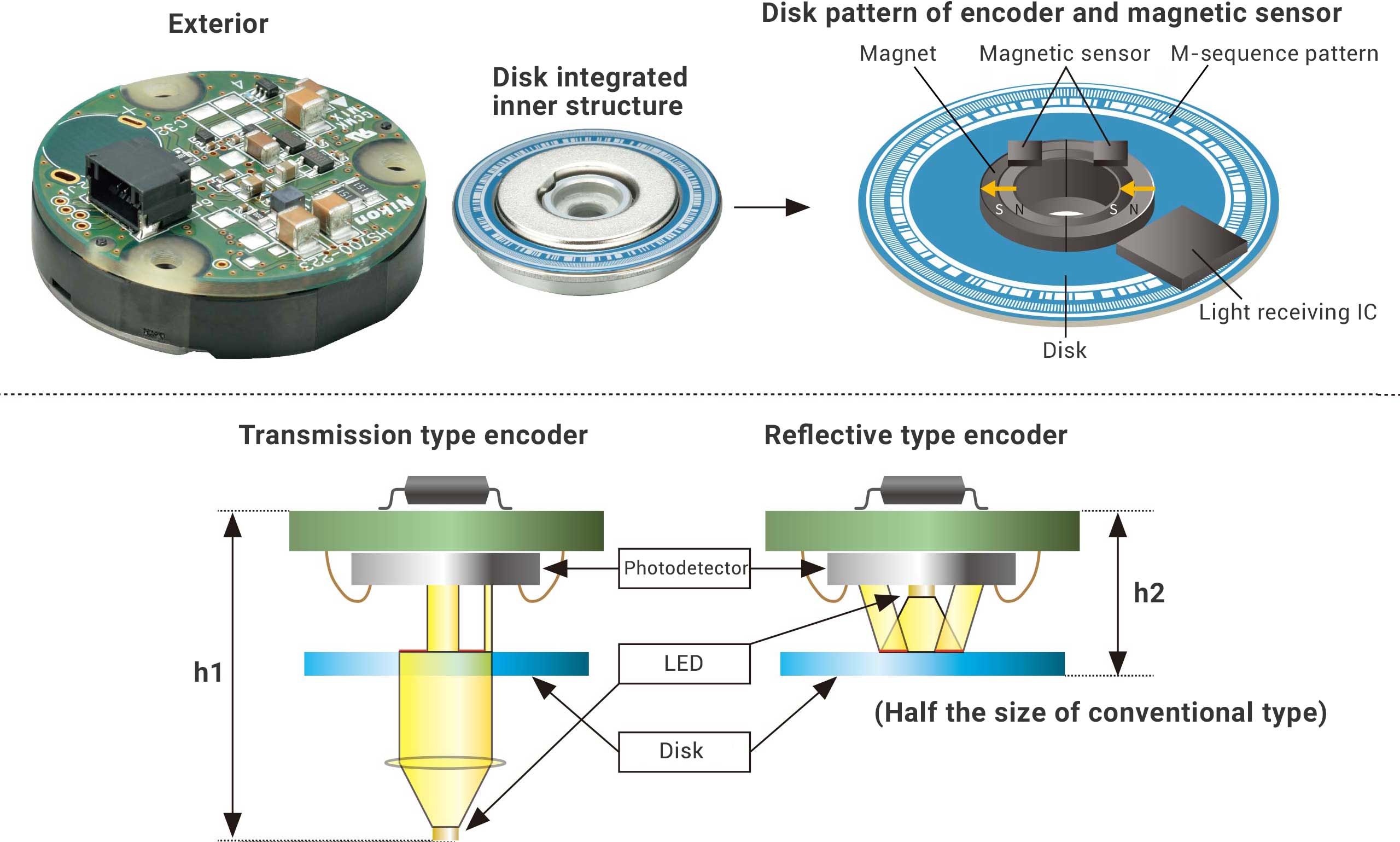 By creating a reflective type encoder that integrates photodetectors and an LED, Nikon has achieved a thinner result (height of 12.74mm). Also, to detect the location with absolute value, Nikon employed an M-sequence pattern*1, which was developed uniquely by Nikon. Conventional high-resolution encoders require several tracks of patterns, which leads to a larger size. On the other hand, an M-sequence pattern needs only one. The external diameter is as small as 35mm, attaining the level of miniaturization that is essential for today's robots such as industrial and humanoid robots.
Opto-electronics technologies and precision technologies. Encoders are a product made possible by these two fundamental technologies of Nikon, accumulated through the processes of camera manufacturing and FPD/semiconductor lithography systems over a long period of time.
*1

Maximal-length sequences: There are 512 addresses in one circle in the MAR-M50A. The patterns are all different, and the absolute position can be obtained.
Creating a society in which the existence of robots is nothing extraordinary

Industrial robots that support manufacturing are further advancing. One of them is a "Human collaborative robot" that works with people in the same room, such as during assembling operations and the conveying process. For safety reasons, humans and robots have been working in completely separate environments so far, but this is expected to change. However, employing robots is expected to be an effective way to resolve production issues such as future labor shortages and small-volume production with great diversity.
A key element that will help to realize human collaborative robots is an "integrated actuator" that Nikon is developing. This product integrates not only an encoder, but also essential components for robot joints such as a motor, motor driver*2 and speed reducer*3. A prototype of the product was unveiled at a robotics technology exhibition and has been highly evaluated.
Nikon's integrated actuator features a double encoder structure that employs encoders in two locations, input and output sides of the speed reducer. This arrangement attains highly accurate locating, enabling much more advanced operation than previously. Also, thanks to the integration of a motor driver and hollow structure that can store cables, space-saving is realized. Nikon continues to further improve the level of completion of its integrated actuator, and will propose manufacturing high-flexibility design robotics systems*4 to a range of companies including robot system integrators*5. Research and development taking into consideration the service robots that will soon become more and more familiar in our everyday lives, and applications in humanoid robots, will be advancing.
*2

Equipment that drives and controls a motor.

*3

Equipment that reduces the rotation speed using a gear then transforms it into greater power.

*4

An integrated actuator was released as the C3 eMotion intelligent actuator unit on December 2019.

*5

Companies that build robotic systems according to the installation needs.
Aiming to be the world's top brand in the robotics industry with Nikon's products

Encoder Business Unit
Tetsuya Hikichi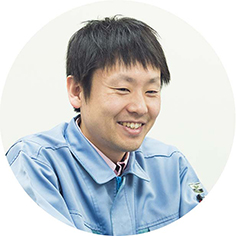 I've never forgotten the first impression I experienced when I first touched an encoder. I thought it was extraordinary technology. Since then, I have continued pursuing how we can develop and drive our efforts into improving on such perfection. I have contributed to enhanced performance by optimizing the LEDs and light receiving sensor which are key elements of encoders. I am also extremely pleased to know that the encoders we have developed are being employed in many robots, supporting the effectiveness of their motion control*6 systems.
I believe that we successfully achieved effective design considering trustworthiness and productivity because our team is unified and open-minded, so that discussions are enhanced. Now I'm working on the development of the integrated actuator.
*6

Control of a robot movements.
Encoder Business Unit
Haruka Itabashi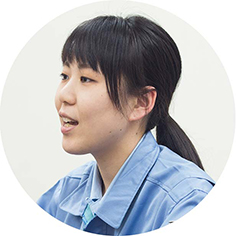 I am working on the development of the high resolution of the linear encoder that detects the location of the linear axis. I have to study every day, but because we are developing as a team, I feel that consulting with team members who have various backgrounds gives me the power to overcome difficulties.
Nikon's absolute encoder was created using the company's renowned opto-electronics and precision technology. The person who originated and proposed the idea of applying the M-sequence to absolute encoders was one of Nikon's highly experienced senior staff members.
In a similar way, I want to pursue one specialty field so that my ideas can be incorporated into Nikon's unique products someday.
Encoder Business Unit
Kazuki Yumoto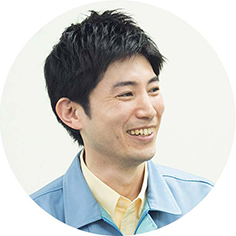 I am working on a new project; the development of integrated actuators. When I'm challenging unknown territory, even facing difficulties can feed my dreams of tomorrow.
I feel the great satisfaction of manufacturing something that had not existed in the world until now.
I think that our encoder business development greatly enhances Nikon's market value while leading to increased social contribution. My dream is that our encoders and integrated actuators can be employed in a diverse range of products worldwide, and that they will become popular throughout the service robotics industry.
Encoder Business Unit
Takeshi Sakamoto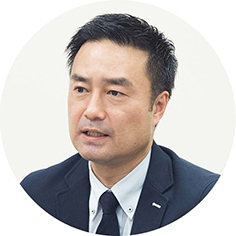 I am in charge of marketing and sales. I am sure that the way in which all of our developers, quality controllers, production planners, manufacturers, engineers and salespersons work together in synergy is the source of our ability to manufacture the very best products for the world.
Currently, Nikon's encoders are highly acclaimed by our many customers in Japan. We expanded our business in this field into Asia a few years ago, and then we advanced into the European market in 2017.
Our next target market is North America. We would like to make many people happy around the world through the use of our encoders. This is our dream.
*

Job title and responsibilities at time of interview.

*

The Encoder Business Unit was integrated with the Precision Components & Modules Business Unit on April 2020 to become the Digital Solutions Business Unit.
Originally published: June 28, 2018.