Space Shuttle crew, including Naoko Yamazaki, visit Nikon
July 1, 2010
On June 30, 2010, astronaut Naoko Yamazaki of the Japan Aerospace Exploration Agency (JAXA) and six astronauts from the National Aeronautics and Space Administration (NASA) visited Nikon Corporation (Makoto Kimura, President: Tokyo Japan).
The seven-member crew of Space Shuttle mission STS-131/19A, including Commander Alan Poindexter, were welcomed by Chairman Michio Kariya, President Makoto Kimura and managers of digital camera development.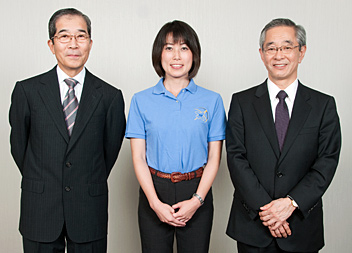 The primary purpose of the visit was the exchange of ideas and opinions regarding the Nikon D3S digital SLR cameras and interchangeable lenses that have been used aboard the International Space Station (ISS) since this mission. The reliability and stability of the equipment was a major topic of discussions.
Comment by Commander Alan Poindexter
"The STS-131/19A mission was perfect. Reliability and stability are of crucial importance in space, where equipment cannot be replaced. Our discussion here has been very useful."
Comment by Naoko Yamazaki
"I hope that the images of our beautiful Earth, captured from the ISS, will motivate children to think more about the state of our planet and the environment."
Comment by Nikon Corporation President, Makoto Kimura
"I am so very proud that NASA has consistently chosen Nikon as the source of their photographic equipment since the 1971 Apollo 15 mission. We will continue our cooperation with the manned exploration of space through the development of extremely reliable products."
Overview of the STS-131/19A mission
Primary objective
Transport of the Leonardo Multi-Purpose Logistics Module loaded with science equipment and cargo for the International Space Station (ISS)
Schedule
4/5 (Monday):
Space Shuttle Discovery launched at 7:21 p.m.
4/7 (Wednesday):
Discovery docked with the International Space Station (ISS) at 4:44 p.m.
4/20 (Tuesday):
Discovery landed at the Kennedy Space Center's Shuttle Landing Facility at 10:08 p.m.


*

Dates and times indicated are in Japan Standard Time

Crew
Commander:
Alan G. Poindexter
Pilot:
James P. Dutton Jr.
Mission Specialist:
Rick Mastracchio
Mission Specialist:
Dorothy M. Metcalf-Lindenburger
Mission Specialist:
Stephanie D. Wilson
Mission Specialist:
Naoko Yamazaki
Mission Specialist:
Clayton C. Anderson

*

See the related December 2009 news for information regarding product details.
The information is current as of the date of publication. It is subject to change without notice.