Contributing to more flexible and easier robot design
Nikon releases the C3 eMotion, intelligent actuator unit for robotic joints of collaborative robot
December 11, 2019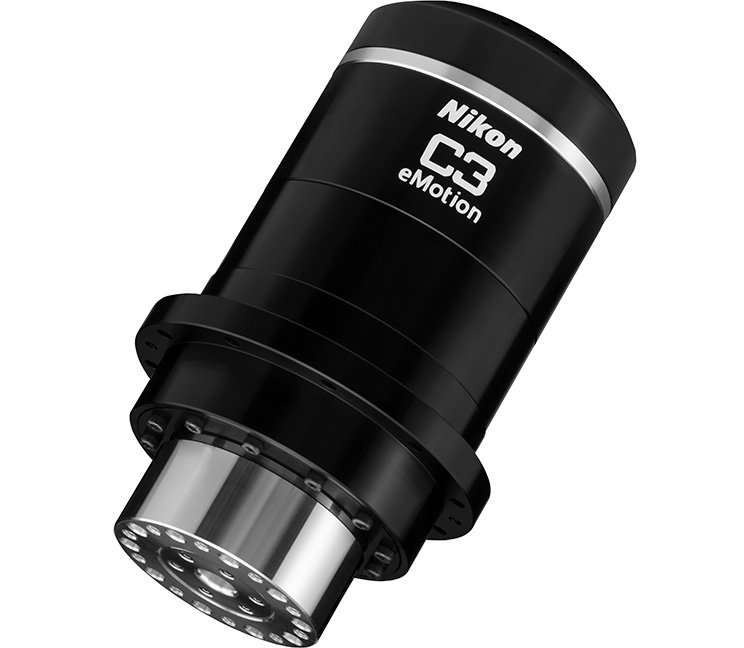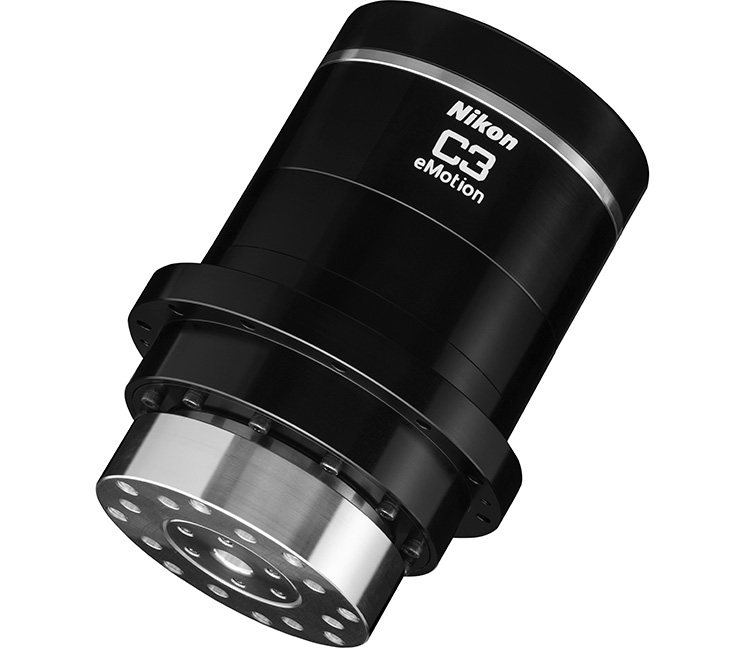 TOKYO - Nikon Corporation (Nikon) is pleased to announce the release of two new C3 eMotion intelligent actuator units, each of which combines a motor, speed reducer, motor driver, brake and encoders together in one package.
The C3 eMotion is a robotic joint of collaborative robot, and utilizing multiple C3 eMotion units together facilitates easier building of robots by manufacturers as well as a wide range of other engineers—even those without know-how in robot design.
Moreover, the C3 eMotion operates under Nikon's proprietary double-encoder arrangement (containing two encoders), which enables detection of external forces and robot operation stoppage in response, direct teaching in which the robot can be made to learn commands via direct manipulation by human users, and a wide range of other useful functions.
This latest Nikon release includes two new units that differ in terms of size, torque and other factors: the IAU-60 and the IAU-200. The lineup of the series will be expanded in the future.Nikon plans to showcase both models at iREX2019 (International Robot Exhibition 2019, December 18–21, 2019 at Tokyo Big Sight).
Product Information
Product Name
C3 eMotion intelligent actuator unit (IAU-60)
C3 eMotion intelligent actuator unit (IAU-200)
Availability
April 1, 2020
Manufacturers expect great things from robots, which will function as future workers in production facilities, operating alongside human workers to cooperatively complete tasks. However, sophisticated skills and know-how are required to build robots, as they comprise a wide array of components such as motors, speed reducers, motor drivers, brakes and encoders. With the C3 eMotion, Nikon combines outstanding encoders as well as other parts into single-package robotic joint units. Moreover, the C3 eMotion takes a double encoder structure, Nikon's proprietary approach featuring an encoder on the input side (motor) and an encoder on the output side (output shaft). Within robotic joints, the motor revolves to drive the shaft via a speed reducer and other components, and in most joint layouts an encoder is present only on the motor end of the structure. However, Nikon has designed an encoder on the output (decelerated) shaft side as well, enabling detection of slight differences in rotational speed between the input and output shaft ends and thus detection of external force applied to the actuator.
The "C3" in C3 eMotion stands for "connect, control, cooperate": "connect" refers interconnection of multiple C3 eMotion units, "control" to assembly and control of the robot, and "cooperate" to cooperative production operations between humans and robots. Even though robot design, control and similar are quite challenging under normal circumstances, Nikon strives to make these more accessible to everyone.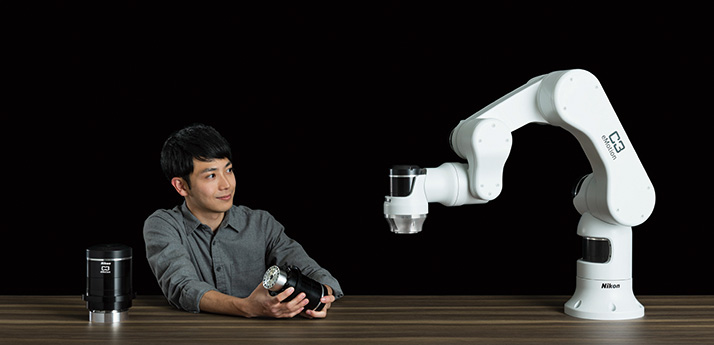 Main Features
1. Contributing to more flexible and easier robot design
Using multiple C3 eMotion in a robot enables to configurate to greater or less numbers of robotic joints.
C3 eMotion helps to design the customized robot on user demand such as extend the robot's arm length.
In addition, the use of a dedicated robot controller makes robot control easier. These features make robot design possible even for users who do not possess know-how on robot control technologies.
2. High safety performance
The double-encoder structure enables detection of slight changes during robot operation, which makes possible detection of external forces applied and reflects these irregularities in operations. For example, if a human worker bumps into the robot while it is working, the robot can immediately detect the impact (external force) and stop operations.
3. Operations with direct teaching
The double-encoder structure enables responses to detected external forces, it is possible for human operators to directly manipulate the robot and thus program operations through the direct-teaching.
4. High-accuracy positioning performance
High-performance encoders can be installed on both the input- and output-shaft ends using the double-encoder structure, which makes it possible to monitor rotation speeds on both shaft ends and convey positioning information with high accuracy, thus achieve high-accuracy positioning performance.
Main specifications
Model number
IAU-60
IAU-200
Rated voltage
48 V
Peak torque
55 N·m
200 N·m
Rated torque
55 N·m
95 N·m
Rated speed
20 min-1
15 min-1
Torque detection range
F.S. (Full-Scale)
30N·m
130N·m
Torque detection accuracy
±5F.S. %
Encoder accuracy
±15 arc sec
Gear ratio
81
101
Brake holding torque (input shaft)
0.62 N·m
2.8 N·m
Encoder resolution
Input shaft: multi-turn ABS (24-bit single turn, 16-bit multi turn)
Output shaft: single-turn ABS (24-bit single turn)
Driver
Built-in actuator
Communication
EtherCAT CiA 402*
Diameter
88 mm
119 mm
Length
173.8 mm
195.9 mm
Weight
2.5 kg
5.4 kg
Operating temperature
0–40ºC (no condensation)
Storage temperature
0–50ºC (no condensation)
*

EtherCAT is a licensed and patented technology of the German company Beckhoff Automation GmbH & Co. KG, and a registered trademark of the same company.
For more information
The information is current as of the date of publication. It is subject to change without notice.