Important Notice on Specimen Holder C-HC1 for Nikon Biological Microscope
May 7, 2008
Thank you for choosing Nikon Biological Microscopes.
Nikon has recently discovered a defect on the specimen holder C-HC1 for Nikon biological microscopes.
Repeatedly putting the specimen in and out wares down and breaks the wire that holds the specimen. The broken piece of wire may injure the finger of the operator.
Nikon is committed to safety and will replace your specimen holder with the improved one for free of charge. Our sales representatives will try their best to contact you as soon as possible or your may contact to your nearest Nikon representatives or the customer service center listed below.
Nikon regrets any inconvenience this matter may cause and we appreciate your continued interest in our products.
Product subject to recall and replacement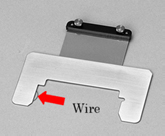 Specimen Holder C-HC1 on the following microscopes:

Research microscopes—ECLIPSE 90i and 80i
Clinical/laboratory microscopes—ECLIPSE 50i
and 55i
Each of above microscopes requires the stage to use the specimen holder.
Please contact Nikon or Local Nikon Sales Representative:
For contacting Nikon;
In The Americas
Nikon Instruments Inc.
1300 Walt Whitman Road, Melville, NY 11747-3064, U.S.A.
Tel: +1-631-547-8500 Fax: +1-631-547-0306
In Europe
Nikon Instruments Europe B.V.
Laan van Kronenburg 2, 1183 AS Amstelveen, The Netherlands
Tel: +31-20-44-96-222 Fax: +31-20-44-96-298
In China
Nikon Instruments (Shanghai) Co., Ltd.
24C, PUFA Tower, No.588 Pudong South Road, Pudong New District, Shanghai 200120, China
Tel: +86-21-5836-0050 Fax: +86-21-5836-0030
Beijing Office TEL: +86-10-5869-2255 FAX: +86-10-5869-2277
Guangzhou Office TEL: +86-20-3882-0552 FAX: +86-20-3882-0580
In Korea
Nikon Instruments Korea Co., Ltd.
1F., Yuk-In B/D, 996-16, Daechi3-dong, Kangnam-gu, Seoul, Korea
Tel: +82-2-2186-8400 Fax: +82-2-555-4415
In Singapore, Malaysia, Thailand, Indonesia, Vietnam, Philippines, India
Nikon Singapore Pte Ltd
80 Anson Road, #10-01/02 Fuji Xerox Towers, Singapore 079907
Tel: +65-6559-3618 Fax: +65-6559-3668
Other Asian Countries, Middle-East, Oceania, etc
NIKON CORPORATION
Marketing Department, Microscope Solutions Business Unit
Shinagawa Intercity Tower C, 2-15-3, Konan, Minato-ku, Tokyo 108-6290 Japan
Tel: +81-3-6433-3705 Fax: +81-3-6433-3785
NIKON CORPORATION
CS Engineering Section, Production & Engineering Department, Microscope Solutions Business Unit
471, Nagaodai-cho, Sakae-ku, Yokohama, Kanagawa 244-8533, Japan
Tel: +81-45-853-8525  9:00am - 5:00pm weekdays (JST)
For out-of-hours support, contact us by e-mail.
e-mail: support@tpro.nikon.co.jp
*

Organization address and phone number of Nikon Corporation are revised on November 25, 2014.
The information is current as of the date of publication. It is subject to change without notice.
Share