Nikon Introduces New Stereoscopic Microscope SMZ745
January 24, 2011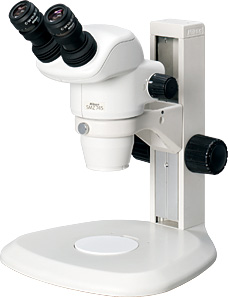 Tokyo—Nikon Corporation (Makoto Kimura, President) is pleased to introduce a new stereo microscope with a zoom magnification of 7.5X and a long working distance of 115mm. The SMZ745 meets various needs in the industrial and biomedical fields.
The SMZ745, with its 7.5X zoom, has a total magnification range of 3.35X to 300X*, for comfortable operation.
The newly developed SMZ745 is a strong addition to the Nikon stereo zoom microscope line up.
*

When the auxiliary objective lens and eyepiece lens are combined.
Product Information
| | |
| --- | --- |
| Product Name | Nikon Stereoscopic Microscope SMZ745 |
| Availability | From February 1, 2011 |
Key Features
1. Superb optical performance and the highest zoom magnification in its class
By optimizing the design of the Greenough optical system, Nikon has realized an impressive 7.5X zoom, the highest in its class. The total magnification range is 3.35X to 300X*. The adoption of the new total reflection prism has resulted in bright, high-contrast images.
*

When the auxiliary objective lens and eyepiece lens are combined.
2. Ergonomics
The zooming knob is equipped with a click stop for each magnification. At 115mm, the working distance is very long, providing enough room for fabrication and manipulation of the sample.
3. Designed for various applications and environments
ESD protection and Airtight design is standard to prevent samples from being damaged by electrostatic discharge and to prevent contamination from dust, drops of water, or other contaminants. Additionally, the anti-mold design in the interior of the zoom body allows the microscope to be used in environments where the temperature and humidity are high. Optional illumination accessories are available for various applications and tasks.
Specifications
Swipe horizontally to view full table.
| | |
| --- | --- |
| Optical System | Greenough optical system |
| Total magnification range | 3.35-300X, depending on eyepiece and auxiliary objective used |
| Zooming ratio | 7.5:1 (approx) |
| Zooming range | 0.67-5X |
| Eyepiece | C-W10XB, F. N. 22, with diopter adjustment |
| Eyepiece inclination | 45° |
| Interpupillary distance adjustment | 52-75mm |
| Electrostatic decay time (ESD) | 1,000V to 10V, less than 0.2 sec. |
| Airtightness | JIS/IEC waterproof grade 1 |
| Anti-mold design | Standard |
| Working distance | 115mm |
Optional accessories
Swipe horizontally to view full table.
| | |
| --- | --- |
| Eyepiece (F.N) | C-W15X (16), C-W20X (12.5), C-W30X (7) |
| Auxiliary objectives (working distance) | G-AL0.5X (211mm), G-AL0.7X (150mm), G-AL1.5X (61mm), G-AL2X (43.5mm) |
| Illumination systems | G-LS 6V10W Illuminator, C-DSLS 6V20W Illuminator, C-FPS Fluorescent Ring Illuminator, C-FIR Fiber-Optic Ring Illuminator, C-FID Fiber-Optic Bifurcated Illuminator, G-ICIL White LED Coaxial Illuminator, C-DS Diascopic Illumination Stand, C-LEDS Hybrid LED Stand built-in epi/diascopic Illumination |
| Stages | C-TRS Tilting Stage, C-SSL Dia-Sliding Stage |
| Universal stands | G-US1/US2 Universal Table Stand, Universal Stand P |
The information is current as of the date of publication. It is subject to change without notice.
Share