Digital Compact Camera Nikon COOLPIX S100
August 24, 2011
An image sensor offering 16.0-million effective pixels and a widescreen 3.5-inch, approximately 820k-dot OLED touch panel monitor with wide viewing angle for high-definition, high-contrast rendering and stress-free, intuitive operation
TOKYO - Nikon Corporation is pleased to announce the release of the S100, a new COOLPIX S-series model that offers a refined design and advanced functions.
As successor to the S80, the S100 is a compact digital camera with an image sensor offering 16.0-million effective pixels and a widescreen 3.5-inch, approximately 820k-dot OLED touch panel monitor with wide viewing angle for high-definition, high-contrast rendering. Various improvements to touch panel operation since the S80 have enabled more stress-free, intuitive operation. Adoption of a backside illumination CMOS image sensor, which offers superior performance when shooting at high sensitivities, suppresses the noise that often occurs with capture of night landscapes and dimly lit indoor scenes. In addition, support for recording of full-HD movies and a new 3D photography scene mode have been adopted to make photography with the camera more fun and the resulting images more beautiful. Despite these new features, the S100 still maintains the slim body and sharp, stylish design emphasizing portability of its predecessor.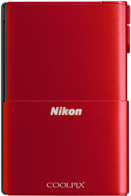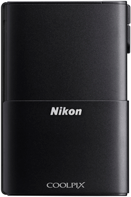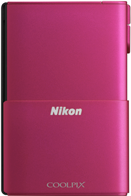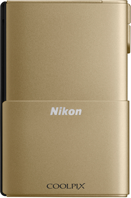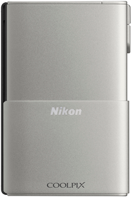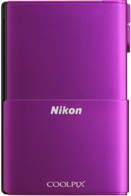 COOLPIX S100 Primary Features
1. 820k-dot widescreen 3.5-inch (Full WVGA) electrostatic OLED touch panel monitor with wide viewing angle adopted for intuitive operation and clear, vivid display of even the finest details
The S100 is equipped with an 820k-dot widescreen 3.5-inch OLED touch panel monitor with a wide viewing angle. The high-resolution Full WVGA OLED monitor makes shooting, viewing and sharing photos more enjoyable.
High-contrast reproduction of beautiful night landscapes in which the deepest blacks are faithfully displayed and loss of detail in highlights is kept to the absolute minimum. The OLED monitor enables expression of richer, more vivid colors.
With a color gamut approximately 50% broader than the sRGB gamut, subjects are vividly reproduced. This broad color gamut enables high-definition display of not only images, but the user interface as well.
The 180° viewing angle enables clear viewing of the monitor display from nearly any angle.
2. An effective pixel count of 16.0-million pixels and adoption of a slim, right-angle optics zoom NIKKOR lens offering 5x optical zoom that begins at the wide-angle 28 mm (equivalent in 35mm [135] format)
3. Backside illumination CMOS sensor enables capture of images in which noise is suppressed, even with shooting of dimly lit scenes such as night landscapes and indoor scenes
Adoption of a backside illumination CMOS image sensor, which increases image quality with shooting at high sensitivities, has led to even further advances in Nikon technologies that enable the capture of beautiful nighttime shots. When the HDR (high dynamic range) option is enabled in Backlighting scene mode, images exhibiting rich expression of tones and noticeably less loss of detail in shadows and highlights can be captured by combining multiple shots taken in quick succession.
4. A slim body with a depth of just 18.1 mm for superior portability loaded with a variety of advanced functions
A slim body with a depth of just 18.1 mm has been achieved with adoption of a slim, right-angle optics zoom lens. Despite the compact size, the S100 still offers excellent basic camera performance and stress-free operation. Design of the S100 has been refined and simplified with a touch panel monitor that takes up nearly the entire rear surface, and by incorporating the power switch into the slide cover and reducing operational controls to the shutter-release button. A beautiful form has been achieved with the camera through the skillful combination of smooth curves and a sharp look.
5. 3D photography function
With this option, the user presses the shutter-release button once to capture the first picture and then moves the camera horizontally until the subject is aligned with the guide displayed in the monitor. The camera takes the second picture automatically and then processes the two images (left eye image and right eye image) to create a 3D image. This feature enables the capture of 3D still images with a sense of depth in any situation regardless of the shooting distance, from macro to telephoto photography. 3D images captured with the S100 can be viewed in 3D by connecting a 3D-compatible HDMI cable to the camera and a 3D TV.
6. Function for recording full-HD movies with superior picture quality
Impressive full-HD movies with stereo sound and a frame size of 1920 x 1080 pixels can be recorded. In addition, optical zoom can be used during movie recording. What's more, dramatic movies recorded using the HS Movie function can be played back in slow motion at 1/8, 1/4 or 1/2 the normal playback speed, or in fast motion at twice the normal playback speed for a comical effect.
7. Filter effects for simple enhancement of images using intuitive touch operations
Easily edit pictures taken with the S100 by simply choosing the option that suits the desired intent from the Filter Effects item in the retouch menu.
(Available options: Color options, Soft, Selective color, Cross screen, Fisheye, Miniature effect)
Additional Features and Functions
A new graphical user interface (GUI) for enhanced visibility and improved operation
Easy auto mode with which the camera identifies the type of subject and automatically applies the optimum scene mode
20 built-in scene modes
The subject tracking function with which the camera automatically tracks the subject
Nikon COOLPIX S100 Specifications
Swipe horizontally to view full table.
| | |
| --- | --- |
| Effective pixels | 16.0million |
| Image sensor | 1/2.3-in. type CMOS; total pixels: approx. 16.79 million |
| Lens | 5x optical zoom, NIKKOR lens 5.0–25.0mm (angle of view equivalent to that of 28–140 mm lens in 35mm [135] format) f/3.9–4.8; Digital zoom Up to 4x (angle of view equivalent to that of approx. 560 mm lens in 35mm [135] format) |
| Focus range(from lens) | [W]: Approx. 50 cm to ∞, [T]: Approx. 1 m to ∞, Macro mode: Approx. 1 cm to ∞ ( wide-angle zoom position ) |
| Monitor | 8.7 cm(3.5-in) , widescreen, OLED (touch panel) with antireflection coating, approx. 820k-dot, 5-level brightness adjustment |
| Storage media | Internal memory (approx. 71 MB), SD/SDHC/SDXC memory card |
| ISO sensitivity | ISO 125, 200, 400, 800, 1600, 3200 Auto (auto gain from ISO 125 to 800) Fixed range auto (ISO 125 to 400) |
| Interface | Hi-Speed USB |
| HDMI output | Can be selected from Auto, 480p, 720p, and 1080i |
| Power sources | One Rechargeable Li-ion Battery EN-EL19 (supplied) AC Adapter EH-62G (available separately) |
| Battery life(EN-EL19) | Still pictures*1: Approx. 150 shots Movies: Approx. 55 min (HD 1080p★(1920x1080)). (Each movie is limited to a file size of 4 GB and a movie length of 29 minutes, even when there is sufficient free space on the memory card for longer recording.) |
| Dimensions(WxHxD) | Approx. 99.0 x 65.2 x 18.1 mm |
| Weight | Approx. 138 g (including battery and SD memory card) |
| Supplied accessories*2 | Camera Strap, Rechargeable Li-ion Battery EN-EL19, Charging AC Adapter EH-69P, USB Cable UC-E6, Audio Video Cable EG-CP16, ViewNX 2 CD-ROM |
Unless otherwise stated, all figures are for a camera with a fully-charged Rechargeable Li-ion Battery EN-EL12 operated at an ambient temperature of 25 °C (77 °F).
*1

Based on Camera and Imaging Products Association (CIPA) standards for measuring the life of camera batteries.

*2

Supplied accessories may differ by country or area.
The information is current as of the date of publication. It is subject to change without notice.
Share