Digital Compact Camera Nikon COOLPIX AW100/AW100s
August 24, 2011
The first in Nikon's new AW series of waterproof, shock-proof, cold-resistant compact digital cameras
Equipped with a number of features, including GPS support, an electronic compass and map display, and action control convenient for outdoor shooting
TOKYO - Nikon Corporation is pleased to announce the release of the AW100/AW100s, the first model in Nikon's new COOLPIX AW series of compact digital cameras suited not only to normal shooting situations, but also equipped with a number of features and functions that make them fun to use in a variety of outdoor situations.
The AW100/AW100s, Nikon's first compact digital camera with waterproof, shock-proof and cold-resistant specifications, is a high-performance model with an effective pixel count of 16.0-million pixels. It offers not only basic camera features such as a backside illumination CMOS image sensor and functions for capturing still images with superior image quality and recording full-HD movies with the same superior picture quality, but is also equipped with a number of new features including GPS support, an electronic compass and a map display. Adoption of a lens utilizing new thin, right-angled optics makes the AW100/AW100s one of the slimmest truly waterproof compact digital cameras available. It offers not only a fashionable and elegant design that makes it perfect for everyday use, but also a tough body well suited to outdoor shooting.
To date, Nikon has offered three COOLPIX series of digital cameras: the L series, a line of cameras equipped with functions that make them fun and easy to use; the S series, a line of cameras offering advanced functions and refined design; and the P series, a line of high-performance cameras with a variety of functions that support more authentic photography. Now Nikon is pleased to add the AW series to its COOLPIX lineup. AW-series cameras are stylish models that offer superior image quality and support recording of more active scenes. The introduction of this new series allows Nikon to support a broader range of customers with cameras capable of recording special moments in a wider variety of situations. Nikon will continue to offer the enjoyment of capturing and viewing images by expanding its lineup of digital cameras to suit the needs and lifestyles of ever diversifying users.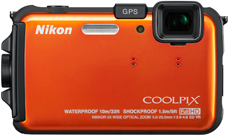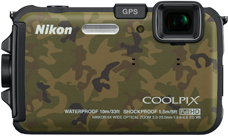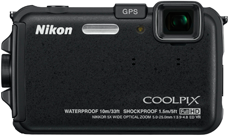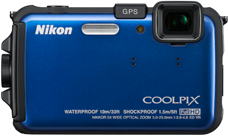 COOLPIX AW100/AW100s Primary Features
1. An effective pixel count of 16.0-million pixels and a 5x optical zoom NIKKOR lens with a zoom range beginning at the wide-angle 28 mm (equivalent in 35mm [135] format) for coverage of a broad range of angles of view
2. Nikon's first waterproof, shock-proof and cold-resistant camera
The AW100/AW100s offers durable specifications for shooting in the severe conditions presented with outdoor activities such as swimming and diving, or while hiking or skiing. It is waterproof to approximately 10 meters, shock-proof with a fall of up to approximately 1.5 meters, and can withstand cold air temperatures as low as −10°C (14°F).
3. Equipped with convenient functions of outdoor shooting
Action Control

This feature allows you to apply a variety of camera settings by simply pressing the large action button on the side of the camera and then shaking the camera. Action Control is convenient when gloves worn underwater or while skiing make operating the buttons on the multi selector difficult.

Underwater scene mode

When Underwater scene mode is enabled, either manually or automatically in Easy Auto mode, white balance is automatically adjusted using exclusive parameters to prevent unnatural green or blue cast in images captured underwater. In addition, adoption of a backside illumination CMOS image sensor that increases image quality with shooting at high sensitivities, less noise at high sensitivities all the way to the maximum ISO 3200, and a lens-shift + electronic vibration reduction (VR) function support capture of beautiful, blur-free images exhibiting very little noise under the low-light conditions experienced underwater.

GPS (with A-GPS), electronic compass, map display, POI (point of interest) display, log function

The high-performance GPS and electronic compass built into the camera acquire and record position information with shooting. This information can then be viewed on a world map1 displayed in the camera monitor. The A-GPS function2, adopted for the first time with a Nikon digital camera, makes using the GPS feature smoother and simpler.
The AW100/AW100s also offers a log function that can be used to track and record movement with acquisition of position information even while the camera is off. Logs can then be saved and displayed in the camera monitor. POI settings for recording and displaying place names can also be specified.
These features offer active users who enjoy sports or traveling new ways to enjoy their photos by allowing them to keep a record of their jogging route along with photos they have taken along the way, or to record their movement on an outing while on vacation as a file that can then be viewed using Google Earth™.
In addition, when photos are uploaded to Nikon's image storage and sharing site, my Picturetown, the photos can be displayed on a map using the application's map view, and photos with position information attached can be shared with others. An update that will enable support for displaying heading information and logs with my Picturetown's map view is planned.
1

Not available with the COOLPIX AW100s.

2

The A-GPS function built into the AW100/AW100s acquires satellite information data available from Nikon's website, enabling faster positioning.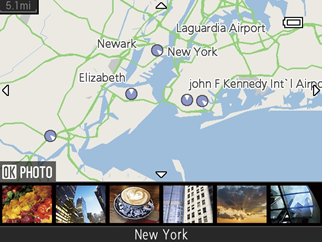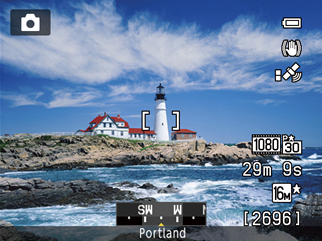 4. Backside illumination CMOS sensor enables capture of images in which noise is suppressed, even with shooting of dimly lit scenes such as night landscapes and indoor scenes
Adoption of a backside illumination (BSI) CMOS image sensor, which increases image quality with shooting at high sensitivities, has led to even further advances in Nikon technologies that enable the capture of beautiful nighttime shots. When the HDR (high dynamic range) option is enabled in Backlighting scene mode, images exhibiting rich expression of tones and noticeably less loss of detail in shadows and highlights can be captured by combining multiple shots taken in quick succession.
5. An elegant design suited to both everyday and outdoor use
Adoption of a lens utilizing new thin, right-angled optics has enabled one of the thinnest bodies (just 22.8 mm) among truly waterproof cameras. Despite being a very tough camera with waterproof, shock-proof and cold-resistant specifications that stand up to severe conditions, the AW100/AW100s retains an elegant form that is also suited to everyday shooting around town.
6. A function for recording high-resolution full-HD movies with the press of a button
Impressive full-HD movies with stereo sound and a frame size of 1920 x 1080 pixels can be recorded by simply pressing the movie-record button on the back of the camera. In addition, optical zoom can be used during movie recording. The camera also offers an HS Movie feature for recording movies that can be played back in slow motion (1/8, 1/4 or 1/2 normal playback speed) or fast motion (two times faster than normal playback speed). Naturally, movies can also be recorded underwater.
Other Features
EXPEED C2 image-processing engine for increased image quality and faster image processing
3-inch, approx. 460k-dot (HVGA) TFT LCD monitor with wide viewing angle
Smart portrait mode for more certain capture of beautiful portraits
Easy auto mode with which the camera identifies the type of subject and automatically applies the optimum scene mode
19 scene modes
A subject tracking function with which the camera automatically tracks the specified subject
The supplied filter adapter can be used to attach common 40.5-mm diameter filters
Nikon COOLPIX AW100/AW100s Specifications
Swipe horizontally to view full table.
Effective pixels
16.0million
Image sensor
1/2.3-in. type CMOS; total pixels: approx. 16.79 million
Lens
5x optical zoom, NIKKOR lens 5.0–25.0mm (angle of view equivalent to that of 28–140 mm lens in 35mm [135] format) f/3.9–4.8; Digital zoom Up to 4x (angle of view equivalent to that of approx. 560 mm lens in 35mm [135] format)
Focus range(from lens)
[W]: Approx. 50 cm to ∞, [T]: Approx. 1 m to ∞, Macro mode: Approx. 1 cm to ∞ ( wide-angle zoom position beyond Δ )
Monitor
7.5 cm (3-in.), approx. 460k-dot, wide viewing angle TFT LCD monitor with anti-reflection coating and 5-level rightness adjustment
Storage media
Internal memory (approx. 83 MB), SD/SDHC/SDXC memory card
ISO sensitivity
ISO 125, 200, 400, 800, 1600, 3200
Auto (auto gain from ISO 125 to 800)
Fixed range auto (ISO 125 to 400)
Interface
Hi-Speed USB
HDMI output
Can be selected from Auto, 480p, 720p, and 1080i
Power sources
One Rechargeable Li-ion Battery EN-EL12 (supplied)
AC Adapter EH-62F (available separately)
Battery life(EN-EL19)
Still pictures*1: Approx. 250 shots Movies: Approx. 1 h 35 min (HD 1080pP (1920x1080)) (When recording a single movie, the maximum recording time is 29 minutes and file size is up to 4 GB even when there is enough free space on the memory card.)
Dimensions(WxHxD)
Approx. 110.1 x 64.9 x 22.8 mm
Weight
Approx. 178 g (including battery and SD memory card)
Supplied accessories*2
Camera Strap, Rechargeable Li-ion Battery EN-EL12, Battery Charger MH-65, Filter Adapter, USB Cable UC-E6, Audio Video Cable EG-CP16, ViewNX 2 CD-ROM
Unless otherwise stated, all figures are for a camera with a fully-charged Rechargeable Li-ion Battery EN-EL12 operated at an ambient temperature of 25 °C (77 °F).
*1

Based on Camera and Imaging Products Association (CIPA) standards for measuring the life of camera batteries.

*2

Supplied accessories may differ by country or area.
The information is current as of the date of publication. It is subject to change without notice.
Share