Nikon Super Resolution Microscope N-STORM 4.0 optimized for dynamic nanoscale imaging
March 19, 2015
Nikon Corporation (Kazuo Ushida, President, Minato-ku, Tokyo) is pleased to announce the release of the Super Resolution Microscope N-STORM 4.0 at Focus On Microscopy (March 29- April 1, Gottingen, Germany). N-STORM 4.0 extends the capability of dynamic nanoscale imaging of conventional N-STORM to open up a new world of science.
Product information
| | |
| --- | --- |
| Product Name | Super Resolution Microscope N-STORM 4.0 |
| Available from | the end of May 2015 |
Product Concept
Nikon has established a leading position in the field of super resolution microscopy since Super Resolution Microscope N-STORM was released in 2010. N-STORM provides the capability to obtain images with approximately 10 times higher resolution than conventional optical microscopes.
N-STORM 4.0 has been developed in response to the increasing importance of super resolution imaging in life science spotlighted by 2014 Novel Prize in Chemistry awarded to three researchers in this field. N-STORM 4.0 now has the capability of acquiring super resolution images of live cell phenomenon, which has never been achieved with conventional N-STORM.
*1

N-STORM: Commercial product of "Stochastic Optical Reconstruction Microscopy" technology developed by Dr. Xiaowei Zhuang Medical Institute, Harvard University. The technology reconstructs high resolution fluorescence images (2D or 3D) from localization information of fluorophores detected with high accuracy and calculated from multiple exposures.
Features
1. Dynamic Super Resolution Imaging at the nanoscale level
N-STORM 4.0 improves image acquisition speed from minutes to seconds*2 for 1 shot with a new sCMOS camera*3, which is capable of approximately 10 times faster image acquisition than before. Thanks to this improvement, it is now possible to acquire images of living samples dynamically at 20nm resolution.
*2

Using High-speed mode (20μm x 20μm imaging area)

*3

sCMOS camera: sCMOS = Abbreviation of Scientific CMOS. It is developed for scientific research purpose and enables high quality image acquisition with lower noise level and higher frame rate than conventional camera.
2. Improvement of Image Quality
N-STORM utilizes positional information from single molecules to construct the images. For that reason, it is important to enhance the density of molecules per unit area to improve the image quality. Thanks to the improved laser excitation method and the increased image acquisition frame, N-STORM 4.0 provides much clearer images with high molecule counts. Also, Wide-view mode is achieved at 80μm x 80μm which is 4 times wider imaging area than conventional.
Comparison N-STORM 4.0 and Conventional N-STORM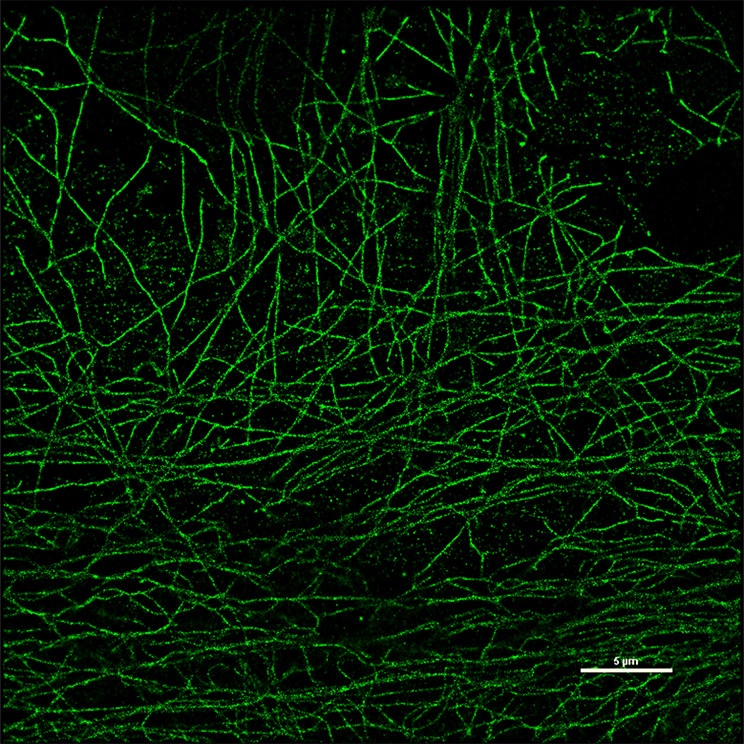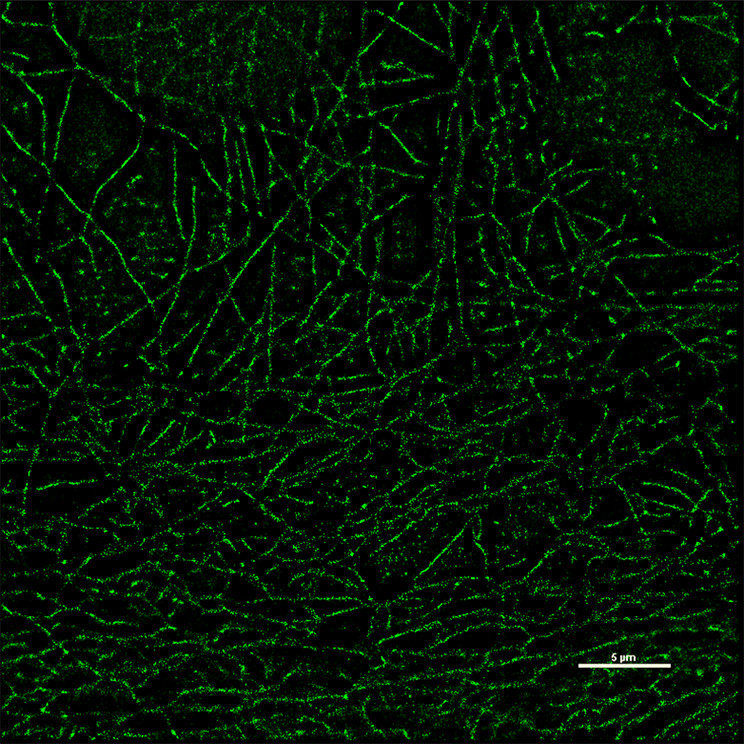 Sample: Tubulin*4 of BSC-1*5 cell labeled with Alexa Fluor® 647, acquisition time: 20 seconds
*4

Tubulin: Proteins which formulate microtubules etc. in cells

*5

BSC-1: Cells derived from kidney of African Green Monkey
Alexa Fluor is a registered trademark of Thermo Fisher Scientific, Inc.
The information is current as of the date of publication. It is subject to change without notice.
Share