AF-S NIKKOR 200-500mm f/5.6E ED VR
August 4, 2015
Easily enjoy super-telephoto photography
A super-telephoto zoom lens compatible with the Nikon FX format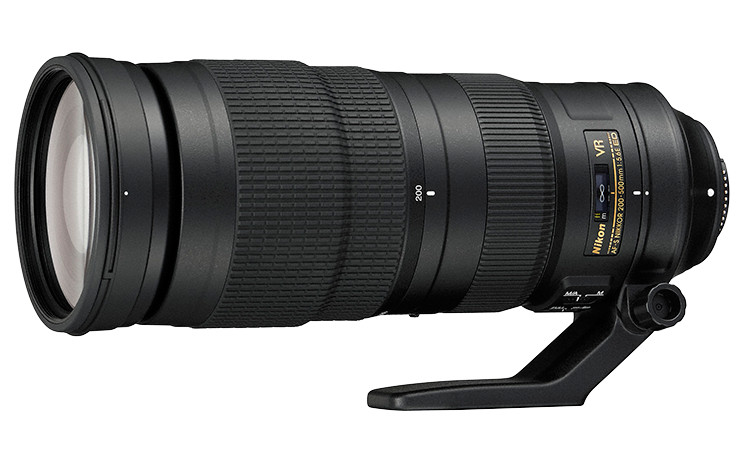 TOKYO - Nikon Corporation is pleased to announce the release of the AF-S NIKKOR 200-500mm f/5.6E ED VR, a super-telephoto zoom lens compatible with Nikon FX-format digital SLR cameras.
The AF-S NIKKOR 200-500mm f/5.6E ED VR is a 2.5x super-telephoto zoom lens that supports the 200-500 mm*1 range of focal lengths with a maximum aperture of f/5.6. Adoption of ED glass elements achieves superior optical performance with which chromatic aberration is suppressed.
In addition, the AF-S NIKKOR 200-500mm f/5.6E ED VR is equipped with a vibration reduction (VR) function that exhibits the highest level of camera shake compensation available with a NIKKOR lens—equivalent to a 4.5-stop*2 increase in shutter speed. It is also equipped with a SPORT VR mode, which enables effective photography of athletes and other subjects that move quickly and unpredictably. What's more, the AF-S NIKKOR 200-500mm f/5.6E ED VR is equipped with an electromagnetic diaphragm mechanism that enables stable exposure control with high-speed continuous shooting for comfortable hand-held shooting that captures the decisive moment as a wild bird flaps its wings, or of an airplane in flight.
This super-telephoto zoom lens brings distant subjects closer and makes them stand out from backgrounds with the shallow depth of field and large bokeh (pleasing blur characteristics) common to this type of lens. The AF-S NIKKOR 200-500mm f/5.6E ED VR is a super-telephoto zoom lens that allows anyone, from those new to super-telephoto photography to experienced photo enthusiasts, to easily enjoy sharp, blur-free rendering throughout the entire zoom range.
*1

When used with a DX-format digital SLR camera, the effective angles of view are equivalent to those of a lens with focal lengths of 300-750 mm in 35mm [135] format.

*2

When a digital SLR camera equipped with a full-size image sensor is used. Measured with the zoom lens at the maximum telephoto position in NORMAL VR mode in accordance with CIPA standards.
Other Features
Supports the new 95 mm screw-on Neutral Color NC Filter and 95 mm Circular Polarizing Filter II optional accessories
*

Specifications, design, product name and supplied accessories may differ by country or area. Specifications and equipment are subject to change without any notice or obligation on the part of the manufacture.
The information is current as of the date of publication. It is subject to change without notice.
Share