Nikon Inverted Routine Microscope ECLIPSE Ts2
November 24, 2015
Nikon Corporation (Kazuo Ushida, President, Tokyo) is pleased to announce the release of the new Inverted Routine Microscope ECLIPSE Ts2 which provides more accurate and efficient microscopy.
ECLIPSE Ts2 Inverted Routine Microscope is the successor of the ECLIPSE TS100 as an entry-level inverted microscope with improved functionality, enabling efficient microscopy while inheriting the highly reliable optical performance of ECLIPSE TS100. Emboss Contrast, Nikon's newly developed contrast observation method is easy to operate, making for more efficient cell observation, enhancing use for basic research in medical and biological fields.
This product will be presented at the "BMB2015 Biochemistry and Molecular Biology" (December 1-4, at Kobe, Japan.) and the "American Society for Cell Biology" (December 12-15, at San Diego, California, United States.)
Product information
Name
Inverted Routine Microscope ECLIPSE Ts2
ECLIPSE Ts2 (Diascopic illumination model)
ECLIPSE Ts2-FL (Diascopic and epi-Fluorescence illumination model)
Available from
January 2016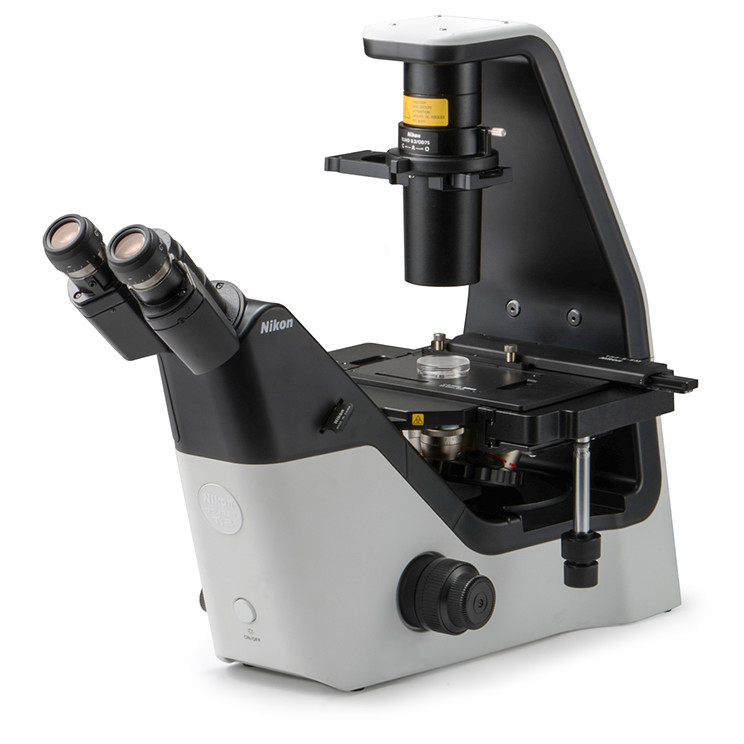 Product Concept
Inverted microscopes have the objective lens facing upwards in order to view the sample from below. As such, they are widely used in laboratories for medical and biological research applications, allowing visualization within cell culture flasks and live cell chambers. It is widely used for observation and experiment of live samples such as cell culture. In various experimental processes of basic research, including cell biology and molecular biology, the inverted microscope is used to check and observe the confluence, health, and fluorescent protein expression of cultured cells accurately and efficiently. With these demands in mind, Nikon has developed the ECLIPSE Ts2 which features excellent optical performance and easier operation.
Features
1. Newly developed contrast method "Emboss Contrast"
Phase contrast observation* is mainly used in observation of unstained and transparent cell culture. Emboss Contrast is a newly developed contrast observation method which allows simple operation. Thick samples such as iPS cells can be observed with natural, three-dimensional appearing contrast which is not possible with conventional phase observation methods.
*

Phase contrast observation is a technique that utilizes characters of light, the diffraction and interference of light, to create light and dark contrast in unstained and transparent samples.
2. Better observation with LED illuminator
Both the ECLIPSE Ts2 and ECLIPSE Ts2-FL employs LED illumination. Conventional adjustment and frequent replacement of light bulbs is no longer necessary for both the diascopic and episcopic illuminators. Moreover, zero warm-up time of LED illuminators allows for quicker cell observation.
New "Contrast Shield*" enables fluorescence observation in a bright room, and is available as an option. The Contrast Shield blocks room light thereby providing higher signal-to-noise images during fluorescence observation.
*

Contrast Shield is the openable light shield plate which prevents ambient light.
3. Improved operability
On/off of, and switching between diascopic/epi-fluorescence observation allows intuitive operation during sample imaging by conveniently located buttons on the front panel of the main body. The ECLIPSE Ts2-FL offers controls for diascopic illumination on the left side, while controls on epi-fluorescence are concentrated on the right side of the main body.
Specifications
Swipe horizontally to view full table.
Model
Ts2
Ts2-FL
Observation
Bright Field, Phase Contrast, Apodized Phase Contrast, Emboss Contrast
Bright Field, Phase Contrast, Apodized Phase Contrast, Emboss Contrast, Epi-Fluorescence
Optical System
CFI60 Infinity Optical System
Illumination
Diascopic Illuminator: LED illuminator
Diascopic Illuminator: LED illuminator
Epi-Fluorescence illuminator
Eyepiece
10x (F.O.V. 22)
Nosepiece
Quintuple nosepiece
Condenser
ELWD Condenser (NA 0.3、W.D. 75mm)
Emboss contrast observation
Emboss contrast sliders (Condenser-side slider and eyepiece-tube-side slider must be mounted)
The information is current as of the date of publication. It is subject to change without notice.
Share