New Inverted Research Microscope ECLIPSE Ts2R
November 24, 2015
Nikon Corporation (Kazuo Ushida, President, Tokyo) is pleased to announce the release of the Inverted Research Microscope ECLIPSE Ts2R, a compact inverted research microscope configurable with a wide variety of observation methods.
ECLIPSE Ts2R is a new model added to the lineup of our Inverted Research Microscopes. The broad range of observation methods and improved ease of use will directly benefit research laboratories in both medical and biological research fields.
This product will be presented at the "Japan Society of Fertilization and Implantation 2015" (November 26-27, at Tokyo, Japan), "BMB2015 Biochemistry and Molecular Biology" (December 1-4, at Kobe, Japan.) and the "American Society for Cell Biology" (December 12-15, at San Diego, California, United States.)
Product information
Name
Inverted Research Microscope ECLIPSE Ts2R
ECLIPSE Ts2R (Diascopic illumination model)
ECLIPSE Ts2R-FL (Diascopic and epi-Fluorescence illumination model)
Available from
January 2016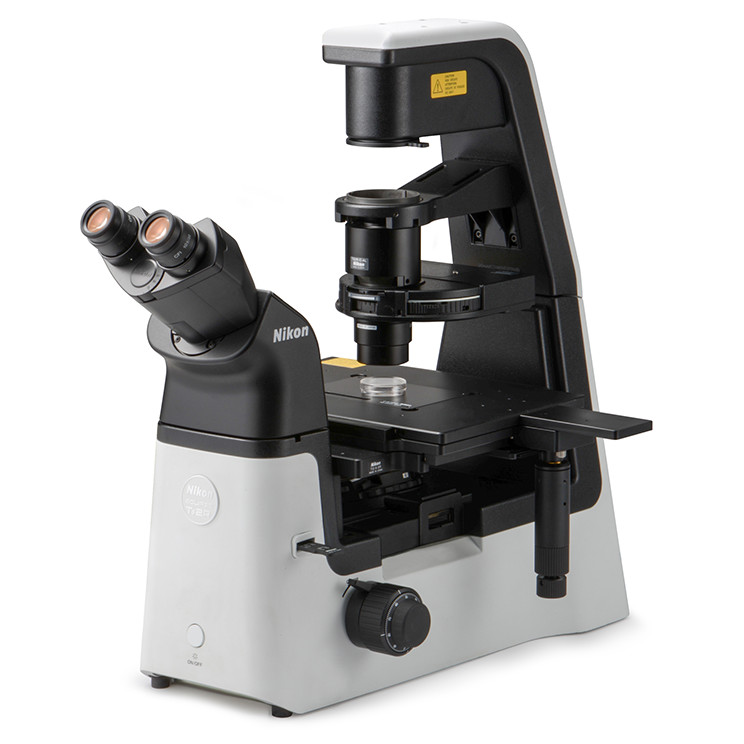 Product Concept
Inverted microscopes have the objective lens facing upwards in order to view the sample from below. As such, they are widely used in research laboratories in the medical and biological field, allowing visualization within cell culture flasks and live cell chambers. To meet the demands of diverse research methods in these fields, inverted microscopes are required for a wide range of observation methods, a compact body that can fit the limited space in the laboratory and excellent operability.
In response to these needs, Nikon has set a new standard for the inverted research microscope with the development of the new ECLIPSE Ts2R.
Features
1. Versatile observation methods
In addition to conventional contrast methods; Phase Contrast, DIC, NAMC*, Emboss Contrast is newly developed contrast method to support imaging cells in plastic and glass dishes. Thick samples such as cancer cells, oocytes and embryos, can be observed with natural, three-dimensional appearing contrast.
*

NAMC (Nikon Advanced Modulation Contrast) system: Nikon original contrast observation method. The NAMC system uses rotating modulator in objectives and enables to adjust contrast for every objective.
2. Compact body
The depth and height of the microscope body is approximately 10% smaller*. Both the compact-designed diascopic illumination model and the diascopic and epi-fluorescence illumination model with built-in epi-fluorescence offer space saving around the microscope in addition to improved workflow in the laboratory.
*

Comparison with Nikon's Inverted Research Microscope ECLIPSE Ti.
3. Improved operability
On/off of, and switching between diascopic/epi-fluorescence observation allows intuitive operation during sample imaging by conveniently located buttons on the front panel of the main body. The ECLIPSE Ts2R offers controls for diascopic illumination on the left side, while controls on epi-fluorescence are concentrated on the right side of the main body.
The rectangular mechanical stage is newly developed. It has long travel stroke, enabling users to observe an entire well plate. You can also set the limits of stroke depending on sample and vessel size. Because the stage height is approximately 30%*2 lower, it reduces fatigues during operation and exchanging of samples.
New Contrast Shield*3 enables fluorescence observation in a bright room, and is available as an option. The Contrast Shield blocks ambient room light, thereby providing enhanced signal-to-noise.
*1

Manipulation is kind of operation to samples under microscope.

*2

Comparison with Nikon's Inverted Research Microscope ECLIPSE Ti.

*3

Contrast Shield is the openable light shield plate, which prevents ambient light.
4. High performance and quality optical accessories
Optical accessories, for example DIC components, achieve the same performance as the Inverted Research Microscope ECLIPSE Ti producing clear, sharp images.
Specifications
Swipe horizontally to view full table.
Model
Ts2R
Ts2R-FL
Observation
Bright Field, Phase Contrast, Apodized Phase Contrast, Differential Interference Contrast, NAMC, Emboss Contrast
Bright Field, Phase Contrast, Apodized Phase Contrast, Differential Interference Contrast, NAMC, Emboss Contrast, Epi-Fluorescence
Optical System
CFI60 Infinity Optical System
Illumination
Diascopic Illuminator: LED illuminator
Diascopic Illuminator: LED illuminator
Epi-Fluorescence illuminator
Tube
Binocular tube
Ergonomic tube
Eyepiece
10x (F.O.V. 22)
Nosepiece
Quintuple nosepiece Sextuple nosepiece*, With DIC slot
Condenser
Condenser turret, Use with condenser lens
Emboss contrast observation
Emboss Contrast Slider (Mount eyepiece tube side)
Emboss Contrast Module (Mount condenser turret)
Revised on February 12, 2016
The information is current as of the date of publication. It is subject to change without notice.
Share