Launch of Japan's first*1 digital imaging microscope for medical use "ECLIPSE Ui"*2
Contributing to an improvement in workflow that reduces the physical burden on pathologists
April 12, 2023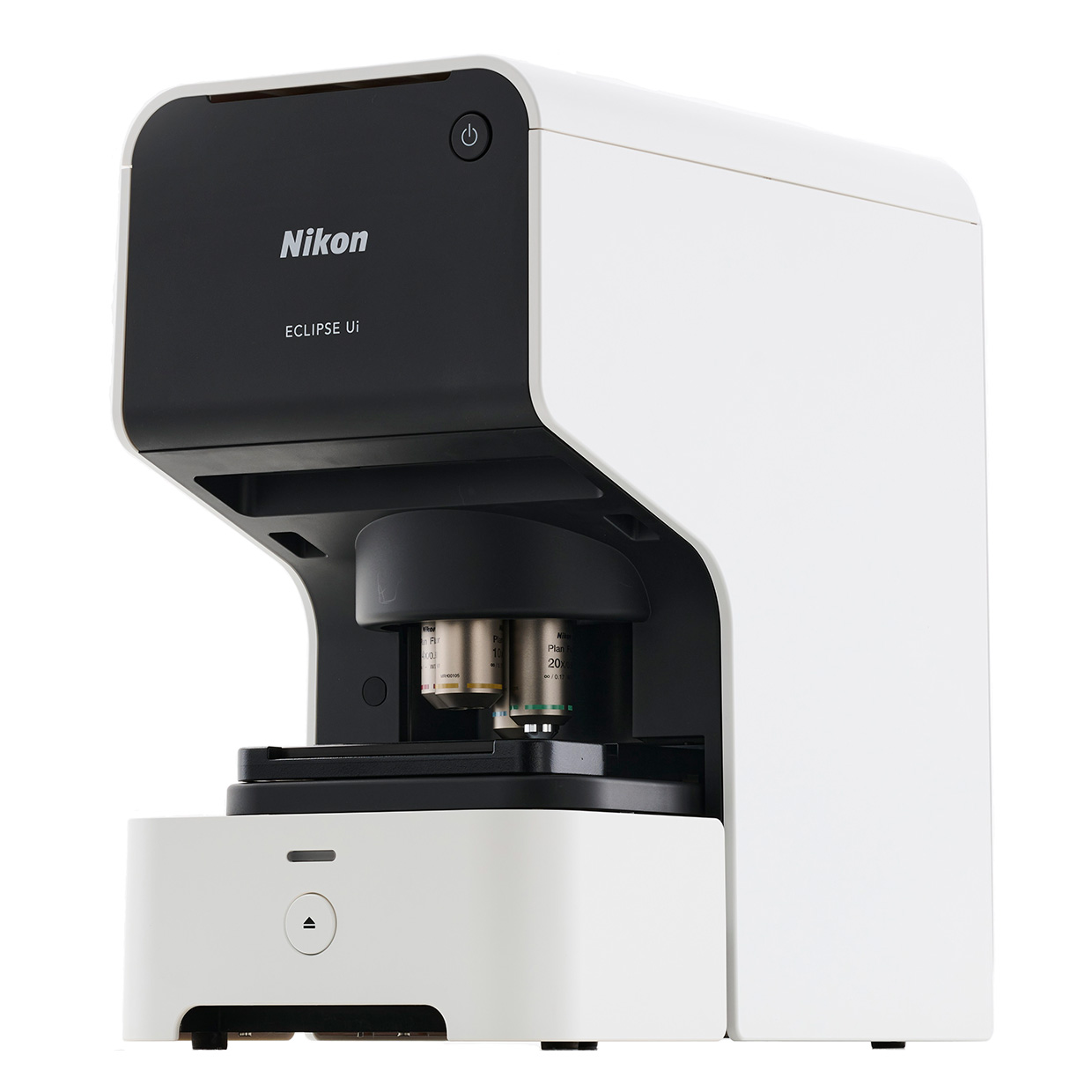 TOKYO - Nikon Corporation (Nikon) is pleased to announce the development and launch of the digital imaging microscope "ECLIPSE Ui"*2 as the first-ever microscope for medical use in Japan*1. It is distributed via Nikon's subsidiary Nikon Solutions Co., Ltd. (president: Haruhisa Sonoda, Shinagawa, Tokyo). The ECLIPSE Ui has a unique design without an eyepiece lens (even though is a microscope), a design which improves the pathologist's observation posture and enables the sharing of observation images on the display. It contributes to reducing the physical burden on pathologists and improves the workflow of pathological observation.
Nikon Solutions will attend the annual meeting of the Japanese Society of Pathology (from April 13 to 15, 2023, Yamaguchi), where pathology-related healthcare personnel, researchers and companies meet, and will introduce this product.
By sequentially rolling out the newly launched ECLIPSE Ui overseas, including the U.S. and Europe in the future, we will support pathologists by improving the workflow of pathological diagnosis.
*1

As an optical microscope for displaying digital images (JMDN: デジタル画像表示光学顕微鏡) that has been notified as medical device as of April 12, 2023 (surveyed by Nikon)

*2

Medical device notification number: 14B2X10066000001 (Proprietary name: Digital Imaging Microscope Ui)
Launch Overview
| | |
| --- | --- |
| Product Name | Digital Imaging Microscope ECLIPSE Ui |
| Target Launch Date | End of May, 2023 (Japan) |
Development Background
At clinical sites where pathological examinations are implemented, problems such as those based on physical fatigue (as a result of long periods of observation or shortage of pathologists) still occur. Moreover, many cases of pathological observation cannot be easily determined and physicians seek advice from other physicians, either in the same location, or in remote locations, on a daily basis. For this reason, there have been temporal or spatial limitations such as sending of a preparation sample to an outsourcing contractor and visiting the outsourcing contractor by the trustee physician*3.
To solve these problems, Nikon has developed a digital microscope "ECLIPSE Ui", from which an eyepiece has been eliminated to make it possible to share the observation screen on the display, in order to reduce the physical burden and contribute to the improvement of workflow for pathological image observation.
By simultaneously displaying the whole image and detailed images of the desired point of a sample, the microscope improves the efficiency of pathological observation and supports data sharing with doctors in remote locations.
Main Features
1. Contributing to the improvement of workflow by eliminating the eyepiece and sharing observation images
Since an image can be displayed on the display 2.5 seconds at the shortest after setting a sample, a physician can make an observation in a natural position without having to bend down to look into the eyepiece to conduct pathological observation work. In addition, the observation screen can be shared through the display, which facilitates discussion. "ECLIPSE Ui" can contribute to reduction of the pathologist's physical burden and serves to improve the workflow of pathological observation.
2. Simultaneous display of macro and micro images contributing to efficient observation
A macro image (with which you can obtain an overview of the entire sample) and a micro image (that displays details of a given point) can be simultaneously displayed on the screen. A function for displaying a marked point by one click after marking a macro image, and measurement of the distance between two points*3, etc. contributes to efficient observation.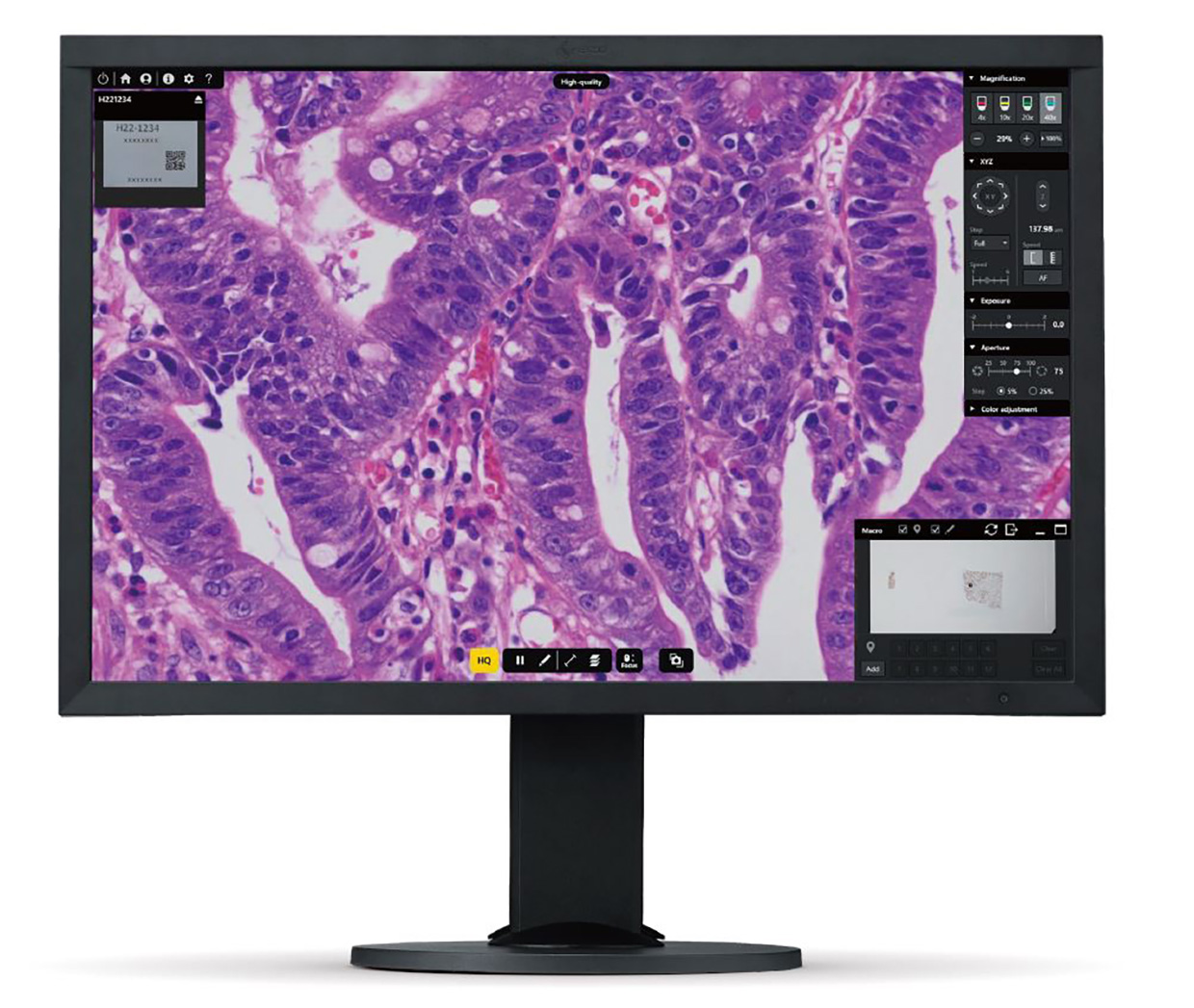 3. Supports data sharing between doctors in distant locations*3
When a pathologist discusses with another doctor, not only can a doctor in a remote location view the observation image in real time, but that doctor can remotely control the ECLIPSE Ui online. The ECLIPSE Ui supports the exchange of ideas between doctors through data sharing.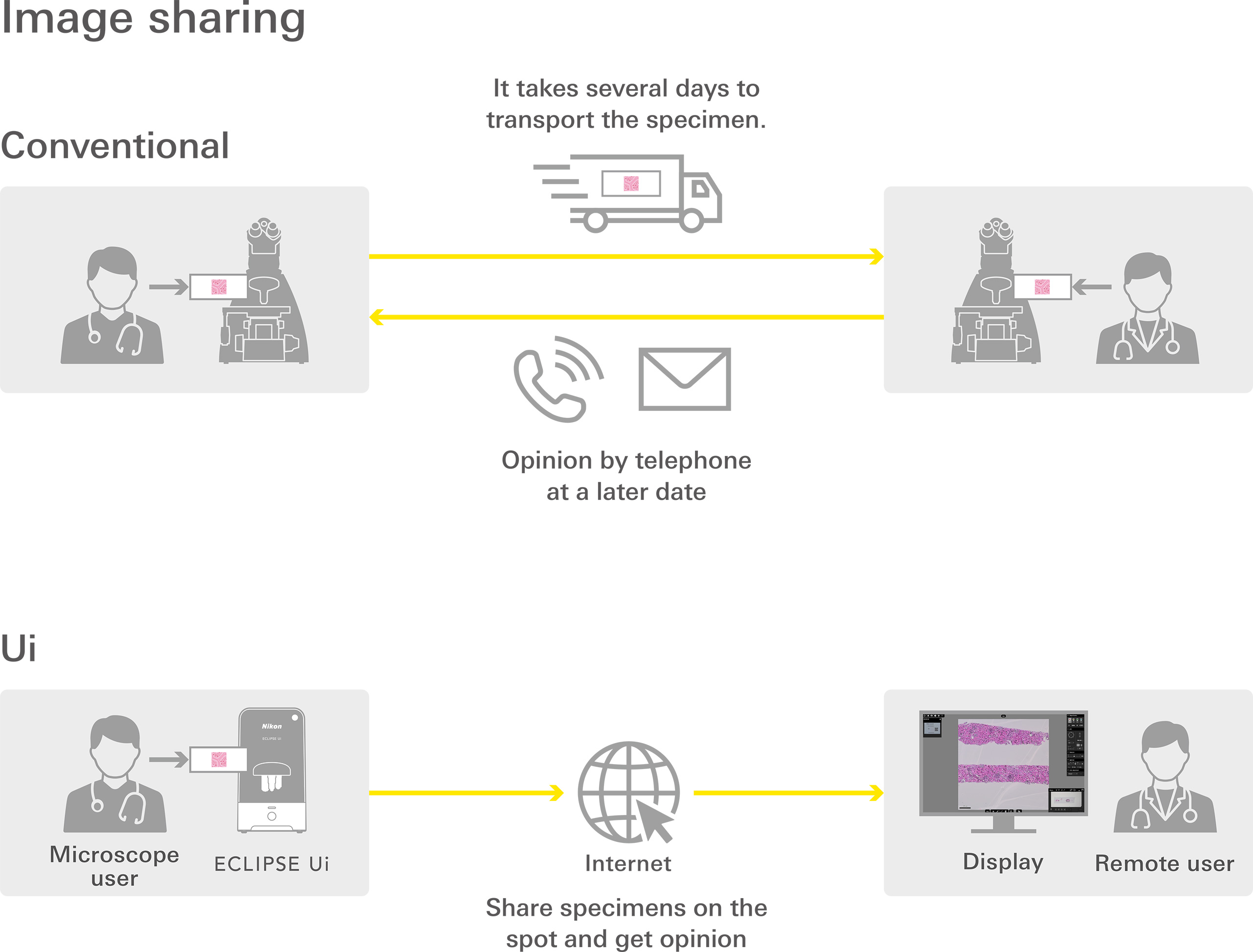 *3

Users remotely viewing images generated by the ECLIPSE Ui are not intended to use these images for diagnostic procedures.
Main Specifications
Swipe horizontally to view full table.
Microscopy technique
Diascopic bright-field observation
Observable specimens
Prepared slide x1
Thickness: 0.9 to 1.7 mm

Microscope slide (ISO8037 compliant)
Thickness: 0.9 to 1.2 mm
Size: 76 mm x 26 mm
Cover glass (ISO8255-compliant)
Thickness: 0.17 mm
Size: 18 to 60 mm x 18 to 25 mm

Objectives
CFI Plan Fluor 4X, CFI Plan Fluor 10X, CFI Plan Fluor 20X, CFI Plan Fluor 40X
Marking mode*3
Maximum number of spots: 499
Spot size: 8px, 16px and 32px selectable
Measurement mode*3
Line segment and length scale display between two points
Motorized function
Nosepiece movement, stage movement (incl. sample loading), objectives focus, aperture stop, sample holder clips open/close, macro/micro observation switching
Main body ratings
Input rating: AC100-240 V±10%, 50/60 Hz
Maximum power consumption: 170 W
The information is current as of the date of publication. It is subject to change without notice.
Share