Promoting a Decarbonized Society
Materiality 3
The Nikon Group recognizes that, in order to realize the goal of building a decarbonized society, it is important to implement measures not just within the Nikon Group, but in the supply chain as well. We are formulating strategies in each production process to reduce carbon dioxide (CO2) emissions throughout the product lifecycle.
Relevant SDGs
Medium-Term Goals for Decarbonization
The Nikon Group has set began pursuing greenhouse gas reduction goals for the fiscal year ending March 2031 as part of the Nikon Medium-Term Environmental Goals. These targets to achieve effectively zero greenhouse gas emissions by 2050 have been certified as Science Based Targets (SBT).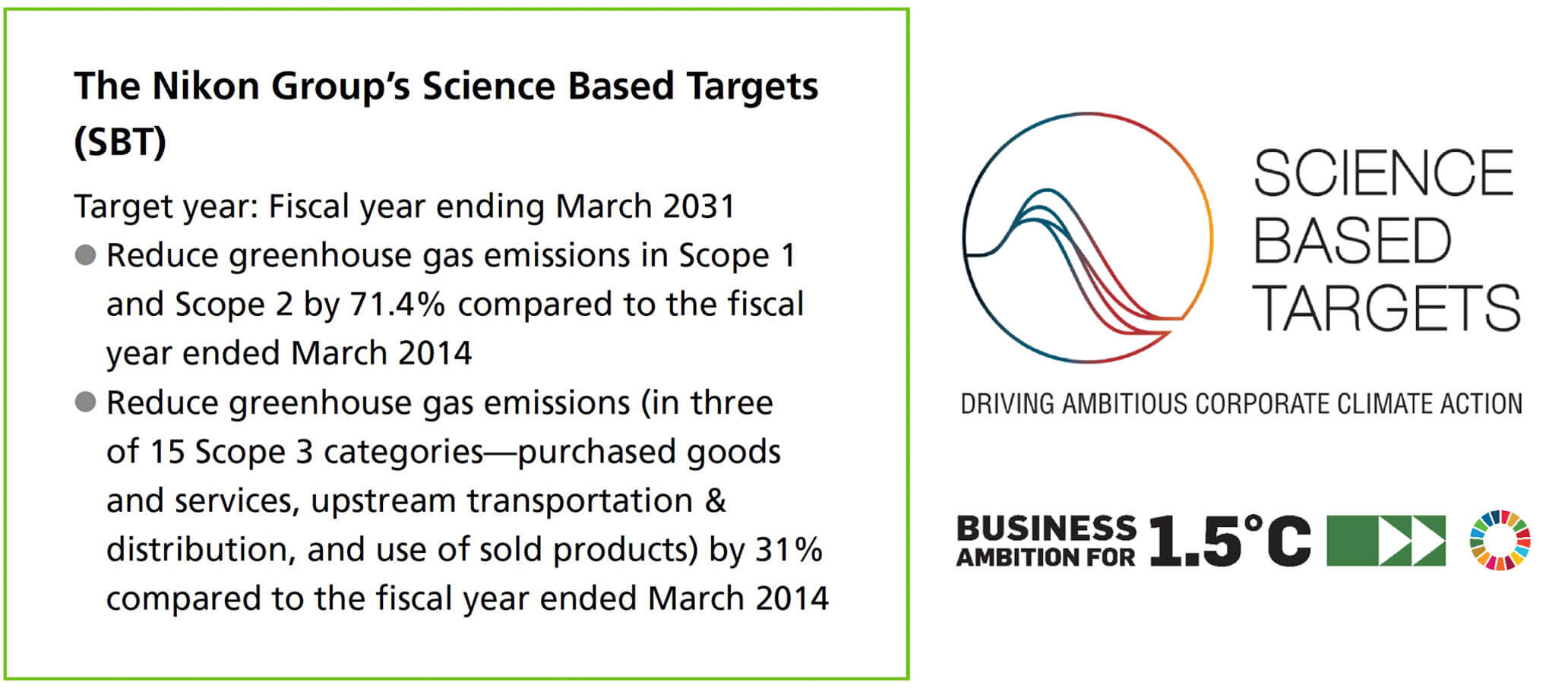 Main initiatives and results for the fiscal year ended March 2022
Reduction of greenhouse gases (GHG) emissions in business activities
By striving to improve product development and production processes and make production equipment more efficient, the Nikon Group is making a serious effort to reduce CO2 emissions derived from energy consumption. CO2 emissions from energy consumption of Nikon Group in Japan and Group manufacturing companies outside Japan for the fiscal year ended March 2022 were 176,728 t-CO2, down year on year. Emissions per unit of sales improved significantly due to higher sales resulting from a recovery in business performance.

Adoption of renewable energy for electric power
The Nikon Group is aiming to increase the renewable energy adoption rate in electric power consumption to at least 30% by the fiscal year ending March 2031, through such means as in-house power generation, power planning, and green energy certificates. As of the fiscal year ended March 2022, the share of electric power consumption derived from renewable energy was 7.8%, equivalent to a reduction in CO2 emissions of 12,634 tons.

Sustainability Report
For more information, refer to Promoting a Decarbonized Society in the Sustainability Report.
Reduction of Greenhouse Gases in the Supply Chain
Setting Science-Based Targets, and Signing Up to the Business Ambition for 1.5℃ Initiative

Greenhouse Gas Emissions in the Entire Supply Chain
Initiatives to Reduce Greenhouse Gas Emissions in Products
Environmental Impact Assessment Using the LCA Methodology

CO2 Reduction Measures for Products

Promoting CO2 Reductions with our Procurement Partners
Initiatives to Reduce Greenhouse Gas Emissions at its Business Facilities
Changes in CO2 Emissions from Energy Consumption and Changes in Energy Consumption

Utilizing Renewable Energy

Joining RE100

CO2 Emissions from Non-energy Consumption and Other Greenhouse Gas Emissions

Greenhouse Gas Reduction Measures at Business Facilities
Initiatives to Reduce Greenhouse Gas Emissions in Distribution
Understanding Greenhouse Gas Emissions in Distribution

Initiatives to Reduce Greenhouse Gas Emissions in Distribution
Disclosures in Accord with the TCFD Recommendations
Climate Change-related Disclosures in Accord with the TCFD Recommendations