Thorough Compliance
Materiality 10
Relevant SDGs
Reason for Priority
The global social situation facing companies continues to change rapidly, and has even included the occurrence of unforeseen events such as pandemics. No matter how the times may change, we will continue to fulfill our social responsibilities by thoroughly complying with corporate ethics as well as laws and regulations.
Cases where even one scandal has caused a loss of credibility that has endangered a company's existence are too numerous to mention. Therefore, in addition to preventing scandals before they occur, it is important to strengthen compliance systems in a broad sense in accordance with international guidelines and directives, while simultaneously carrying out appropriate risk evaluation and training.
Commitment
The Nikon Code of Conduct constitutes the fundamental rules of the Group based on its Corporate Philosophy of Trustworthiness and Creativity. It sets the standards by which all Nikon Group employees fully recognize the importance of compliance, abide by laws and regulations, company rules, and social norms, make ethical decisions, and take appropriate actions with integrity in day-to-day business activities. The Nikon Code of Conduct also represents the foundation on which we will strengthen global governance and respond to the expectations of the international community. Nikon aims to be a company that lives up to society's expectations by striving to continuously make the Code of Conduct widely known and understood, and by engaging in honest actions, including those related to legal compliance.
In order to contribute to the sustainable development of society by realizing Corporate Philosophy of Trustworthiness and Creativity and our vision of Unlock the future with the power of light, I will continue to demand thorough compliance through adherence to the Nikon Code of Conduct.
Takumi Odajima
Representative Director and Executive Vice President
General Manager of Group Governance & Administration Division
Nikon Code of Conduct
The Nikon Code of Conduct is a specific set of standards that each and every employee should understand in depth and utilize to implement the concept of compliance. In January 2018, we revised the Code of Conduct to address the latest requirements of the global community. Specifically, the revision included adding descriptions on such topics as human rights, taxation, export and import control and social responsibilities of the supply chain. We then standardized the Code of Conduct as the common set of rules for all Group companies in and outside Japan.
Nikon makes its Code of Conduct known to all employees in and outside Japan and promotes their understanding of it through various means, such as messages from the president, company principles, explanations of terms, and Q&A. The Code of Conduct and accompanying commentary have been translated into 16 languages and have been published to ensure that all employees have access to them at any time.
Main initiatives and results for the fiscal year ended March 2022
Compliance Training for Directors and Employees of the Nikon Group
The Nikon Group aims to instill an awareness of the concept of compliance in every person at the Nikon Group, from our top management to each and every employee.
At the December 2021 meeting of the Compliance Committee, a compliance seminar was conducted by a specialist lawyer for 23 committee members, including Nikon's full-time directors. For Group employees, we hold classroom training and e-learning. In the fiscal year ended March 2022, training on harassment and other issues was conducted by the compliance coordinators in each workplace, and e-learning comprehensively covering the Code of Conduct was conducted at the Nikon Group companies in Japan. Group companies outside Japan are continuously conducting training activities to disseminate the Nikon Code of Conduct. In addition, regional headquarters took the lead in providing training on harassment and discrimination prevention, anti-bribery, competition law, and other issues.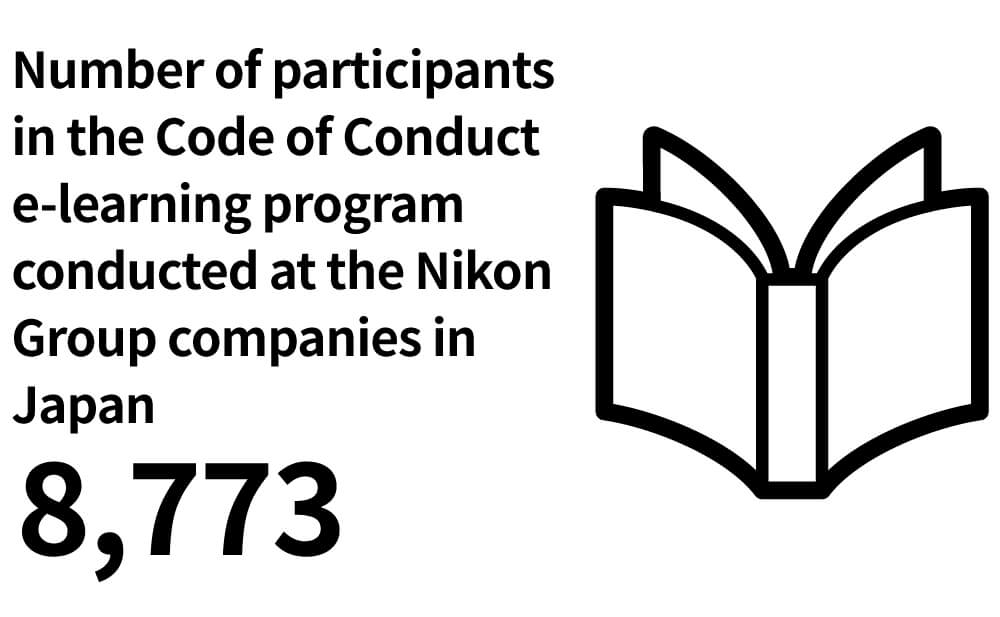 Prevention of Bribery
The Nikon Group has established the Nikon Anti-Bribery Policy with the approval of the Executive Committee to reiterate our commitment to the prevention of bribery both internally and externally. As a general rule, we have banned facilitation payments. In addition, at the start of transactions with third parties, such as intermediaries, Nikon makes the Nikon Anti-Bribery Policy known to all parties, and in principle, the contract must include a clause regarding the prohibition of bribery.
The Compliance Section and regional headquarters outside Japan are working continuously to provide training and make procedures regarding anti-bribery known to all. Each Group company also checks the operation of the Anti-Bribery Guidelines using a self-assessment checklist at the end of every fiscal year, and the results are used to improve practices in the subsequent fiscal year.
In the fiscal year ended March 2022, we conducted anti-bribery training in the Americas and Republic of Korea. No cases of violation of anti-bribery-related laws and regulations occurred in the Nikon Group during this period.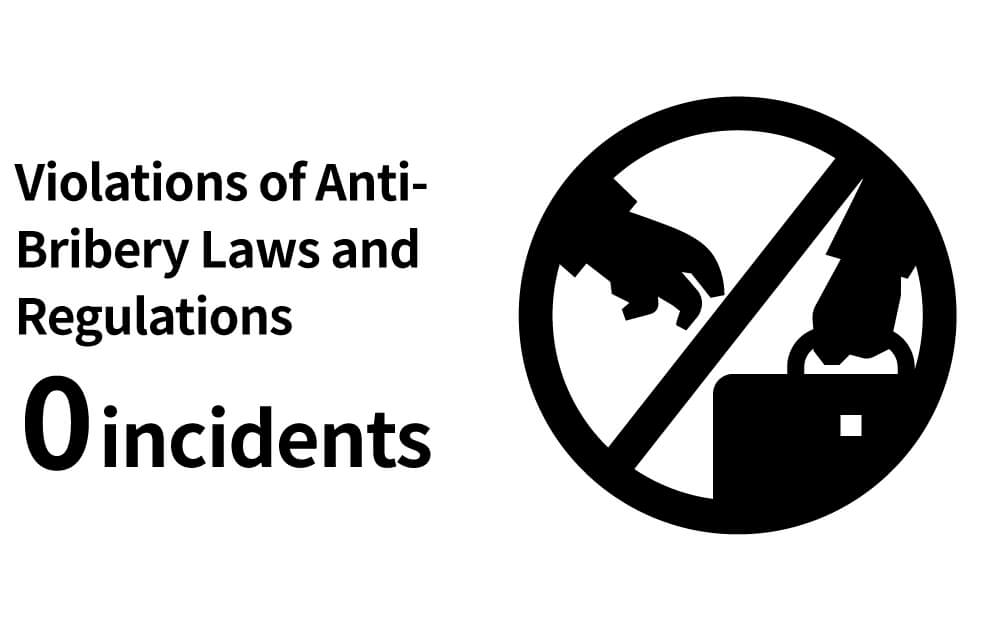 Sustainability Report
For more information, refer to Thorough Compliance in the Sustainability Report.
Compliance
Nikon Code of Conduct

System

Promotion Activities

Prevention of Bribery

Prevention of Competition Law Violations

Responding to Misconduct
Related Policies
Relevant Information