Exploring possibilities for imaging expression with the creators of tomorrow
highlight
Mixed Reality (MR), the metaverse, and generative AI — such technological advancements have greatly broadened the possibilities of imaging expression. Nikon has incorporated the area of "life and entertainment" as one of its value propositions in its Medium-Term Management Plan announced in 2022. As part of its sustainability strategies, Nikon aims to contribute to rich, creative visual expression and culture using imaging equipment, 3D and 4D technologies, and beyond. In pursuit of these goals, Nikon Creates, a subsidiary of Nikon, began operations in 2022.
In July 2023, aspiring creators gathered at Nikon Creates' imaging complex, the "Heiwajima Stage," which boasts cutting-edge technologies including volumetric video and virtual production. Not only did this opportunity give young creators a chance to explore and learn about novel forms of imaging expression, but it also allowed Nikon Creates to receive insights from their fresh perspectives. Together, they embarked on an exciting journey to unlock new possibilities in imaging expressions. Let's take a look at various new ideas they've discovered.
What types of images will we be able to see in the next three to five years?
The Heiwajima Stage welcomed a group of high-school students who are aspiring to become creators. These students who are dedicated to both their own creative work and their studies came from the Tokyo, Yokohama, Sendai, and Nagoya campuses of Kyokei Gakuen Educational Institution in Japan. This opportunity provided the students with a glimpse into the forefront of the industry and after the visit, they participated in workshops designed to assist them in exploring new horizons in imaging expression.
This extracurricular class was organized to achieve the school's aim for students to experience the industry at a professional level. It also branches from one of Nikon Creates' objectives, which is to offer insights about utilizing imaging technology while inspiring the imaginative potential of the next generation of creators.
"Our imaging technology is still very new in Japan, and something that's up-and-coming. But it might well become an industry standard by the time you step into the professional world in about three to five years. So, with that in mind, please try to amaze us with your fresh and imaginative ideas that break away from the norm, ideas that adults might not even think of," explained Kazuhiro Hirano, CEO and President of Nikon Creates, in his motivating address to the students.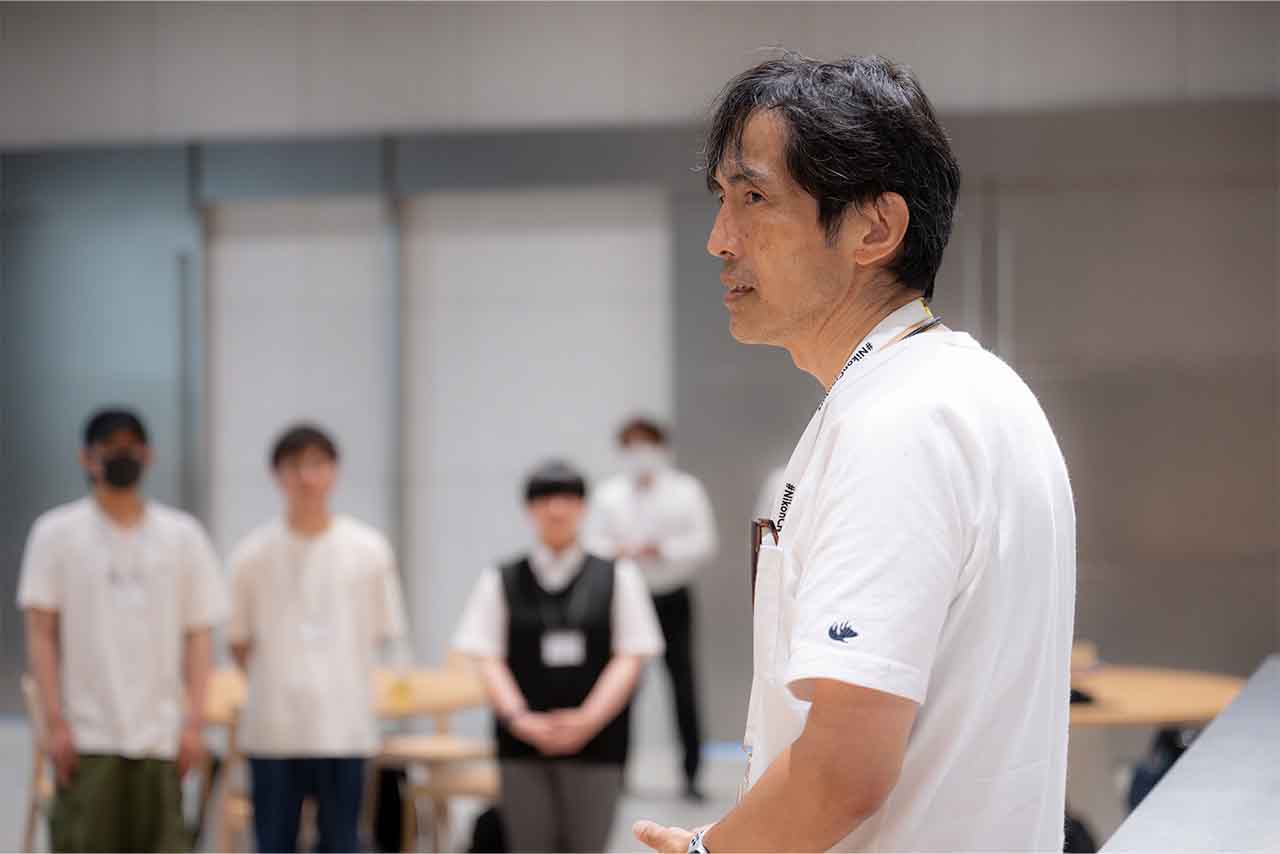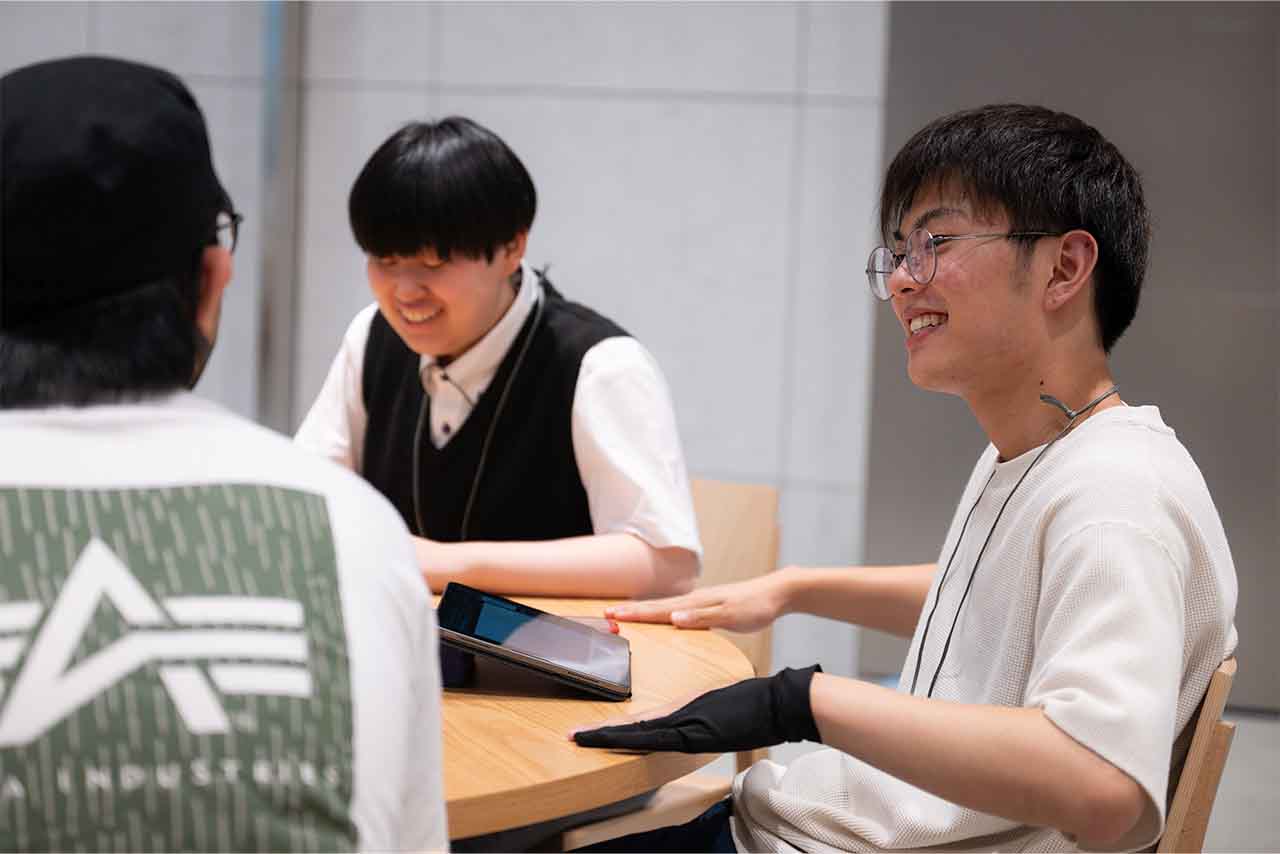 Cutting-edge imaging technology to inspire the creators of tomorrow
The first stop on the tour was the virtual production* studio. There, a massive LED panel was set up, and right in front of it was a convertible automobile. The panel displayed highly detailed moving scenery, enabling the filming of videos which give a realistic impression that the convertible is racing through it. This technique has been gaining popularity in recent years, especially in action and science-fiction movies.
Seeing such new technology for the first time, the students were in awe, enthusiastically exclaiming that "The realism is incredible!" and "If we had access to such technology, there would be no limit to what we could do!"
"It's not just the background; there are panels above and at the sides as well. This is done to ensure that the moving scenery also gets reflected onto the car body," Hirano explained. The students were very intrigued about these practical insights.
*Virtual production: A technique involving the use of large displays showing backgrounds or tools like green screens. This allows for the synchronization of background movement and angles with the subjects, facilitating shooting and composition.
This method removes the limitations imposed by weather and time at physical shooting locations, eliminating the need to construct extensive sets, reducing costs, while also contributing to Sustainable Development Goals (SDGs) by helping to cut the consumption of resources and energy, as well as waste generation.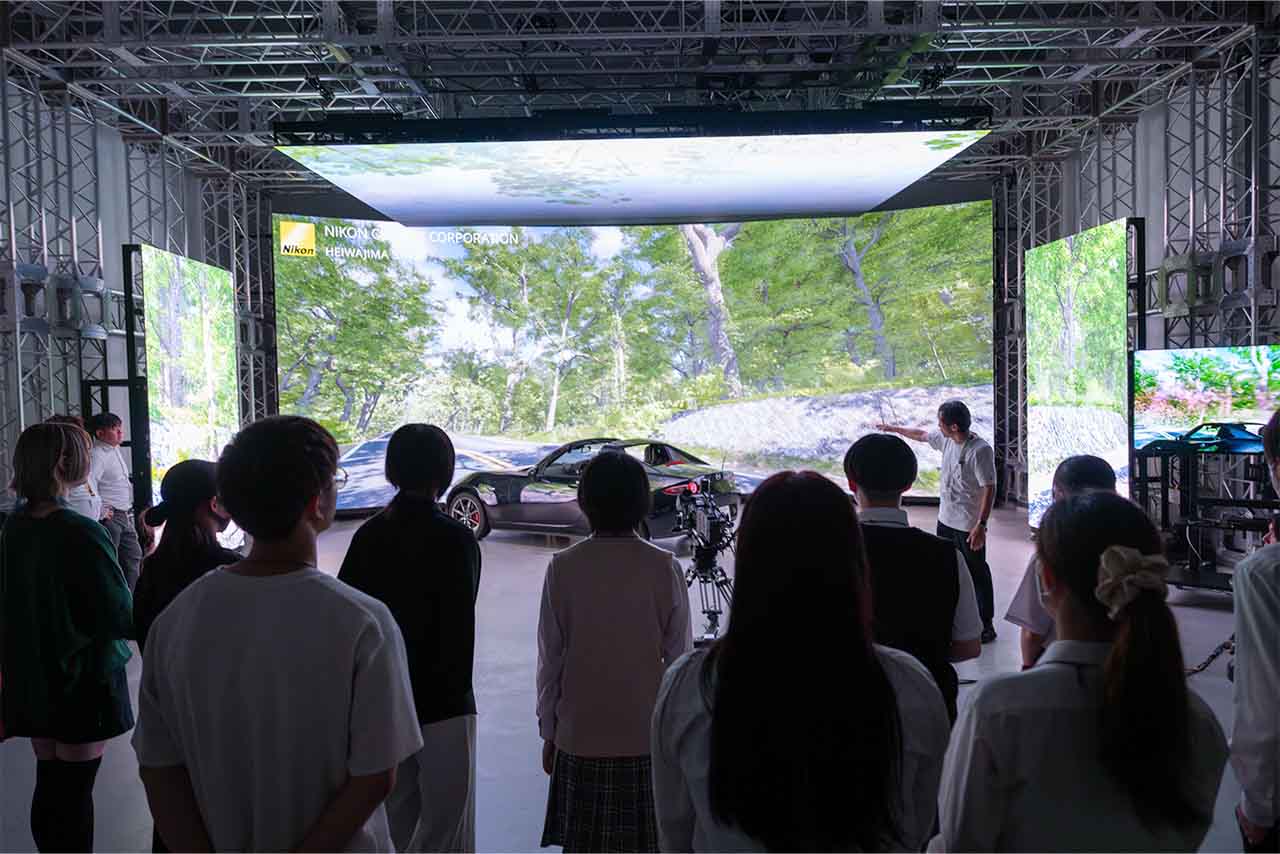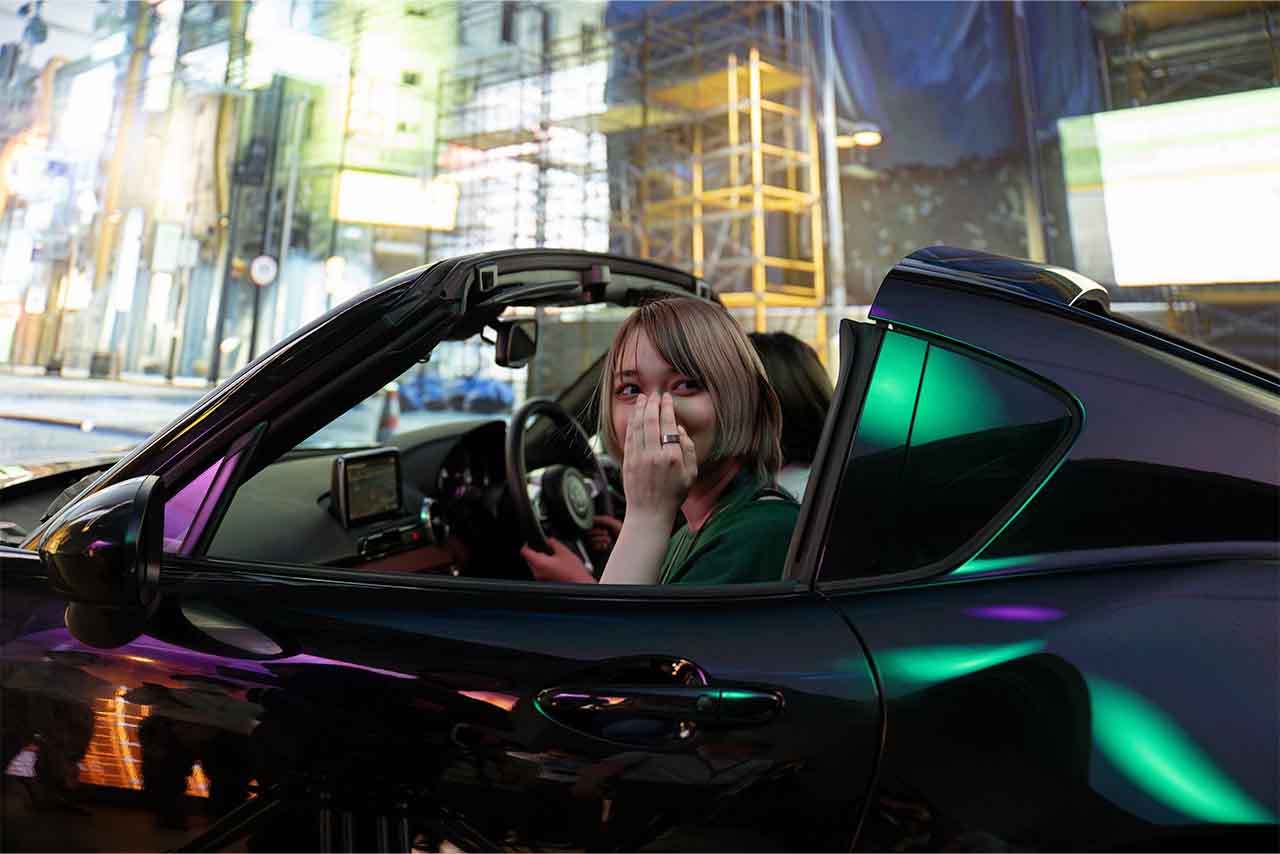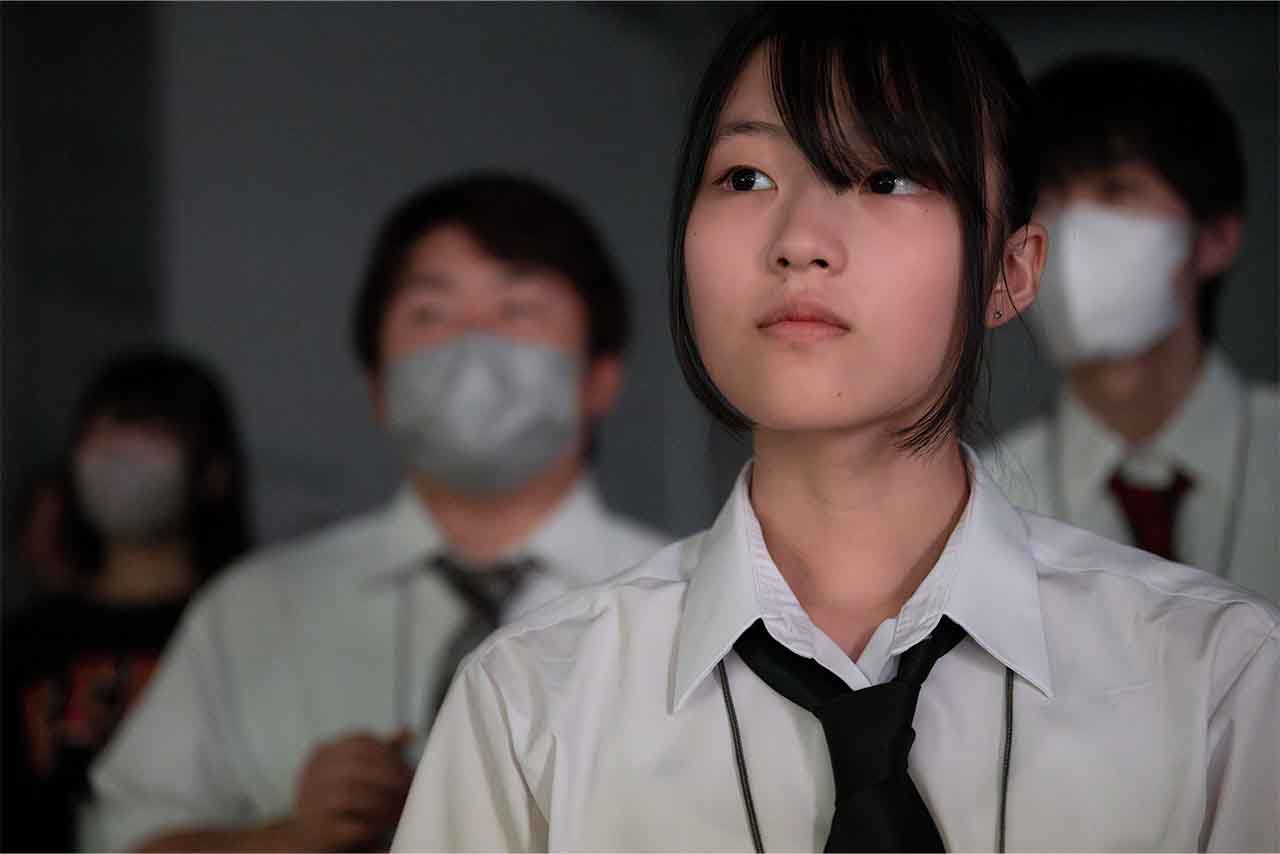 The next stop was at the "POLYMOTION STAGE," where volumetric video* takes place. Using more than 100 cameras, the subject is captured from every angle, generating authentic 3D video data that captures even the movements of hair and clothing. In the editing interface, the subject can be maneuvered freely.
"Can you adjust the angles and zoom after the shooting?" "What about the lighting?" These were just a few of the students' questions that came up one after the other.
* Volumetric video: Nikon Creates' volumetric video system allows for the creation of 3D video data by employing over 100 cameras that capture and combine a full 360-degree view of the subject. This special feature enables the generation of high-quality data, providing even more possibilities for its use.
In addition to virtual reality (VR), the system is also compatible with augmented reality (AR) and mixed reality (MR), realms that are a fusion of both reality and virtuality. It is also anticipated to open the doors to even more possibilities within the realm of extended reality (XR).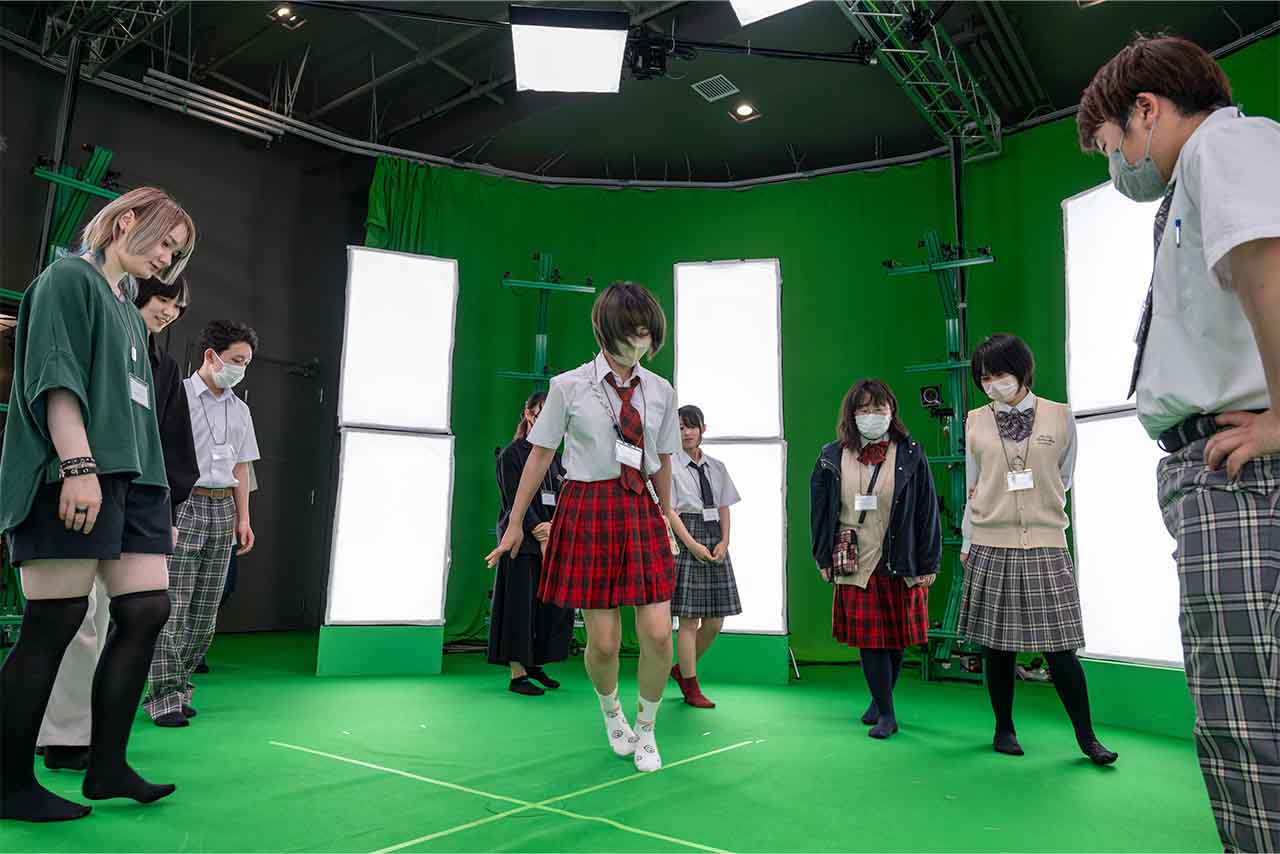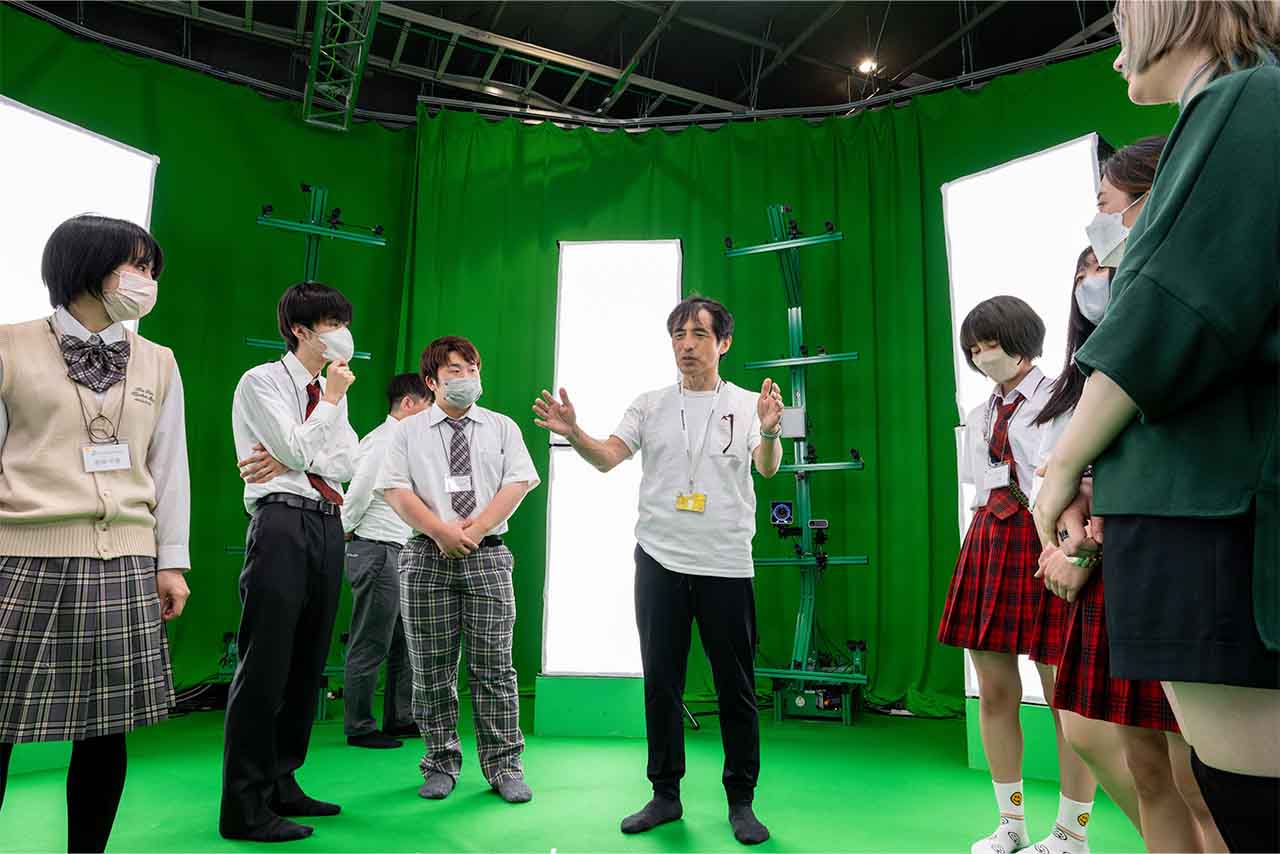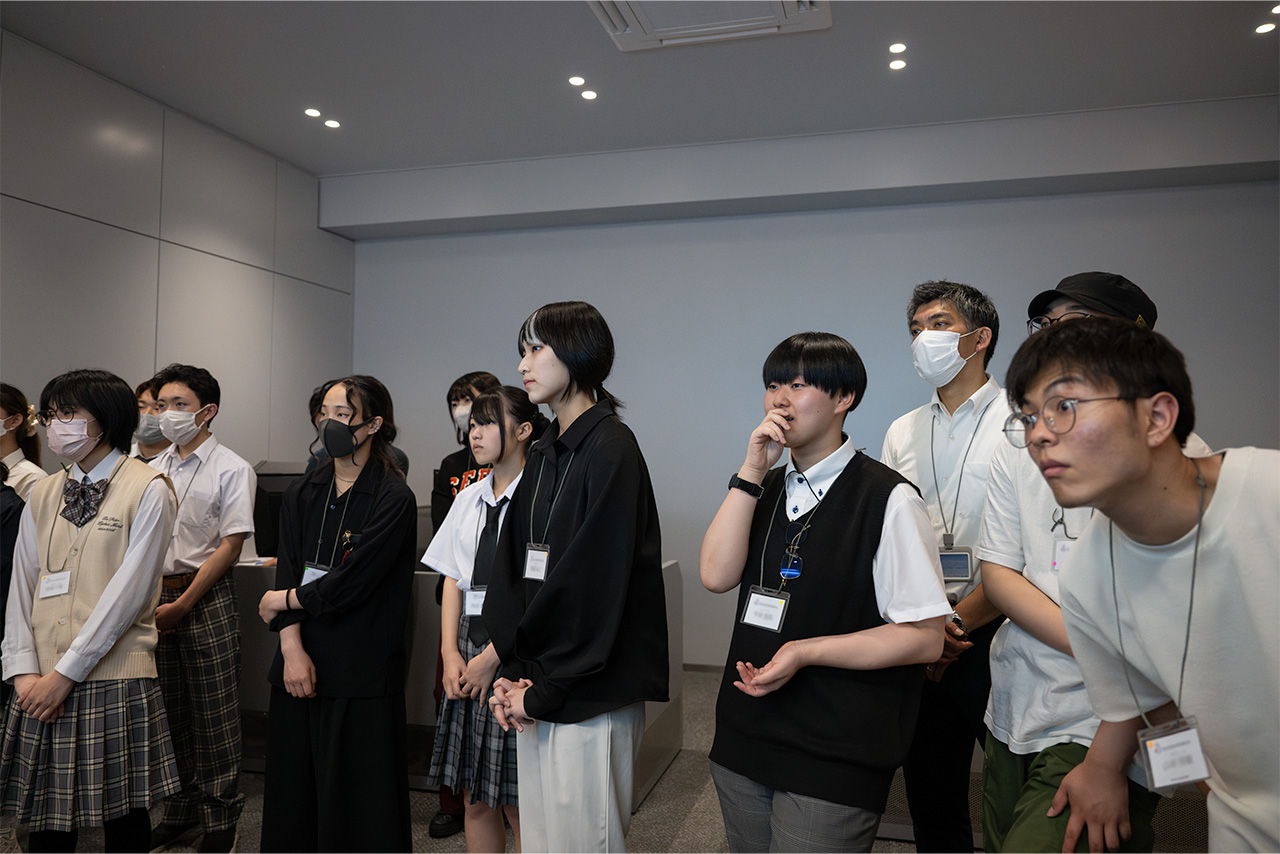 Uncovering possibilities of imaging expression through workshops
Following the visit to the Heiwajima Stage, the students moved on to a workshop. Arranged into several teams, they discussed ideas for new imaging expressions using the latest imaging technology. Members of Nikon Creates became engrossed in the students' presentation of these novel concepts.
Unique ideas such as "If we apply this to animation, we can create entirely new kinds of visuals," and "You could virtually travel the world or explore art museums without leaving your home", were shared during the presentations.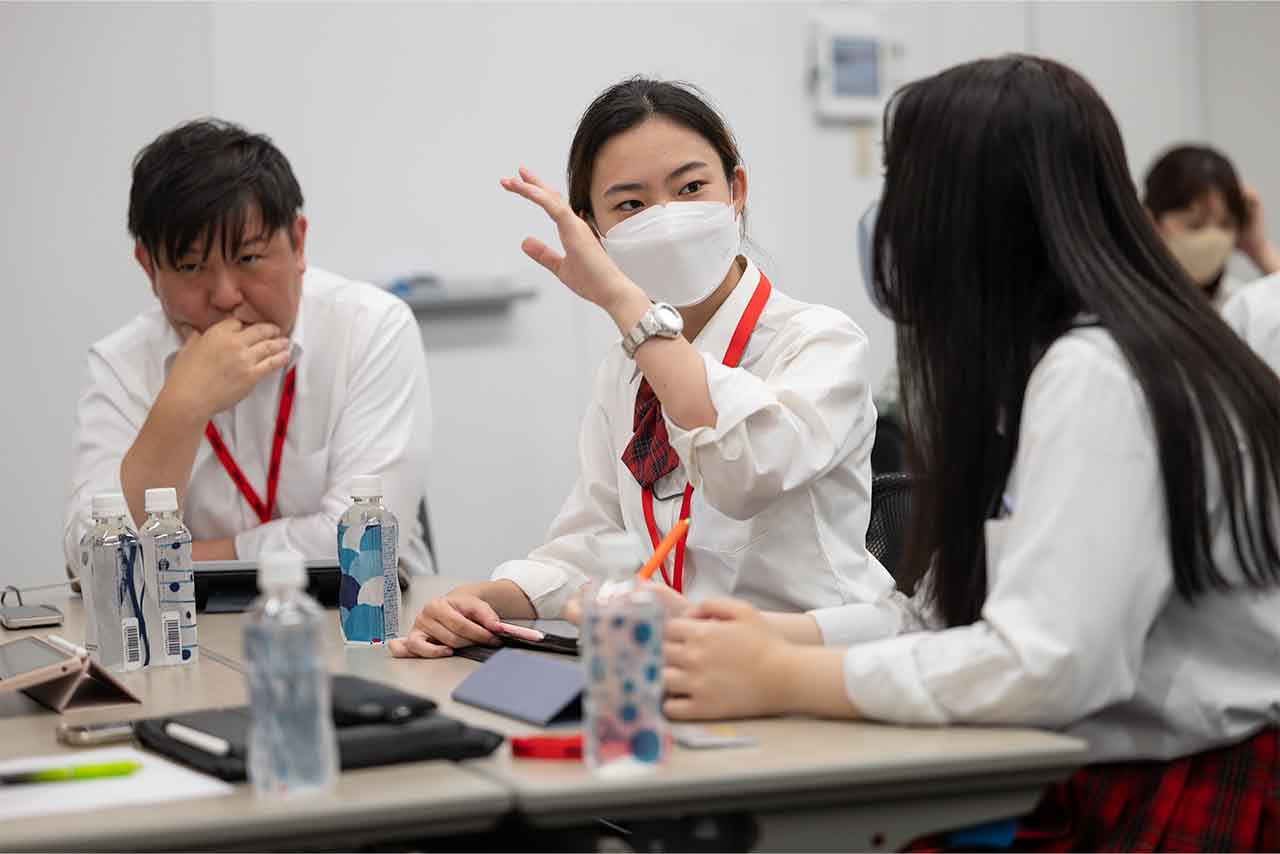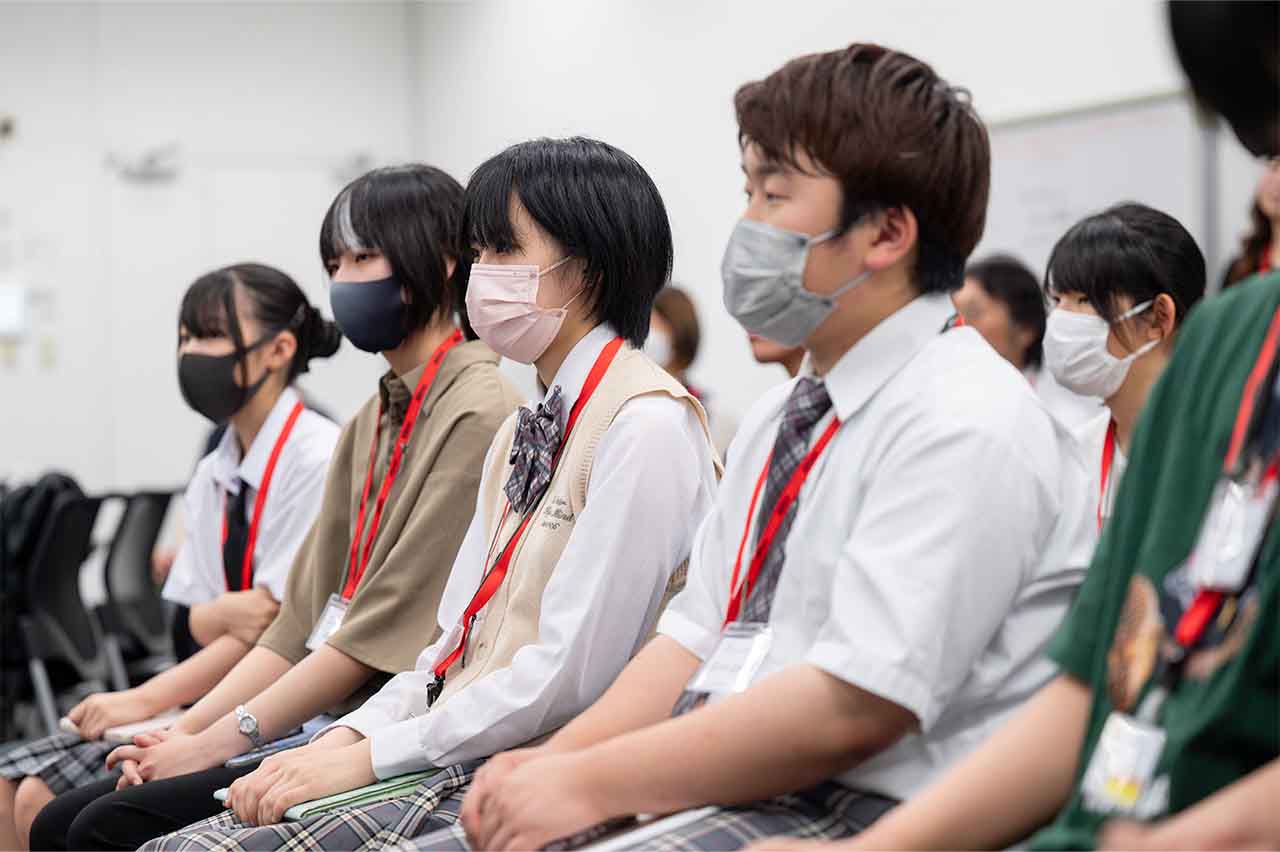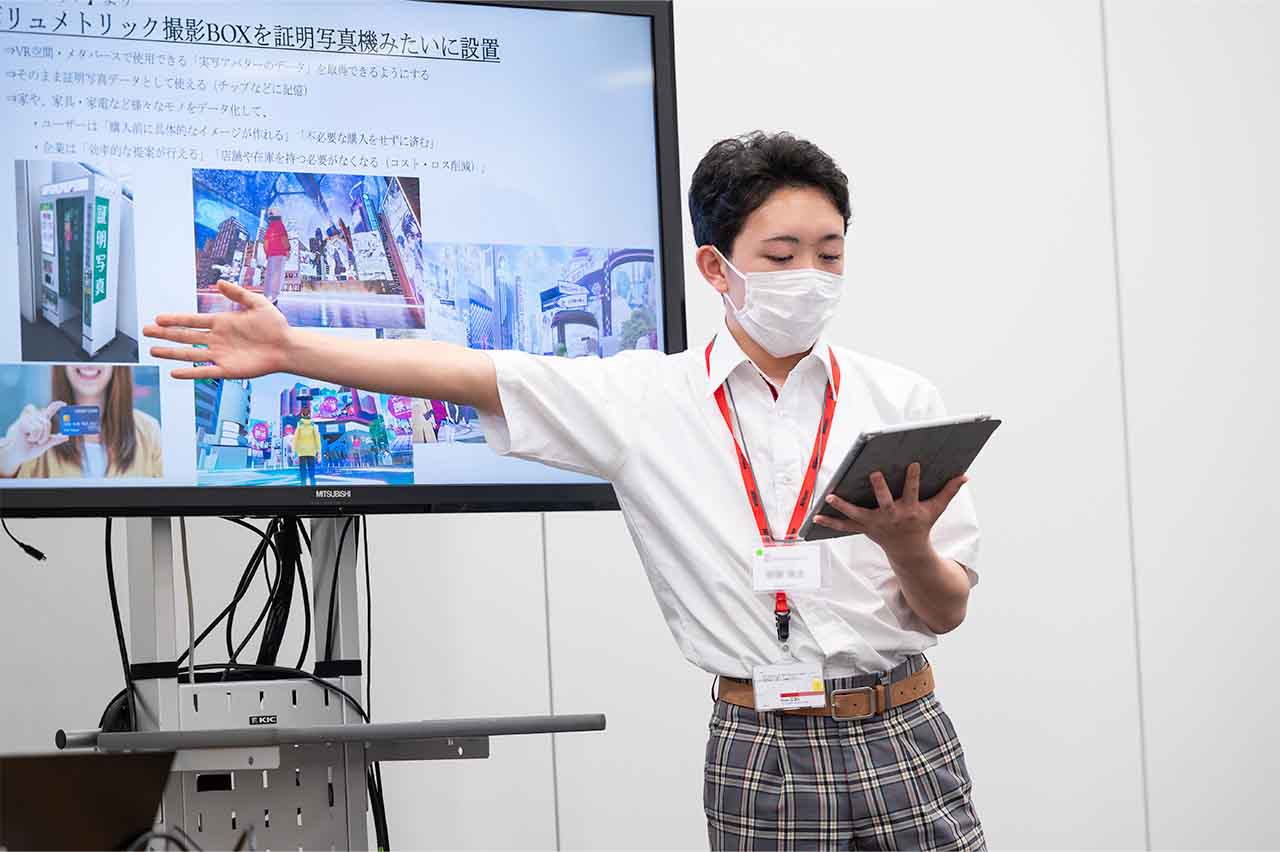 Some of the ideas shared by the students:
Virtual Art Museums

Exploring and buying artworks within the metaverse. Since it's a virtual realm, individuals can access it whenever and wherever they want. This opens up the possibility for interactive art pieces and creations that wouldn't be possible in the real world.

Virtual Live Concerts

Experience live performances in a virtual environment. Enjoy a concert from the front row or even from the stage itself. You could even play alongside your favorite artists, sharing the experience of performing together.

Fashion Designing in 3D

In a 3D environment, you can pursue activities such as fashion design. Working in three dimensions offers a much closer approximation to the final results, compared to designing on a flat surface, providing a more realistic representation during the creative process.

Volumetric Imaging Booth

A booth to create avatars of yourself that can be used in a 3D space, similar to those of a photobooth. It can scan characteristics such as height and body shape, making it useful for buying clothes or furniture within the metaverse.
The continuing journey to collaborate with the next generation of creators
We had the chance to ask the students for their thoughts after this extracurricular activity. One student from Tokyo mentioned, "Initially, I was simply amazed by the new technologies, but as I learned more about them, I want to be able to use them one day to create something exciting." Another student from Yokohama stated, "My interest in 3DCG has grown, and I'm even more motivated to pursue a career in that direction." A student from Sendai shared, "My goal is to become a creator who can take on challenges alongside Nikon Creates down the line."
We also had the opportunity to speak with the supervising teacher. Tetsunari Tange, Vice Principal of the Yokohama Campus, remarked, "The technology we had the chance to see today will likely become more common when this current generation of students are taking the lead. It has been an extremely worthwhile and precious experience for all of us."
Nikon Creates' philosophy is to combine advanced imaging technology with creative intuition and to promote collaboration with upcoming generations of creators.
The Nikon Group will continue to create more opportunities to collaborate with the next generation of creators, to open new doors to imaging expressions.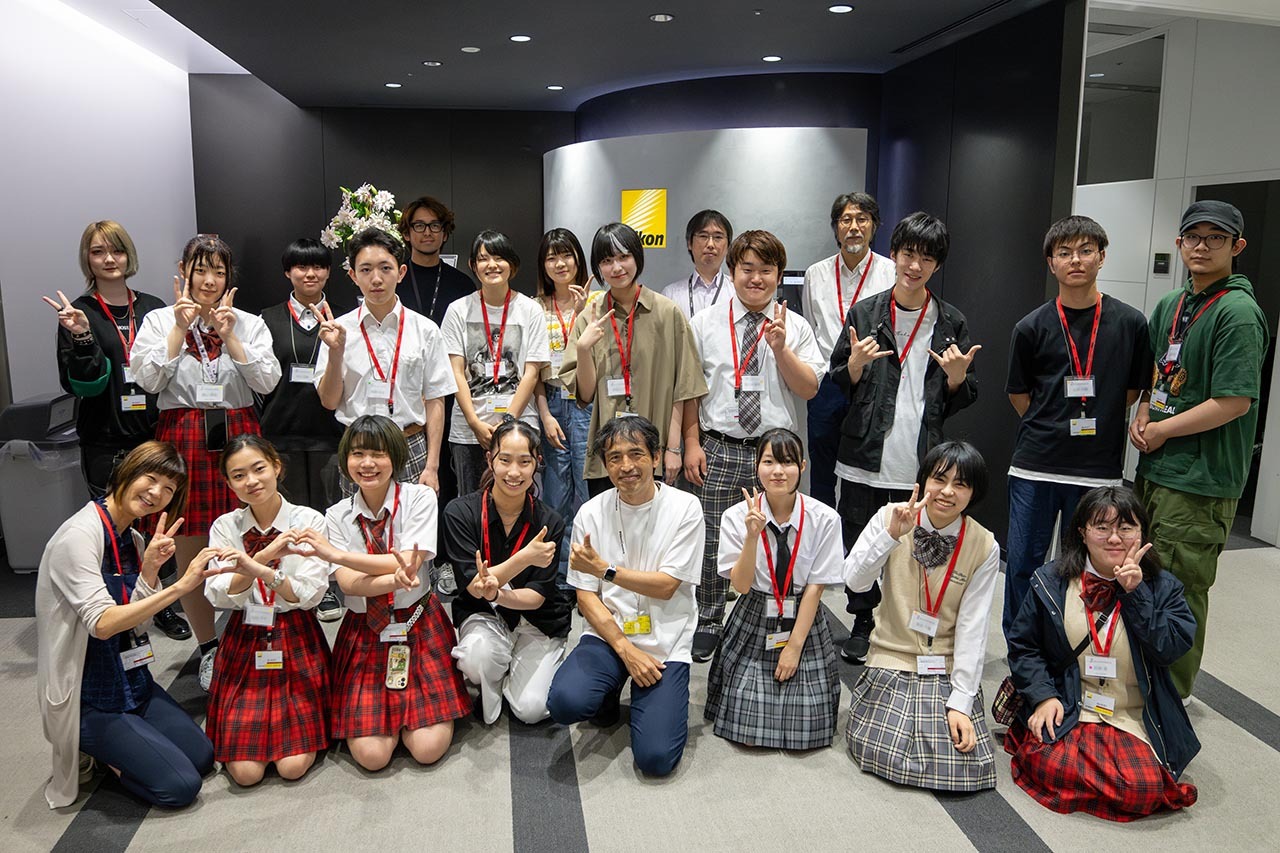 Nikon Creates
Related SDGs
SDGs: Sustainable Development Goals
In 2015, the international community adopted a set of targets for sustainable development, to be achieved by 2030. The 17 global goals address issues such as poverty, hunger, education and climate change.