Digital Compact Camera Nikon COOLPIX S1000pj
August 4, 2009
The world's first compact camera to feature a built-in projector enhances the fun of sharing special moments anywhere
TOKYO — Nikon Corporation is pleased to announce the introduction of the COOLPIX S1000pj. Packing the pleasure of a personal go-anywhere theater into a stylish compact enclosure, the COOLPIX S1000pj delivers a fun new way to share pictures with friends and family in most any location.
The COOLPIX S1000pj is the first compact digital camera* in the world to feature a built-in projector. With a simple touch of a button, the camera projects favorite photos or movies clips on any flat surface at up to 40 inches in size. Pictures can be projected individually, or as slide shows complete with music and added effects that enhance the experience. It's the fun new way to share pictures with family and friends in most any location.
This capability to project still images or movie clips gives birth to an entirely new form of communication as all participants visually share the passion of special moments together. For example, the COOLPIX S1000pj can be used to capture photos on a family vacation, and then serve double-duty as a personal theater in the evening as everyone enjoys viewing the highlights of the day projected on a wall or a ceiling. Whenever and just about wherever friends gather, the COOLPIX S1000pj's projector can add whole new life to the party by displaying nostalgic pictures or freshly shot images for all to enjoy. Parents can even use the COOLPIX S1000pj to display photos of their own artworks or other images on the ceiling to complement bedtime stories they tell their children.
A handy projector stand is included, as is a remote control that can be used to operate the projector, release the shutter, and more.
Also featured are the precision optics of a 5x zoom NIKKOR lens that provides the compositional freedom of 28mm wide-angle coverage and macro shooting ability from as close as 3 cm (1.2 in.). This combines with the image quality and performance benefits of Nikon's innovative EXPEED digital image-processing concept to help ensure consistently beautiful results produced at the high resolution of 12.1 effective megapixels.
The COOLPIX S1000pj will be available in Black or Warm Silver. (Color name and color availability may vary according to region.)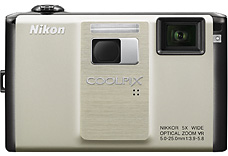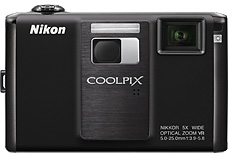 *

Among digital cameras as of August 4, 2009 (according to research conducted by Nikon Corporation).

Note:

Specifications, design, product name, standard accessories, and release schedule may differ by country or area.
Nikon COOLPIX S1000pj Feature Highlights
Sharper results with five advanced Nikon image stabilizing features*1
Nikon's Optical lens shift and Electronic VR image stabilization systems combine to help produce blur-free images. High ISO 6400*2 capability allows faster shutter speeds when shooting in low light or capturing fast-moving subjects. Motion Detection automatically controls shutter speed and the ISO setting to compensate for subject movement and camera shake. And, Nikon's original BSS (Best Shot Selector) function automatically shoots a series of sequential frames and saves the one with the sharpest focus.
*1

The camera selects and uses only the features required to optimize each image.

*2

ISO 3200 and 6400 are available only for image sizes of 3M (2048 x 1536) or smaller.
Nikon's Smart Portrait System with Skin Softening
Face-priority AF helps produce more satisfying portraits by adjusting focus and exposure for as many as 12 faces in the framed shot. Skin Softening function detects and analyzes a framed subject's skin, and then adjusts smoothness to produce enhanced results. Smile Timer automatically releases the shutter when the subject smiles, while its Blink Proof function shoots two sequential frames, then saves the one in which the subject's eyes are widest open. Blink Warning presents an alert when it suspects that someone in the shot has blinked. In-Camera Red-Eye Fix automatically corrects any perceived red-eye effect before saving the image to memory.
Intelligent automated shooting modes that promote carefree shooting
Nikon's Scene Auto Selector makes it faster and easier to capture the moment by eliminating the need to manually select a scene mode to match the intended shot. This intelligent function determines the subject, analyzes the surrounding settings, and then automatically selects the appropriate scene mode for optimal results. Subject Tracking enhances the shooting experience by following the subject's movement to ensure clear focus and quick response when that special shutter opportunity presents itself. Subject Tracking even functions if the subject moves out of the frame for a second or two.
Quick Retouch
Quick Retouch automatically adjusts the contrast and saturation of selected photos to create an enhanced copy with the right finishing touch.
Nikon COOLPIX S1000pj Other Features
2.7-in. high-resolution LCD monitor with anti-reflection coated cover
16 handy scene modes for optimized shooting in various settings
D-Lighting
Active Zoom
Auto Sort and Favorite Pictures functions
Four movie modes with sound
Time zone function for easy setting of multiple locations
Approx. 36 MB of internal memory
Hi-Speed USB connectivity
Nikon Digital Camera COOLPIX S1000pj Specifications
| | |
| --- | --- |
| Effective pixels | 12.1 million |
| Image sensor | 1/2.3-in. CCD; total pixels: approx. 12.39 million |
| Lens | 5x zoom NIKKOR; 5.0-25.0mm (equivalent with 35mm [135] format picture angle: 28-140mm); f/3.9-5.8; Digital zoom: up to 4x (35mm [135] format picture angle: 560mm) |
| Focus range (from lens) | 30cm (1 ft.) to infinity (∞), Macro mode: 3cm (1.2 in.) to infinity (∞) |
| Monitor | 2.7-in., approx. 230k-dot, TFT LCD with anti-reflection coating |
| Storage media | Internal memory (approx. 36 MB), SD/SDHC memory cards*1 |
| Image size (pixels) | 4000 x 3000 (High: 4000★/Normal: 4000), 3264 x 2448 (Normal: 3264), 2592 x 1944 (Normal: 2592), 2048 x 1536 (Normal: 2048), 1024 x 768 (PC: 1024), 640 x 480 (TV: 640), 3968 x 2232 (16:9: 3968) |
| Vibration Reduction (VR) | Combination lens-shift and electronic VR |
| ISO sensitivity | ISO 80, 100, 200, 400, 800, 1600, 3200*2, 6400*2, Auto (auto gain ISO 80-800), Fixed range auto (ISO 80-200, 80-400) |
| Interface | Hi-Speed USB |
| Power sources | Rechargeable Li-ion Battery EN-EL12 (supplied), AC Adapter EH-62F (optional) |
| Battery life | Approx. 220 shots with EN-EL12 battery |
| Dimensions (W x H x D) | Approx. 99.5 x 62.5 x 23 mm (4 x 2.5 x 0.9 in.) excluding projections |
| Weight | Approx. 155 g (5.5 oz.) without battery and SD/SDHC memory card |
| Supplied accessories*3 | Rechargeable Li-ion Battery EN-EL12, Battery Charger MH-65, USB Cable UC-E6, Audio Video Cable EG-CP14, Strap AN-CP19, Projector Stand ET-2, Remote Control ML-L4, Software Suite CD-ROM |
| Optional accessory | AC Adapter EH-62F |
| Projector | Brightness*4: up to 10 lumens; Image size: 5 to 40 in.; Throw distance: approx. 26 cm to 2 m (10 in. to 6 ft. 6 in.); Endurance (battery life)*5: approx. 1 hour; Resolution (output): VGA equivalent |
*1

Not compatible with Multi Media Cards (MMC).

*2

ISO 3200 and 6400 are available only for image sizes of 3M (2048 x 1536) or smaller.

*3

Supplied accessories may differ by country or area.

*4

Measurement, measuring conditions and method of notation all comply with ISO 21118.

*5

Based on continuous use of a fully-charged EN-EL12 battery at 25°C/77°F.
System Requirements
OS
Macintosh: Mac OS X (version 10.3.9, 10.4.11, 10.5.6, 10.5.7)
Windows: Preinstalled versions of Windows Vista Service Pack 1 (32-bit Home Basic/Home Premium/Business/Enterprise/Ultimate editions), Windows XP Service Pack 3 (Home Edition/Professional)
Note
CD-ROM drive required for installation. Only built-in USB ports are supported.
Microsoft®, Windows® and Windows Vista™ are either registered trademarks or trademarks of Microsoft Corporation in the United States and/or other countries.
Macintosh®, Mac® OS and QuickTime® are either registered trademarks or trademarks of Apple Inc. in the United States and/or other countries.
The SDHC logo is a trademark. PictBridge is a trademark.
The FotoNation logo is a trademark.
CompactFlash® and Extreme® are registered trademarks of SanDisk Corporation.
Products and brand names are trademarks or registered trademarks of their respective companies.
Images on displays shown in this brochure are simulated.
Specifications and equipment are subject to change without any notice or obligation on the part of the manufacturer.
The information is current as of the date of publication. It is subject to change without notice.