Nikon Introduces New Fieldscope Digital SLR Camera Attachment FSA-L2
August 20, 2009
Nikon Vision Co., Ltd., a subsidiary of Nikon Corporation, is pleased to present Fieldscope Digital SLR Camera Attachment FSA-L2 for use exclusively with Nikon EDG Fieldscopes and Nikon D-SLR cameras.
The Digital SLR Camera Attachment FSA-L2, which has 3.5x zoom and 500-1,750mm (f/5.9-21) focal length, used together with the new EDG Fieldscopes enables super-telephoto shooting with Nikon D-SLR cameras. The D-SLR camera's Aperture-Priority Auto Mode can be used when the camera is connected to the FSA-L2 and EDG Fieldscope.
The new EDG Fieldscopes have been developed to provide excellent optical and mechanical performance, not only for observation but for digiscoping as well. The FSA-L2 features a bright optical path with fully multilayer-coated lenses. The combination of EDG Fieldscopes, the FSA-L2 and Nikon D-SLR cameras allows the capture of beautiful moments with high precision and superb image quality.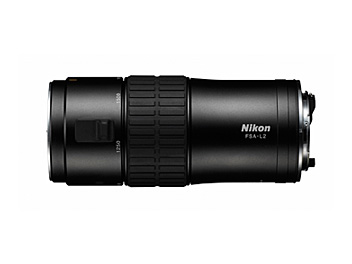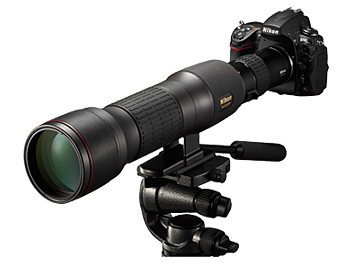 Key Features
Quickly and easily attaches directly to the F-mount of a Nikon digital SLR camera, for easy connection with an EDG Fieldscope
Multilayer coating is applied to all lens elements for brighter optics
Zoom function features an internal vari-magnification system, with magnification of 3.5x
Focal length ranges from 500mm to 1,750mm when attached to EDG Fieldscope 85/85-A
Compatible with camera exposure modes: Metered Manual Mode and Aperture-Priority Auto Mode
Exterior design and color synchronized to match digital SLR camera and EDG fieldscope
FSA-L2 Specifications
Magnification
3.5x zoom
Mount
Bayonet mount
Exposure mode (camera setting)
A (Apeture-Priority Auto)/M (Metered Manual)
Exposure metering
(camera setting)
Centre-weighted metering
Length x diameter
150mm x 62mm
Weight
435g


With EDG Fieldscope 85/85-A
With EDG Fieldscope 65/65-A
Focal length
500mm - 1,750mm
(DX format: 750 - 2,625mm)
400mm - 1,400mm
(DX format: 600 - 2,100mm)
Aperture
(focal length)
f/5.9 - 21
(500mm - 1,750mm)
f/6.2 - 22
(400mm - 1,400mm)
Compatible Nikon digital SLR camera (as of August 2009)
D3 series/D2 series/D700/D300 series/
D200/D100/D90/D80/D70 series/
D5000/D60/D50/D3000/D40 series
*

The camera's autofocusing mode cannot be used. Focusing can only be done using the EDG Fieldscope focusing ring.

*

When used with a Nikon DX-format digital SLR camera, the picture angle is equivalent to approx. 1.5x focal length of 35mm format.

*

The actual f-number and the focal length vary depending on the actual zoom setting, while the camera display and image data show the constant f-number (13) and focal length (800mm).

*

When used with a Nikon FX-format camera, vignetting occurs at focal length of between 500mm and 750mm with EDG Fieldscope 85/85-A and between 400mm and 600mm with EDG Fieldscope 65/65-A.

*

Because the optical system characteristics differ from those of ordinary interchangeable lenses, the exposure level may vary depending on the camera model; use exposure compensation if necessary. Exposure compensation may be required when zoom is set at a wider position.
The information is current as of the date of publication. It is subject to change without notice.