A completely revamped version of my Picturetown, Nikon's image sharing and storage service,to be activated
Introducing a PhotoMovie service for creating unique movies from photos.
September 16, 2010
TOKYO – Nikon Corporation is pleased to announce that a completely revamped version of my Picturetown (http://mypicturetown.com), Nikon's image sharing and storage service, was activated.
The revamped my Picturetown site offers a new design as well as new functions and services for simpler, more intuitive operation.
The new my Picturetown site is more practical and offers improved operation with functions such as one that allows for stress-free viewing of several thousand pictures uploaded to my Picturetown on a single page, and another, adopted in response to great user demand, that allows users to change the order in which pictures are displayed using familiar drag-and-drop operations.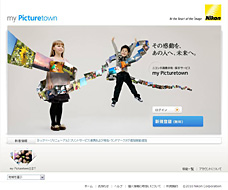 Among the new services available is the unique "PhotoMovie" service that allows you to combine photos, messages and music with special effects to create original "PhotoMovie" that can be shared with other members.
In August of this year, Nikon celebrates the third anniversary of the my Picturetown service. Since its launch, my Picturetown membership has grown to 1,000,000. With the development of new functions and services, and improvements to those with which members have become familiar, Nikon and my Picturetown continue to propose new ways of enjoying digital photos.
Primary new my Picturetown functions
1. "Home"
The "Home" page displayed immediately after logging in has been redesigned. Photos uploaded to my Picturetown can be displayed in random order to decorate the Home page displayed after you have logged in. In addition, "Approx. 1 year ago" box displays thumbnails of photos taken one year ago, and a list of albums recently shared is also displayed. The more photos you upload to my Picturetown, the more entertaining the Home page becomes.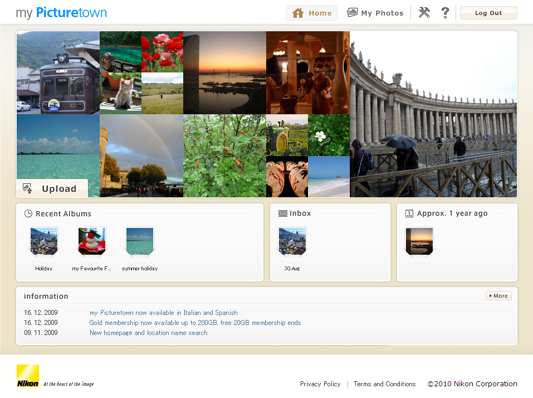 2. My Photos
Display of several thousand photo thumbnails on a single page
The order in which photos are displayed can be modified using drag-and-drop operations
Page design can be selected from eight options
A function for uploading photos to Facebook (http://www.facebook.com), the world's largest social networking service, has been added
An improved uploader function that allows you to perform other operations while photos are being uploaded
An improved search function that allows you to search for particular photos based on a number of criteria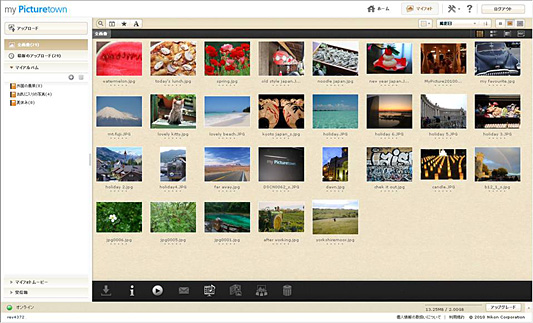 3. Sharing of albums with a specified design
Album design can be selected from 18 options. When an album is shared, those with whom you have shared the album see it with the particular design you have specified.

4. PhotoMovie
This function allows you to easily create your own unique "PhotoMovie" that combines photos, messages and music with special effects. Photo movies can also be shared with family and friends.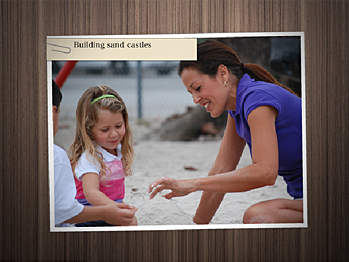 Overview of the my Picturetown service
Service name
my Picturetown
URL: http://mypicturetown.com
Revamped site activation
September 15, 2010
No. of members
Approximately 1,000,000 (as of September 2010)
Types of accounts
Free (no charge, up to 2-GB storage)
Gold (fee charged*, up to 200-GB storage in units of 20 GB each)

*

Membership fee varies by country or region.
*

Specifications and equipment are subject to change without any notice or obligation on the part of the manufacturer.
The information is current as of the date of publication. It is subject to change without notice.