The evolution of upright microscopes
Upright Microscope ECLIPSE Ni Series for Research
Upright Microscope ECLIPSE Ci Series for Laboratory
August 26, 2011
Nikon Corporation (President, Makoto Kimura, Tokyo) is pleased to announce the release on September 1, 2011 of two new innovative series of microscopes: the ECLIPSE Ni series for biological research with advanced "system expandability," superior "optical performance" and "ease of use"; and the ECLIPSE Ci series biological laboratory microscope designed to deliver "comfort" and "durability."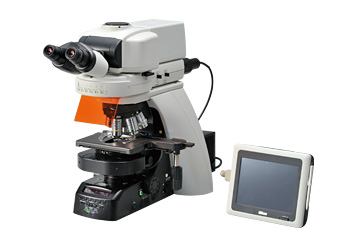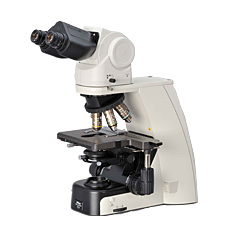 Product Information
Product Name
Upright Motorized Microscope ECLIPSE Ni-E
Upright Microscope ECLIPSE Ni-U
Upright Motorized Microscope ECLIPSE Ci-E (LED illumination)
Upright Microscope ECLIPSE Ci-L (LED illumination)
Upright Microscope ECLIPSE Ci-S (Halogen illumination)
Available from September 1, 2011
Development Overview
Biological microscopes are used in a wide variety of disciplines ranging from "cutting edge" biological and medical research institutes, universities, hospitals and laboratories.
Biological and medical high-end research utilizes versatile experiment techniques. Research microscopes need to offer high system expandability, superior optical performance and ease of use to satisfy these demands.
For Laboratory microscopes, comfort and durability are essential to reduce user fatigue and maintain performance during long-time observation.
In response to these needs, Nikon Corporation has developed the "ECLIPSE Ni series," a microscope series that advances system expandability and ease of use in addition to acclaimed optical performance; and the "ECLIPSE Ci series" in pursuit of comfort and durability.
Features
[ECLIPSE Ni series]
1. Improved system expandability
Various motorized accessories
To meet the need for more versatile experiment techniques, more motorized options, such as filter wheel, high-speed shutter and photoactivation unit, are available for the Ni series.
The Ni-U is a manual main body, which can be partly motorized for users who need minimum motorization.
Choices of focusing system
Motorized type Ni-E offers choices of focusing system, stage focusing - typical for upright microscope, or objective focusing which is effective for in-vivo imaging or multi photon microscopy.
2. World top class optical performance
In the current Eclipse series, Nikon adopted the "fly-eye" lens array built into the transmitted light illumination optics to ensure uniform brightness to both eyepieces and digital detectors. Nikon's proprietary noise terminator mechanism is valued to capture high contrast, high signal-to-noise images in fluorescence. In addition to these features, new objective lenses — CFI Plan Apochromat λ series — employ the latest techniques including Nikon's unique "Nano Crystal Coat" to realize high transmission rates, world top class NA (numerical aperture) and chromatic aberration correction across a broad wavelength range. The result is sharp, crisp images with high contrast and resolution.
3. Improved ease of use
We improved the ease of use because experiments are often conducted with eyes on the eyepiece lenses for prolonged periods, or in a darkened room.
Different-shaped switches to change the function are arranged around the focus handle, so switches can be identified even in the dark. Also, observation modes (Epi-fluorescence, DIC, etc.) can be changed easily by pressing buttons in front of the body. (Ni-E only)
A new camera control unit DS-L3 (sold separately) can be used as a microscope controller for comfortable operation via intuitive icons on the LCD touch panel. (Ni-E/Ni-U)
The image capture button has been added on the side of main body. Images can be acquired instantly while operating and observing images through the microscope. (Ni-E/Ni-U)
4. 3D ergo design
The main body, which has been designed with a "3D Curve" gives a stylish, modern look.
[ECLIPSE Ci series]
1. More eco-friendly
The innovative Nikon "fly-eye" lens array combined with power-saving, long-life, high-intensity LED illumination makes illumination brighter, more uniform and eco-friendly. (Three times brighter than that of our current model) (Ci-E/L only)
2. More comfort
Motorized model Ci-E for comfortable observation
This is Nikon's first motorized model for laboratory use. Switching objective lenses is motorized with the condenser top lens motorized and synchronized to the objective selected, and brightness is adjusted to the level set by each objective lens to suit the users' preference. You can concentrate on observation without thinking about operations.
Image capture button function
The image capture button is added on the side of main body for easy capturing while the eyes remain on the eyepiece lenses.
Adjustment mechanism to keep natural posture
The angle of the eyepiece tube and the height of the stage handle can be adjusted to match the users' stature or observation posture. The Ci has various adjustment mechanisms to match all users.
3. More durable
Highly durable stage
New stage incorporates a highly durable, scratch resistant ceramic coating designed to meet the needs of high volume users.
Specifications
<ECLIPSE Ni-E/U>
Ni-E
Ni-U
Main body
Optics
CFI60 infinity optical system
Illumination
12V100W halogen lamp (built-in fly-eye lens array)
Controller
Touch panel controller
Simple remote control pad
Eyepiece tube
Motorized/Manual quadrocular tilting tube, Ergonomic binocular tube, Trinocular tube, Binocular tube
Manual quadrocular tilting tube, Ergonomic binocular tube, Trinocular tube, Binocular tube
Nosepiece
Motorized/Manual nosepiece
Focusing system
Stage focusing,
Nosepiece focusing
Stage focusing
Stage
Motorized/Manual stage
Manual stage
Condenser
Motorized/Manual condenser
Manual condenser
Epi-fluorescence attachment
Motorized/Manual filter cube turret
<ECLIPSE Ci-E/L/S>
Ci-E
Ci-L
Ci-S
Main body
Optics
CFI60 infinity optical system
Illumination
High-intensity LED (with fly-eye lens)
6V30W halogen
Eyepiece tube
Ergonomic binocular tube, Trinocular tube, Binocular tube
Nosepiece
Motorized nosepiece
Manual nosepiece
Stage
Manual stage
Condenser
Motorized/Manual condenser
Manual condenser
For more information
Healthcare Products & Solutions
The information is current as of the date of publication. It is subject to change without notice.