Four Nikon products receive the "red dot award: product design 2012"
The Nikon 1 was selected for the "red dot: best of the best" award
Awards presented to the Nikon 1, the COOLPIX AW100, the COOLPIX P310, and the PROSTAFF 5
April 2, 2012
TOKYO - Nikon Corporation is pleased to announce that four of its products are recipients of the prestigious "red dot award: product design 2012", sponsored by Germany's Design Zentrum Nordrhein Westfalen. The products selected this year are the Nikon 1, part of a new brand of Nikon digital camera system, the COOLPIX AW100, the COOLPIX P310, and the PROSTAFF 5 laser rangefinder, a product of Nikon subsidiary Nikon Vision Co., Ltd.
The "red dot award: product design" is a world-class award presented to products released over the past two years that exhibit superiority in terms of a total of nine aspects, including innovation, functionality, ergonomics, ecology, and durability.
The Nikon 1 camera system, which currently includes cameras, dedicated lenses, a dedicated Speedlight, a dedicated GPS unit, etc., was selected for the "best of the best" award in the Entertainment Technology and Cameras category, one of the more competitive categories in which many truly superior products are entered.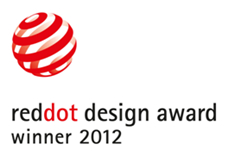 4,515 products from roughly 1,800 companies in 58 countries were entered in the "red dot award: product design 2012" competition. Winners will be on display beginning July 2, 2012 in the exhibition "Design on stage – winners red dot award: product design 2012" at the Red Dot Design Museum on the premises of the Zeche Zollverein World Cultural Heritage Site in Essen Germany.
See the following website for further information on the "red dot design award".
Nikon 1 system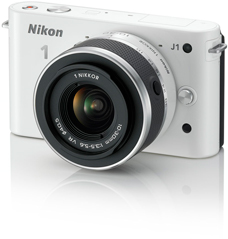 Last year, Nikon released a new digital camera system that offers new forms of imaging expression. The cameras included in this system are described by Nikon as "Advanced Cameras with Interchangeable Lenses".
Both the Nikon 1 J1 and Nikon 1 V1 are equipped with a new CMOS image sensor that supports super high-speed autofocus, and the new EXPEED 3 image-processing engine. In addition, adoption of the new Nikon 1 mount for these cameras has enabled an ultra-compact size and light weight for the cameras.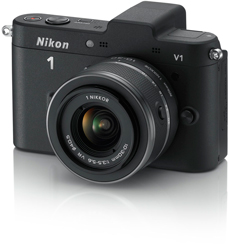 The Nikon 1 system offers a rich lineup of dedicated accessories, including 1 NIKKOR interchangeable lenses, available in the same colors as the cameras for an integrated look, the Speedlight SB-N5, and the GPS Unit GP-N100. It also supports traditional F-mount lenses, allowing users to choose from Nikon's extensive lineup of interchangeable lenses for unlimited imaging expression.
Nikon 1 cameras also boast an advanced hybrid AF system that enables the world's fastest autofocus*1, utilizing the most focus points*2, as well as two new advanced shooting functions that allow users to enjoy new forms of imaging expression. The first is Motion Snapshot, which combines a full-HD movie clip with a still image for more dynamic and expressive imaging. The second is the Smart Photo Selector, which makes capturing the best possible shot simple.
*1

Among interchangeable lens digital cameras available as of September 21, 2011. Statement based on performance with shooting using the 1 NIKKOR VR 10-30mm f/3.5-5.6 at the maximum wide-angle position with AF-area mode set to Single-point. Results based on Nikon test conditions

*2

Among interchangeable lens digital cameras available as of September 21, 2011 . Refers to the number of phase detection AF points available for selection at an AF-area mode setting of Single-point. (Based on Nikon research.)
Nikon COOLPIX AW100
The COOLPIX AW100 is Nikon's first waterproof, shock-proof and cold-resistant camera. It is equipped with a number of functions convenient for outdoor shooting, including GPS support, a digital compass, and a world map display. Adoption of a lens utilizing new thin, right-angled optics makes the COOLPIX AW100 one of the slimmest truly waterproof compact digital cameras available. It offers not only a fashionable and elegant design that makes it perfect for everyday use, but also a tough body well suited to outdoor shooting.
Nikon COOLPIX P310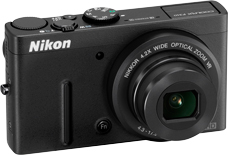 The COOLPIX P310 is a compact digital camera that offers wide-angle zoom in a small body. It is part of the multi-function, high-performance COOLPIX P series, a line of COOLPIX cameras that support full-scale photography.
It is equipped with a backside illumination CMOS image sensor with an effective pixel count of 16.1-million pixels, lens-shift vibration reduction, and a fast lens with a maximum aperture of f/1.8.
It also offers a function button that can be easily customized to make full-scale photography simpler and more enjoyable.
Laser Rangefinder PROSTAFF 5
The PROSTAFF 5 is a portable laser rangefinder that incorporates advanced optical performance in a compact and ergonomic design. It is capable of measuring distances up to 550 m/600 yards with display in increment of 0.1 m/yards. With a waterproof construction, it is the perfect choice for a number of outdoor activities, including golfing, sailing, and hunting. The bright, wide field of view of its 6x magnification viewfinder makes measuring the distance to even a small subject easy and stress-free with the simple press of a button.
The information is current as of the date of publication. It is subject to change without notice.