Nikon Introduces the Laser Rangefinder COOLSHOT AS
February 22, 2013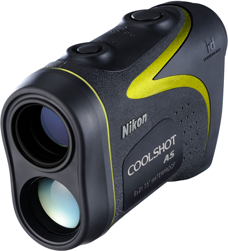 Nikon Vision Co., Ltd., a subsidiary of Nikon Corporation, is pleased to announce the release of the Nikon Laser Rangefinder COOLSHOT AS, an ideal companion for golfers who are eager to improve their skills.
The COOLSHOT AS will be added to Nikon's COOLSHOT Laser Rangefinder series. This new rangefinder, based on the COOLSHOT released in March 2012 which is the standard model for actual distance measuring, incorporates ID Technology to make its Golf Mode capable of displaying slope adjusted distance (horizontal distance ± height) to help golfers on a sloping course.
This new, sporty and compact model that employs ID Technology allows the selection of four measurement display modes and displays height, horizontal distance and slope adjusted distance (horizontal distance ± height) in addition to actual distance.
The COOLSHOT AS features a high-performance, multilayer-coated 6x viewfinder and a large, easy-to-view eyepiece with long eye relief to enable the user to find a small target easily in a bright and wide field of view.
It is easy to switch between First Target Priority and Distant Target Priority modes. In First Target Priority mode, the user can measure the distance to a flagstick in front of a bush without confusing the target with the background. This is especially useful for an approach shot.
Moreover, continuous measurement for up to about 8 seconds is possible by holding down the POWER ON/Measurement button – effective for measurement of the distance to a small target like a flagstick without worrying about hand movements.
As a high-end model of the COOLSHOT series, the COOLSHOT AS greatly helps golfers to select the appropriate clubs even on uphill or downhill holes.
Key Features
Measurement range: 4.5-550m (5-600 yd.)
Easy operation enables measurement of actual distance, horizontal distances, height and slope adjusted distance (horizontal distance ± height)
Golf mode displays the slope adjusted distance (Horizontal distance ± Height) which is a guide for how far you should hit the ball and useful when golfing on a uphill/downhill course – ID (incline/decline) Technology
Target Priority Switch System for measuring overlapping subjects:
First Target Priority mode displays the distance of the closest subject – useful when golfing for measuring the distance to a flagstick on a green with woods in the background.
Distant Target Priority mode displays that of the farthest subject – useful in wooded areas.
Compact, lightweight and ergonomic design enables easy, single-hand operation
High-quality 6x monocular with multilayer coating for bright, clear images
High light transmittance for a brighter field of view
Large ocular for easy viewing (18mm)
Wide field of view (7.5 degrees)
Long eye relief design affords eyeglass wearers easy viewing
Dioptre adjustment function
Single or continuous measurement (up to 8 seconds)
LED illumination for easy viewing of the display in dark conditions
Waterproof (up to 1m/3.3 ft. for 10 minutes), but not for underwater usage; the battery chamber is water-resistant
Wide temperature tolerance: -10°C to +50°C
Internal display

Display mode cycle

Specifications
COOLSHOT AS
Measurement range
4.5-550m/5-600 yards
Distance display (increment)

Actual distance (upper 4-digit): every 0.5m/yd.

Actual distance (lower 3-digit): every 1m/yd.

Horizontal distance/Slope adjusted distance (upper 4-digit): every 0.2m/yd.

Height (lower 3-digit): every 0.2m/yd. (shorter than 100m/yd.)
every 1m/yd. (100m/yd. and over)

Finder
Magnification (x)
6
Effective objective diameter (mm)
21
Actual field of view(°)
7.5
Exit pupil (mm)
3.5
Eye relief (mm)
18.3
Dimensions (LxHxW)
113 x 70 x 39
Weight (excluding battery) (g)
Approx. 175
Power source
CR2 lithium battery x 1 (DC 3V)
Auto power shutoff function equipped (after 8 sec.)
Safety
Class 1M Laser Product (EN/IEC60825-1:2007)
Class I Laser Product (FDA/21 CFR Part 1040.10:1985)
EMC
FCC Part15 SubPartB class B, EU:EMC directive, AS/NZS, VCCI classB
Environment
RoHS, WEEE
*

The specifications of the product may not be achieved depending on the target object's shape, surface texture and nature, and/or weather conditions.
The information is current as of the date of publication. It is subject to change without notice.