Easy-to-use Portable 3D Measuring System P3D NC-2323S
May 21, 2014
TOKYO- Nikon Corporation (President: Makoto Kimura) is pleased to announce the release of its easy-to-use intelligent Portable 3D Measuring System.
Product information
| | |
| --- | --- |
| Product Name | Portable 3D Measuring System - P3D NC-2323S |
| Available from | Available from: July 1, 2014 |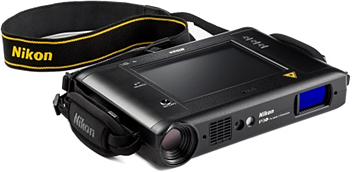 Product Concept
Measuring a product's performance and design has become increasingly important, not only for research & development, but for production and quality control.
The compact P3D NC-2323S is easy to carry and can be operated with a push of a button and without a computer. Unlike 3D measuring systems currently in use, it does not require professional expertise or technical knowledge to operate.
With its intelligent functions, portability, and immediacy, it is ideally suited for quick, on-site measurements, such as those required on the automotive production floor.
Key Features
1. Easy operation
The simple GUI* allows first-time users immediate and intuitive operation. 3D measuring data are captured by moving the lens over an object and pressing the shutter button.
*

Graphical User Interface
2. Small, lightweight and intelligent
The compact body includes a sensor, operator and controller; enabling users to check the data immediately and also conduct simple measurements. The P3D has been made small, light and energy efficient through the use of the newly developed MEMS* projector and laser source.
Moreover, it works with both an AC adaptor and a battery, allowing it to be used on production floors where available power sources are limited.
*

MEMS: Micro Electro Mechanical System
Projection system that projects a laser beam onto a micromirror made using a semiconductor micromachining technique in order to project an optical pattern onto the object being measured.
3. PC coordination
The newly developed P3D Viewer software meets a number of requirements, including data backup, 3D data reconstruction under different conditions, checking and editing, 3D data stitching and 3D printer coordination.
Specifications
Measurement Range
XY: 230 x 230 mm, Z: ±50 mm
Measurement Accuracy
Maximum Permissible Error PFS,MPE PS,MPE PFF,MPE EMPE : 0.3 mm
(JIS B 7441 support)
Projector
LD source MEMS Scanning System
Laser Class
Class 2
Measurement Points
512 x 512, 1024 x 1024 (max)
Data Acquisition Time
Approx. 0.1 sec
Dimensions (W x H x D)
Approx. 260 x 50 x 180 mm (excluding protrusions)
Main Unit Weight
Approx. 1.9 kg
Display / Operation
Color LCD Touch Screen (7 in), Remote Control (optional)
Data Storage
SD, SDHC Card
Power Source
Li-ion Battery / AC Adapter
Accessories
Software CD-ROM P3D Viewer
Calibration Kit, Mini-tripod
This information is current as of the date of publication. It is subject to change without notice.