Nikon Announces New NSR-S322F Dry ArF Scanner with Enhanced Accuracy and Throughput
November 26, 2014
Nikon Corporation (Kazuo Ushida, President, Minato-ku, Tokyo) announced it will begin sale of its latest dry ArF scanner, the NSR-S322F, in December. The NSR-S322F was developed to satisfy customers' requirements for optimized performance and stable production of state-of-the-art devices. The NSR-S322F leverages the proven Streamlign platform employed on the earlier generation NSR-S320F, to deliver superior overlay accuracy and high throughput for the most advanced dry 193 nm applications.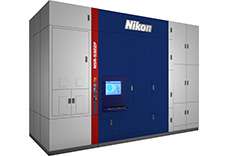 Sales Summary
| | |
| --- | --- |
| Product Name | NSR-S322F Dry ArF Scanner |
| Sales Launch | December 2014 |
New Product Overview
VLSI chips, the backbone of the IT revolution, continue to shrink and become more complex. The semiconductor industry is transitioning to development and high volume manufacturing of next-generation process devices, with the most critical layers exposed using ArF immersion scanners and incorporating multiple patterning. However, many layers will still be processed using dry 193 nm lithography. This necessitates non-immersion scanners that can also deliver superior overlay accuracy with maximized throughput.
The NSR-S322F is the most advanced dry ArF scanner for high volume manufacturing, and delivers optimum performance and productivity. The S322F also builds on established Streamlign platform technology to enable faster installation and production ramp at a customer site.
Main Characteristics of the
Streamlign

Platform
1. Bird's Eye Control System: Advanced interferometer system that delivers enhanced overlay accuracy :
A hybrid system that uses both encoders and interferometers for wafer stage position measurements to eliminate sensitivity to air fluctuations. This enables optimized overlay accuracy and matching.
2. Stream Alignment: Measurement technology that maximizes throughput
By increasing the number of FIA microscopes to five (Five-Eye FIA), alignment measurements can be performed more quickly. Five-Eye FIA maximizes throughput, even with multi-point measurements. The NSR-S322F achieved about a 5% increase in throughput compared to the existing machine.
3. Modular2 Structure: Established modular structure improves maintainability
With the modular design, installation time at a customer site is dramatically reduced and parts replacement is simplified. This substantially improves maintainability.
Performance Overview
NSR-S322F, dry ArF Scanner
Resolution
≤65 nm
NA
0.92
Light source
ArF excimer laser (193 nm)
Reduction magnification
¼
Maximum exposure area
26x33 mm
Overlay accuracy
≤2.0 nm (SMO)
≤5.0 nm (MMO)
Throughput
≥230 WPH
96 shots/hour (300 mm wafer)
*

SMO(Single Machine Overlay):
machine-to-self overlay accuracy (i.e., S322F#1 to S322F#1)

*

MMO(Mix and Match Overlay):
Machine-to-machine overlay accuracy (i.e., S322F#1 to S322F#2)
The information is current as of the date of publication. It is subject to change without notice.