Ultra-short pulse laser and built-in 3D non-contact measurement system simplify high-precision subtractive processing.
Nikon is releasing two new optical processing machines Lasermeister 1000SE and Lasermeister 1000S
September 29, 2021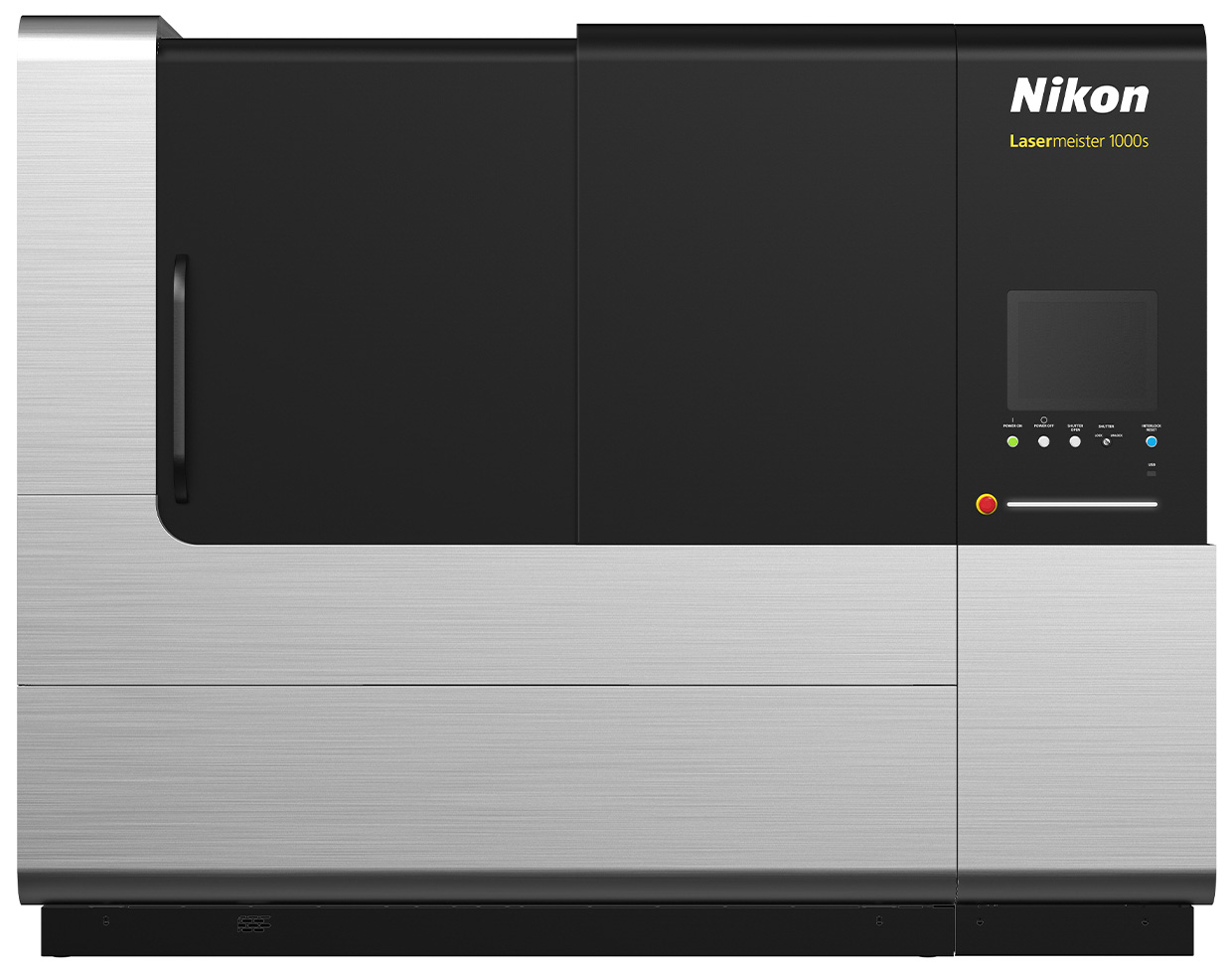 Nikon Corporation is pleased to announce the release of two new optical processing machines, Lasermeister 1000SE and 1000S, providing high-precision surface processing and micro fabrication through removal processing*2 using ultra-short pulse lasers*1.
The optical processing machine is Nikon's original processing system that performs a variety of high-precision processes using a laser. Its core technologies are cultivated from development and sales of semiconductor lithography systems known to be the "most precise machinery in history."
The Lasermeister 1000S series systems performs subtractive processing. This adds new capabilities to the Nikon equipment series, as previously released optical processing machines like the Lasermeister 102A perform additive modeling.
Utilizing proprietary Nikon optical and precision control technology enables subtractive processing with high-precision geometrical tolerances*3 at the sub-micron level for a wide variety of materials. This accuracy is well-suited for high-precision surface finishing, as well as micro fabrication for precision dies and linear guides requiring ultra-precise surfaces.
In addition, the number of processing stages can be reduced by automatically creating the processing path based on CAD data. Utilizing the measurement data acquired through subtractive processing eliminates the need for additional measurement after the processing stage. These innovations help drive the digital transformation by consolidating processes on the production line and simplifying quality control.
The Lasermeister 1000SE is a base-level system employing an ultra-short pulse laser and built-in non-contact 3D measurement delivering high-accuracy subtractive processing. The standard model Lasermeister 1000S is further equipped with an enhanced coordinate correction function and enables highly accurate large flat surface finishing and micro fabrication.
*1

Ultra-short pulse laser: A laser with a pulse range of several femtoseconds (1/1000 trillion seconds) to several picoseconds (1/1 trillion seconds). Its benefits include reducing heat damage to an object.

*2

Subtractive processing: A method of scraping the surface of an object.

*3

Geometric tolerance: An error that is allowed for shape, size position, etc. of an object.
Product Overview
Product name
Optical processing machine Lasermeister 1000SE
Optical processing machine Lasermeister 1000S
Availability
Japan: September 2021
Key Features
1. Delivering high-accuracy subtractive processing in a single unit
Automatic repetition of subtractive processing through irradiation of an ultra-short pulse laser is coupled with measurement feedback of the surface shape from the built-in non-contact 3D measurement system. This enables geometric tolerances on the sub-micron level for flat surfaces and micro fabrication.
Historically, processing and measurement were repeated using multiple machines to achieve the specified accuracy. Instead, the Lasermeister 1000S series delivers that accuracy with a single machine.
The standard model Lasermeister 1000S is equipped with a highly accurate coordinate correction function. It detects unevenness and inclination of the work piece across a wider area with enhanced accuracy to meet the challenges of large-area processing requirements.
Example of subtractive processing on stainless steel. High accuracy flat surface finishing is possible by simply placing a thin plate
2. Subtractive processing with ease
Compared to machining with a cutting tool, laser processing with the Lasermeister 1000S series does not require the tool to be pressed against the object, eliminating the need for fixtures and reference surfaces,* thereby reducing process stages and costs. In addition, it eliminates the standard processing machine's object positioning 'setup' step, which typically required experienced operators.
Furthermore, machining data can be automatically created and used for processing by simply entering the data designed and drafted by CAD into the Lasermeister 1000S series. Since it is not necessary to create a separate machining program using CAM, it is possible to reduce the number of processes requiring advanced skills and user know-how.
*

Reference surface: A plane that serves as a reference for length and position measurement, which is set for accurate machining.
3. Available for a wide range of materials
An ultra-short pulse laser is used as the laser light source for processing. It can suppress the effect of heat and is able to remove and process a wide range of materials with high precision. This includes not only metals, but also fragile materials such as ceramics and optical glass, and difficult-to-process materials like diamond and hard metal alloys.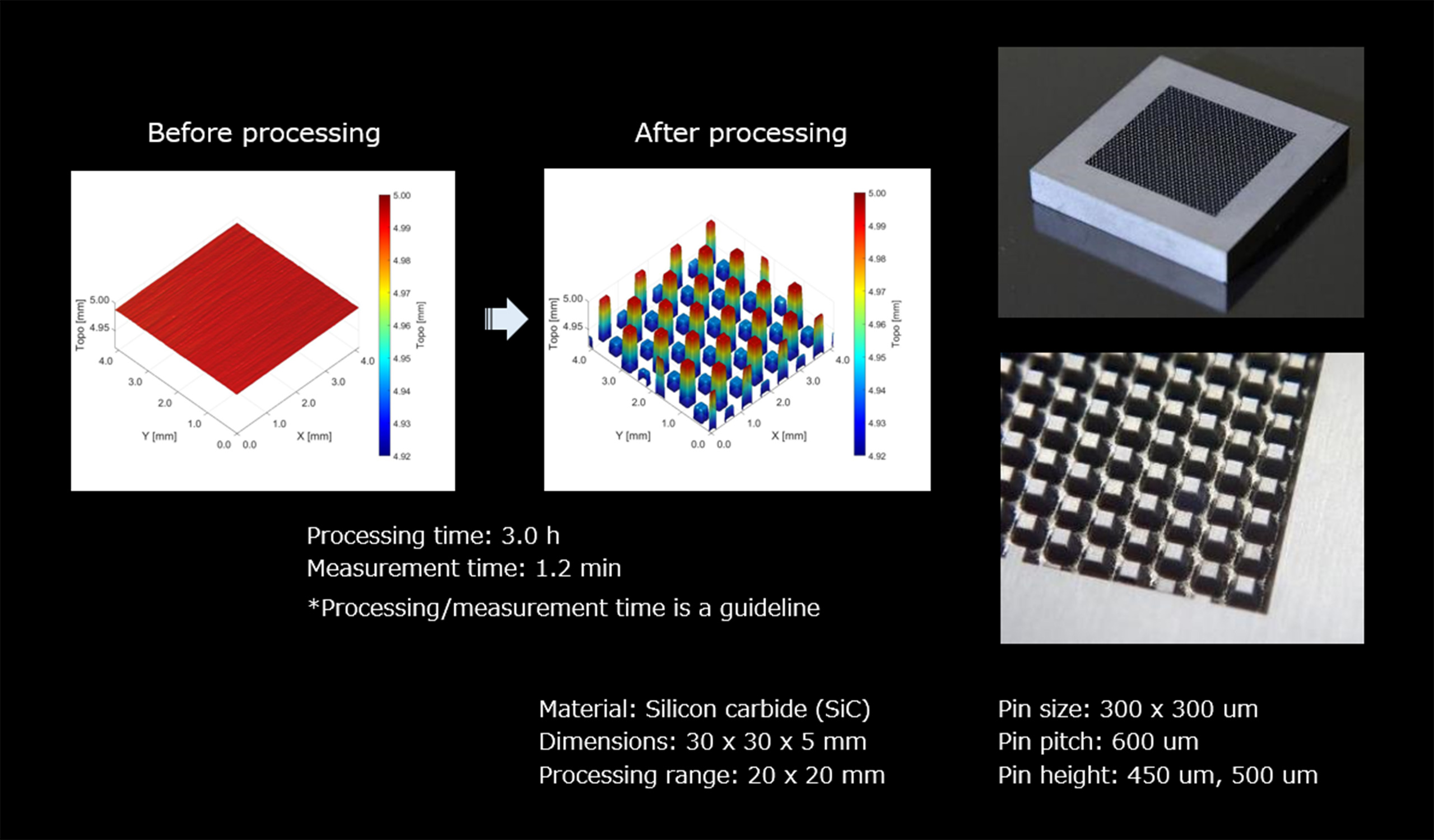 Example of subtractive processing on ceramics
4. Contributing to the digital transformation using measurement data
By acquiring and utilizing the highly accurate measurement data of the processed surface, remeasurement in the following process is eliminated. In addition, by retaining the measurement data from all process stages, that comprehensive dataset can be utilized for quality/process control, automation of production lines and reducing staffing operations to further support the digital transformation.
Main specifications
| | |
| --- | --- |
| Dimensions (W x D x H) | 2880 x 1950 x 2290 mm |
| Weight | 6000 kg |
| Rated voltage/frequency | AC 200–230 V single phase 2 wire system+protective earthing 50/60 Hz 4.9 kVA |
| Maximum processing range (W x D x H) | 500 x 500 x 180 mm |
| Maximum processing weight | 80 kg |
The information is current as of the date of publication. It is subject to change without notice.