Nikon receives 2 TIPA Awards 2011
Nikon D7000 digital-SLR camera
COOLPIX P300 compact digital camera
April 28, 2011
TOKYO - Nikon Corporation is pleased to announce that two of its products are recipients of the prestigious TIPA Awards 2011 for photographic and imaging products. The Nikon D7000 digital-SLR camera was selected for the Best D-SLR Advanced award and the COOLPIX P300 for the Best General Compact Camera award.
The best photographic and imaging products in a number of categories, announced between April 1, 2010 and March 31, 2011, were selected for the TIPA Awards 2011 through voting by editors from member camera and imaging magazines from nine European countries, Australia, Canada, China, the United States of America and South Africa.
Reasons for D7000 selection as the TIPA Awards 2011's Best D-SLR Advanced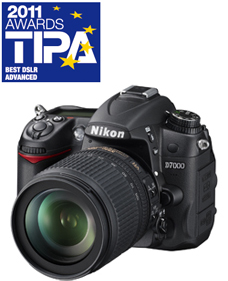 The Nikon D7000 impressed us as the definition of a state-of-the-art DX-format D-SLR (APS-C size) with its 16.2-MP CMOS sensor, 6-fps continuous shooting for up to 100 shots and ability to record full 1080p HD movies with full-time AF. With twin SD card slots, a 100% viewfinder and a bright 3-inch LCD for live view operation, the camera is extremely versatile in the field. The magnesium alloy top and rear covers, special weather and dust seals plus 150,000-cycle rated shutter system give it a pro feel.
Reasons for COOLPIX P300 selection as the TIPA Awards 2011's Best General Compact Camera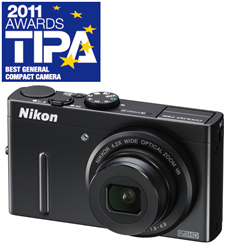 The Nikon COOLPIX P300 is a stylish compact camera with a remarkably powerful f/1.8 lens starting at the 24 mm (35 mm equivalent) focal length and offering 4.2x optical zoom. The use of High Refraction Index glass further ensures sharp, high-contrast images. Combined with its powerful 12.2-megapixel backside illumination CMOS sensor, this camera provides excellent image quality even in dim lighting conditions. The P300 can record movies in full HD (1080 p), but also in slow motion with a recording speed of up to 120 fps.
The information is current as of the date of publication. It is subject to change without notice.
Share