Digital Compact Camera Nikon COOLPIX P7100
August 24, 2011
The COOLPIX flagship model offering superior image quality and portability
TOKYO - Nikon Corporation is pleased to announce the release of its latest COOLPIX flagship model, the P7100, a compact digital camera that incorporates Nikon's digital-SLR camera and lens technologies.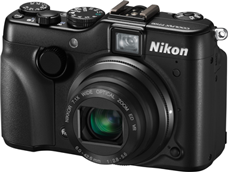 The P7100 was developed to be the ultimate photographic tool and is the top model in the COOLPIX series, offering even better image quality and portability than its predecessor, the COOLPIX P7000 , as well as additional features that make photographic imaging more fun. It is a high-end compact digital camera that lives up to the COOLPIX flagship label with advanced functions and a refined design that will satisfy even users of digital-SLR cameras.
The P7100 offers an effective pixel count of 10.1-million pixels. It is equipped with a large 1/1.7-inch primary color filter CCD image sensor and a 7.1x optical zoom NIKKOR lens that makes the most of superior optical performance over a broad range of focal lengths, starting at the wide-angle 28 mm (equivalent in 35mm [135] format). The P7100 offers faster image processing that increases noise-reduction processing capabilities for clearer, sharper images. High-speed response with faster power-up time, focus acquisition and shooting time lag make certain capture of the desired shots possible. In addition, the P7100 offers a Special effects mode that makes expressing yourself through photographs more fun with a variety of options, including mechanically controlled Zoom exposure, Defocus during exposure and the new Cross process, and the new 3-inch, 921k-dot tilting TFT LCD monitor with wide viewing angle enables shooting of a variety of scenes from a broad range of angles.
COOLPIX P7100 Primary Features
1. Clear, sharp images with faster image processing and less noise
A marked increase in noise-reduction processing capability results in clear, sharp images with very little noise. Improvements resulting in faster, more accurate referencing of noise information at each ISO sensitivity have enabled significantly faster processing. What's more, optimization of noise-reduction processing with adaptive processing for edge noise results in images exhibiting a sharper feel and excellent image quality overall.
2. Even faster response that ensures certain capture of fleeting scenes
In addition to faster autofocus operation that acquires focus in approximately 0.16 seconds and a shooting time lag of approximately 0.22 seconds, overall response speed, including the time between image capture and display in the monitor, has been increased, allowing users to take more photos.
Autofocusing time and shooting time lag measured according to Nikon standards: 28mm focal length (equivalent in 35mm [135] format), shooting distance of 2 m, ambient brightness of LV 10; images recorded to 4-GB Class 10 SDHC memory card.
3. 3-inch, 921k-dot tilting LCD monitor with wide viewing angle
Not only is the high-resolution monitor built into the P7100 brighter, clearer and capable of more faithful display of colors, it also tilts to enable shooting from a wide variety of angles.
4. Equipped with two command dials
Adoption of two command dials and one rotary multi selector enable operation reminiscent of a digital-SLR camera.
5. Special effects mode for shooting
The camera is equipped with a Special effects mode that enables greater photographic expression when applied prior to shooting.
Four new special effects have been added for even greater expression: Zoom exposure, Defocus during exposure, Cross process and Creative monochrome.
6. An effective pixel count of 10.1-million pixels and a 7.1x optical zoom NIKKOR lens with a zoom range that covers a broad range of focal lengths, from wide-angle 28 mm to telephoto 200 mm
1. NIKKOR lens
A lens-shift vibration reduction (VR) function and two ED lens elements that effectively suppress chromatic aberration have been adopted for the 7.1x optical zoom NIKKOR lens that covers a wide range of focal lengths from the wide-angle 28 mm to telephoto 200 mm (equivalent with 35mm [135] format). These features of the NIKKOR lens enable capture of sharp images. In addition, the lens is equipped with a six-blade electromagnetically controlled iris diaphragm.
2. Zoom memory
This function allows you to easily specify a preset focal length with zoom photography. As zoom can immediately be switched from a wide-angle position to a specified telephoto focal length, capturing images at the intended angle of view is fast and easy.
3. Built-in ND filter
The P7100 is equipped with a built-in neutral density (ND) filter that reduces the amount of light that passes through the lens, enabling a three-stop decrease in shutter speed. This allows you to apply slower shutter speeds with shooting in bright surroundings.
4. User setting modes
Up to three focal lengths specified beforehand by the user can be registered with the camera. Simply rotate the mode dial to quickly apply registered settings and achieve the intended results.
7. Tone level information display for checking exposure
The tone level information display allows you to check image exposure with a histogram (a graph showing brightness distribution). In addition, when the desired tone (brightness level; total of nine available) is selected, portions of the image exhibiting that tone blink. This function is convenient for determining exposure while viewing overall balance and major features in the image.
8. A variety of functions that enable superior rendering with shooting at high sensitivities in dark surroundings
1. Low noise night mode
Signal from multiple pixels is added and read out by the CCD image sensor. This prevents an increase in noise caused by an increase in gain with normal shooting at high sensitivities, for less noise in images captured at high sensitivities.
2. Noise reduction filter
The level of noise-reduction processing performed can be adjusted according to shooting intent.
9. Recording of HD movies with stereo sound
The built-in HD movie recording function allows you to preserve impressive scenes as is with 1280 x 720-pixel frames and stereo sound. The camera is also equipped with an HDMI Mini connector for displaying movies on HD televisions.
AE/AF lock is supported, and a number of shooting settings, including exposure compensation and white balance, can be specified and applied with movie recording. The P7100 records clear and sharp movies with excellent picture quality exhibiting very little noise.
Additional Features and Functions
4 exposure modes: [P], [S], [A], [M]
A variety of auto bracketing functions—exposure bracketing (Tv and Sv), white balance bracketing—for automatic continuous shooting at specified increments for more precise expression
Macro photography with shooting as close as 2 cm to the lens
Virtual horizon display with two display options for visual confirmation that the camera is horizontally and vertically level
Support for a variety of optional accessories, including a wide-angle converter and external Speedlights
Nikon COOLPIX P7100 Specifications
Swipe horizontally to view full table.
Effective pixels
10.1million
Image sensor
1/1.7-in. type CCD; approx. 10.39 million total pixels
Lens
7.1x optical zoom, NIKKOR lens 6.0-42.6mm (angle of view equivalent to that of 28-200 mm lens in 35mm [135] format) f/2.8-5.6; Digital zoom Up to 4x (angle of view equivalent to that of approx. 800 mm lens in 35mm [135] format)
Focus range(from lens)
[W]: Approx. 50 cm to ∞, [T]: Approx. 80 cm to ∞, Macro close-up mode: Approx. 2 cm to ∞ ( wide-angle position )
Monitor
7.5 cm (3-in.), approx. 921k-dot, wide viewing angle TFT LCD monitor with anti-reflection coating and 5-level brightness adjustment, tiltable approx. 81° downward, approx. 105°upward
Storage media
Internal memory (approx. 94 MB), SD/SDHC/SDXC memory card
ISO sensitivity
ISO 100, 200, 400, 800, 1600, 3200, Hi 1 (equivalent to 6400)
Auto (auto gain from ISO 100 to 800)
High ISO sensitivity auto (ISO 100 to 1600)
Fixed range auto (ISO 100 to 200, 100 to 400)
Low noise night mode (ISO 400 to 12800
Interface
Hi-Speed USB
HDMI output
Can be selected from Auto, 480p, 720p, and 1080i
Power sources
One Rechargeable Li-ion Battery EN-EL14 (supplied) AC Adapter EH-5b (used in combination with the Power Connector EP-5A) (available separately)
Battery life(EN-EL19)
Still pictures*1: Approx. 350 shots Movies: Approx. 2 h 55 min (HD 720p (1280x720)) (When recording a single movie, the maximum recording time is 29 minutes even when there is enough free space on the memory card.)
Dimensions(WxHxD)
Approx. 116.3 x 76.9 x 48.0 mm
Weight
Approx. 395 g (including battery and SD memory card)
Supplied accessories*2
Camera Strap, Rechargeable Li-ion Battery EN-EL14, Battery Charger MH-24, USB Cable UC-E6, Audio Video Cable EG-CP16, ViewNX 2 CD-ROM
Unless otherwise stated, all figures are for a camera with a fully-charged Rechargeable Li-ion Battery EN-EL14 operated at an ambient temperature of 25 °C (77 °F).
*1

Based on Camera and Imaging Products Association (CIPA) standards for measuring the life of camera batteries.

*2

Supplied accessories may differ by country or area.
The information is current as of the date of publication. It is subject to change without notice.
Share