Digital Compact Camera Nikon COOLPIX S1200pj
August 24, 2011
Proposing new utilization that overcomes distance with a built-in projector offering brighter and more vivid projection with increased contrast and enabling the sharing of images from around the world via connection to multi-functional mobile devices
TOKYO - Nikon Corporation is pleased to announce the release of the S1200pj, a COOLPIX S-series compact digital camera with built-in projector that incorporates advanced functions in a stylish design.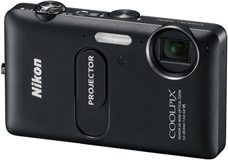 The S1200pj, Nikon's third projector-equipped model, offers a 40% increase in projection brightness and three times greater projection contrast, enabling projection of vivid images at a projection size of up to 60-inch display. In addition, the S1200pj can be connected to an iPhone, iPad or iPod touch via the dedicated cable, allowing users to project images and movies stored on these devices as well as online content from websites such as YouTube™. The S1200pj truly offers new ways of using a camera by overcoming distance with the ability to view and project images and movies users have recorded themselves as well as images and movies acquired from around the world via the Internet.
COOLPIX S1200pj Primary Features
1. An effective pixel count of 14.1-million pixels and a built-in wide-angle 5x optical zoom NIKKOR lens with a zoom range beginning at 28 mm (equivalent with 35mm [135] format)
2. Clearer, more vivid image projection with the adoption of Digital Light Processing (DLP) for larger (size of up to 60-inch display) and brighter (40%) projection
Projector brightness has been increased from 14 lumens available with the previous COOLPIX S1100pj to 20 lumens for an increase in brightness of approximately 40%. This enables projection at a maximum size of 60-inch display at a distance of up to 310 cm . What's more, clearer, more vivid projection is now possible with the switch from a single-lamp (color) projection system to a three-lamp (red, green and blue LEDs) projection system, display reproduction of roughly the entire sRGB gamut and a contrast ratio of 200 : 1 or better.
3. A variety of ways to share images with support for connection to external devices
1. Projection of still images and movies stored on an iPhone, iPad or iPod touch with connection via the dedicated cable
When the new dedicated cable is connected to an iPhone, iPad or iPod touch, still images and movies stored on those devices can be projected by the S1200pj. In addition, the camera can also project streaming content from Internet sites such as YouTube™. This allows users to project not only their own images, but to overcome distance to enjoy images from around the world.
2. Computer connection function that enables projection of computer data
When the camera is connected to a Windows or Macintosh computer via the supplied USB cable, images and materials in a variety of formats and displayed on the computer monitor can be projected by the camera.
*

Dedicated driver software (supplied) is required. Display speed is dependent upon computer performance.
4. A wide variety of in-camera retouch functions
Special effects

By simply choosing the option suited to the desired intent from Special effects shooting mode and pressing the shutter-release button, anyone can easily record artistic still images and movies.
(Available options: Soft, Nostalgic sepia, High key, Low key, High-contrast monochrome, Selective color)

Filter effects

Easily edit pictures taken with the Q08265 by simply choosing the option that suits the desired intent from the Filter Effects item in the Playback menu.
(Available options: Color options, Soft, Selective color, Cross screen, Fisheye, Miniature effect)
5. Design that offers superior operation and an elegant feel
1. Design that offers improved projector operation
Adoption of a sliding projector cover that also serves to turn the projector on and off prevents dust and foreign matter from adhering to the projector lens. Operation has also been improved with the automatic illumination of frequently used buttons on the rear of the camera during projection, making it easier to use these buttons in dark surroundings.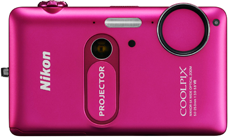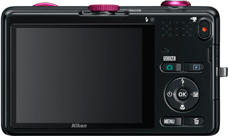 2. Refined, elegant slim body
The S1200pj has a more modern design with rounded detailing around the photographic and projector lenses and the camera's general elongated rectangular shape. A slim and elegant body has been achieved with a curved form and flat surfaces that emphasize the metal texture.
Additional Features and Functions
EXPEED C2 image-processing engine for increased image quality and faster image processing
3-inch, approximately 460k-dot TFT LCD monitor (HVGA)
Four image stabilization functions: Combined lens-shift and electronic vibration reduction (VR), support for high sensitivities up to ISO 6400 with little noise, motion detection, best shot selector (BSS)
Smart portrait mode for certain capture of beautiful portraits
Easy auto mode with which the camera identifies the type of subject and automatically applies the optimum scene mode
18 built-in scene modes
*

iPhone, iPad ,iPod touch and Macintosh are registered trademarks of Apple Inc.

*

Windows is either registered trademark or trademark of Microsoft Corporation in the United States and/or other countries.

*

Products , brand names and service names are trademarks or registered trademarks of their respective companies.
Nikon COOLPIX S1200pj Specifications
Swipe horizontally to view full table.
Effective pixels
14.1million
Image sensor
1/2.3-in. type CCD; total pixels: approx. 14.48 million
Lens
5x optical zoom, NIKKOR lens 5.0–25.0mm (angle of view equivalent to that of 28–140 mm lens in 35mm [135] format) f/3.9–5.8; Digital zoom Up to 4x (angle of view equivalent to that of approx. 560 mm lens in 35mm [135] format)
Focus range(from lens)
[W]: Approx. 30 cm to ∞,
[T]: Approx. 50 cm to ∞,
Macro mode: Approx. 3 cm to ∞ zoom indicator positioned to the left of Δ to maximum ( wider angle position)
Monitor
7.5 cm (3-in.), approx. 460k-dot, TFT LCD with anti-reflection coating, and 5-level brightness adjustment
Storage media
Internal memory (approx. 94 MB), SD/SDHC/SDXC memory card
ISO sensitivity
ISO 80, 100, 200, 400, 800, 1600, 3200, 6400
Auto (auto gain from ISO 80 to 800)
Fixed range auto (ISO 80 to 200, 80 to 400)
Interface
Hi-Speed USB
Power sources
One Rechargeable Li-ion Battery EN-EL12 (supplied)
AC Adapter EH-62F (available separately)
Battery life(EN-EL19)
Still pictures*1: Approx. 220 shots Movies: Approx. 1 h 40 min (HD 720p (1280x720), the maximum file size for a single movie is 4 GB or the maximum recording time for a single movie is 29 minutes, even when there is sufficient free space on the memory card for longer recording.).
Dimensions(WxHxD)
Approx. 107.0 x 63.4 x 22.6 mm
Weight
Approx. 186 g (including battery and SD memory card)
Projector
Brightness *2 Up to 20 lumens, Image size: 13 to 152 cm (5 to 60-in), Throw distance: Approx. 0.26 to 3.1 m , Endurance (battery life): Approx. 1 h with EN-EL12 battery, Resolution (output): VGA
Supplied accessories*3
Camera Strap, Rechargeable Li-ion Battery EN-EL12, Charging AC Adapter EH-69P, USB Cable UC-E6, ViewNX 2 CD-ROM
Unless otherwise stated, all figures are for a camera with a fully-charged Rechargeable Li-ion Battery EN-EL12 operated at an ambient temperature of 25 °C (77 °F).
*1

Based on Camera and Imaging Products Association (CIPA) standards for measuring the life of camera batteries.

*2

Measurement, measuring conditions, and method of notation all comply with ISO 21118.

*3

Supplied accessories may differ by country or area.
The information is current as of the date of publication. It is subject to change without notice.
Share