Speedlight SB-N5, GPS Unit GP-N100, Mount Adapter FT1
September 21, 2011
Dedicated accessories for the Nikon 1 Advanced Camera with Interchangeable Lens
TOKYO - Nikon Corporation is pleased to announce the release of dedicated accessories for the new Nikon 1 camera system. The Nikon 1 Advanced Camera with Interchangeable Lens is a new digital camera system that proposes new forms of imaging expression and enjoyment. The Speedlight SB-N5*, GPS Unit GP-N100* and Mount Adapter FT1 maximize the imaging expression possibilities presented by this new system.
*

Compatible with Nikon 1 V1 only.
The Speedlight SB-N5 and GPS Unit GP-N100 are ready to use with simple mounting on the camera's multi accessory port, and both dedicated Nikon 1 accessories are extremely easy to use and compact for superior portability. When the Mount Adapter FT1 is attached, F-mount NIKKOR lenses can also be used with Nikon 1 cameras, allowing users to choose the perfect lens for the subject or scene from a rich lineup of lenses and expanding the possibilities for imaging expression. In addition, the simple and stylish design of these dedicated accessories makes for an integrated appearance when used with Nikon 1 cameras. We are sure that all users of Nikon 1 cameras will want one of each due to their ability to maximize photographic functions and increase photo opportunities.
Speedlight SB-N5 Primary Features
1. The world's smallest*1 compact, lightweight body with a design well suited to the Nikon 1 camera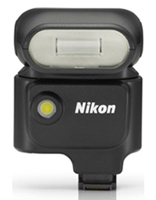 With a size and weight that makes it extremely portable—approx. 50 x 70.5 x 40.5 mm (W x H x D), 70 g*2—the SB-N5 has the same simple yet stylish design as Nikon 1 cameras for an integrated appearance when mounted on the camera.
*1

Among external flash units with bounce (from above, left and right) capability. (Based on Nikon research as of September 21, 2011.)

*2

Speedlight SB-N5 only.
2. Built-in bounce capability
The flash head can be rotated 90° up and 180° left or right, allowing users to enjoy bounce photography using light from the flash reflected off a ceiling or wall.
3. Simply mount the Speedlight SB-N5 on the camera for easy operation
The Speedlight SB-N5 is easily mounted on the Nikon 1 camera's multi accessory port. With only a power switch to turn it on and off, operation is simple enough for even beginners. What's more, the Speedlight SB-N5 is powered by the camera.
4. Built-in capture illuminator function
The built-in capture illuminator (pseudo white LED lamp) lights to illuminate subjects in Smart Photo Selector and Motion Snapshot modes for brighter imaging.
GPS Unit GP-N100 Primary Features
1. Assisted GPS (A-GPS) supported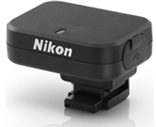 The GP-N100 is a GPS unit for exclusive use with the Nikon 1 (Nikon 1 V1) camera.
When the GP-N100 is used, position information including latitude and longitude is recorded with photos. Collaboration with ViewNX 2, my Picturetown and online mapping services means that the position at which photos were taken can be displayed on maps and photos with this information attached can be shared, further increasing the ways in which users enjoy images captured with the Nikon 1 V1.
In addition, A-GPS support enables faster positioning for smoother utilization of GPS functions.
When the GP-N100 is connected to a computer, the dedicated GP-N100 Utility* can be used to download resources provided by Nikon servers to reduce the time needed to acquire GPS data for faster positioning.
2. Design suited to that of the Nikon 1 V1
Compact, and with a design that provides an integrated appearance with the Nikon 1 V1, the GP-N100 is also available in the same colors as the Nikon 1 V1 (black, white). This compact size and design integration make it fun and easy to use. The GP-N100 is also powered by the camera.
*

The dedicated GP-N100 Utility is available for download from the Nikon website.
Mount Adapter FT1 Primary Features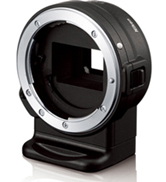 The Mount Adapter FT1 is a mount adapter that enables the use of F-mount lenses with Nikon 1 system cameras. When the F-mount adapter is mounted on a camera, F-mount interchangeable NIKKOR lenses*3, manufactured by Nikon for more than half a century, can be used with the Nikon1 J1 and V1. This allows users to enjoy tremendous variety in their imaging expression with the ability to choose the lens best suited to the scene, subject, or their own creative intent from a broad lineup of standard and special-purpose lenses.
*

3 Autofocus may not perform as expected in some situations or with some lenses.
Restrictions apply to mounting and functionality with some lenses.
The information is current as of the date of publication. It is subject to change without notice.
Share