Nikon offers the free iPhone application, iP-PJ Transfer for more convenient projection of iPhone contents using the projector built into the COOLPIX S1200pj
October 17, 2011
TOKYO - Nikon Corporation is pleased to announce the release of the iP-PJ Transfer iPhone application, which is available free of charge for download. This application enables projection of contents stored on an applicable iOS device by the projector built into the COOLPIX S1200pj when the two are connected.
The iP-PJ Transfer application can be downloaded from the App Store application download page.
When iP-PJ Transfer is downloaded to your iOS device, still images and business documents created with common applications such as Word and Excel stored on the iPhone, and even websites can be projected by the COOLPIX S1200pj. In addition, functional collaboration between applicable iOS devices and the COOLPIX S1200pj has been increased with the ability to transfer data from a computer to the application via iTunes or Wi-Fi for direct registration of contents from a computer. Registered contents can then be projected using the COOLPIX S1200pj.
Nikon will continue to propose new ways of enjoying digital imaging.
iP-PJ Transfer Primary Functions
1. Screen projection of more content formats using the projector built into the COOLPIX S1200pj
A wide variety of contents can be projected when iP-PJ Transfer is used. All contents must be registered with the application before projection is possible
Project still images
Thumbnail and full-frame display of still images stored on the iOS device
Project business documents
Word, Excel and PowerPoint, Adobe PDF, and Apple Keynote, Numbers and Pages documents
Project websites
Screen projection capabilities with/without iP-PJ Transfer
*1

Can be viewed from website

*2

Yahoo!, Google already registered
2. Transfer of contents via iTunes
When an iOS device is connected to a computer via USB cable, contents can be transferred to the iPhone using iTunes.
As contents can be registered and managed in separate folders, the iOS device can be used as a mobile storage device for transporting contents.
*

Only Word, Excel and PowerPoint, Adobe PDF, and Apple Keynote, Numbers and Pages files can be registered and managed.
Swipe horizontally to view full table.
Applicable devices
iPhone 4, iPad, iPad 2, iPod touch (4th generation)

*

Runs as an iPhone app on the iPad/iPad2

Supported OS versions
iOS 4.0 - 4.3
Supported languages
English and Japanese
The COOLPIX S1200pj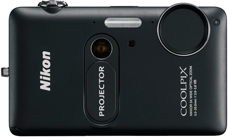 The COOLPIX S1200pj, Nikon's third projector-equipped model, offers a 40% increase in projection brightness and three times greater projection contrast over its immediate predecessor, enabling projection of vivid images at a projection size of up to 60 inches.
In addition, the COOLPIX S1200pj can be connected to an iPhone, iPad or iPod via the dedicated cable, allowing users to project images and movies stored on these devices as well as online content from websites such as YouTube™.
*

iPhone, iPad, iPod touch, iTunes, Keynote, Numbers and Pages are trademarks of Apple Inc. registered in the U.S. and other countries.

*

Word, Excel and PowerPoint are either registered trademark or trademark of Microsoft Corporation in the United States and/or other countries.

*

Products, brand names and service name are trademarks or registered trademarks of their respective companies.
The information is current as of the date of publication. It is subject to change without notice.
Share