Nikon 1 AW1 and COOLPIX A Recipients of Germany's iF Product Design Award 2014
February 18, 2014
TOKYO - Nikon Corporation is pleased to announce that its waterproof and shockproof Nikon 1 AW1 advanced camera with interchangeable lenses and COOLPIX A compact digital camera, the first COOLPIX camera to be equipped with a Nikon DX-format CMOS image sensor, are the recipients of iF Product Design Award 2014, globally prestigious industrial product design awards sponsored by International Forum Design GmbH.
The iF Design Awards have been sponsored by iF Industrie Forum Design Hannover e.V., based in Hanover Germany, since 1953. Each year, industrial products exhibiting superior design from around the world are selected as recipients of these prestigious awards, among them the Product Design Awards, Communication Design Awards, and Packaging Awards. This year, 4,615 products from 55 countries were evaluated in, with the various awards being presented to a total of 1,626 products. In selecting recipients of the iF Product Design Award, product aspects including quality of design, functionality, degree of innovation, simplicity of operation, and branding are considered.
Recipients of the iF Product Design Award
Nikon 1 AW1
The Nikon 1 AW1 offers all of the unique characteristics of Nikon 1 advanced cameras with interchangeable lenses, which propose new forms of imaging expression, including high-speed performance and a compact size that makes the cameras easy to take anywhere. However, it is also the world's first*1 digital camera with interchangeable lenses to be waterproof to a depth of 15 m*2 and strong enough to withstand the shock of falls from up to 2 m*3.
*1

Among digital cameras with interchangeable lenses available as of September 9, 2013. Statement based on Nikon research.

*2

In-house tests have demonstrated JIS/IEC Class 8 (IPX8) waterproof performance, with special-purpose waterproof lens attached.

*3

Has passed in-house tests to MIL-STD 810F Method 516.5: Shock standard, with special-purpose waterproof lens attached.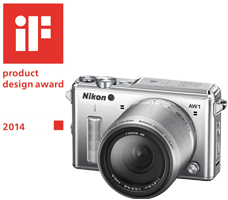 COOLPIX A
The COOLPIX A is the first COOLPIX compact digital camera to be equipped with a Nikon DX-format CMOS image sensor. It is also equipped with a new wide-angle 18.5mm (equivalent to a 28mm angle of view in 35mm [135] format) fixed focal length NIKKOR lens with a maximum aperture of f/2.8 designed exclusively for the COOLPIX A for the ease and portability of a compact digital camera and the superior rendering capabilities of a digital-SLR camera.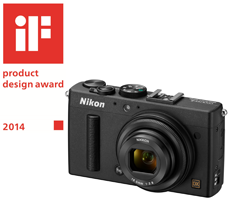 The information is current as of the date of publication. It is subject to change without notice.
Share