COOLPIX P900 receives the 2015 Good Design Gold Award (Minister of Economy, Trade and Industry Award)
November 19, 2015
TOKYO - Nikon Corporation is pleased to announce that its COOLPIX P900 compact digital camera is the recipient of the 2015 Good Design Gold Award (Minister of Economy, Trade and Industry Award), sponsored by the Japan Institute of Design Promotion. This award commends exceptional designs from all those winning the Good Design Award in 2015.
COOLPIX P900 overview
The COOLPIX P900 is equipped with an 83x optical zoom NIKKOR lens that covers a broad range of focal lengths, from wide-angle 24 mm through super-telephoto 2000 mm (equivalent in 35 mm [135] format). The fast lens, for which a super ED lens element that offers superior compensation for chromatic aberration has been adopted, enables sharp and beautiful rendering even with super-telephoto shooting.
The P900 is also equipped with Dual Detect Optical VR that enables vibration compensation equivalent to a 5.0-stop*1 increase in shutter speed, and it has a shooting time lag of approximately 0.12 s*2.
In addition, it offers a snap-back zoom button that temporarily expands the angle of view, making it easier to relocate a subject temporarily lost with super-telephoto shooting, as well as a side zoom control that offers smoother operation and less camera shake with zooming.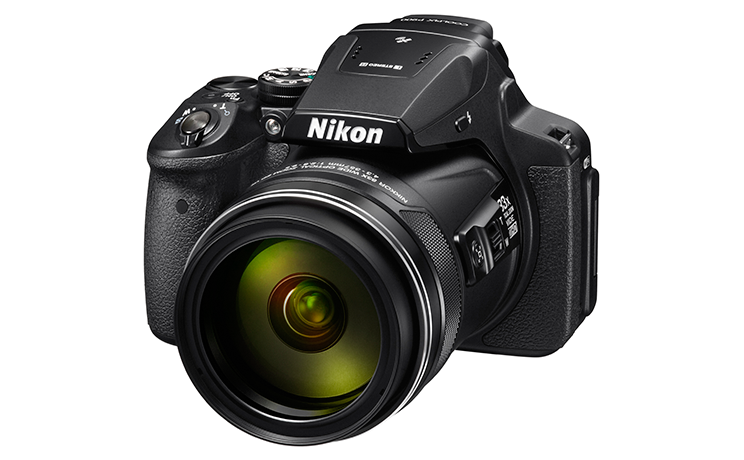 *1

Measured in accordance with CIPA standards at approx. 350 mm (equivalent focal length in 35 mm [135] format).

*2

Measured in accordance with CIPA standards at maximum wide-angle position, subject brightness measuring 10 LV, programmed auto exposure, Single AF autofocus mode.
The information is current as of the date of publication. It is subject to change without notice.
Share