Nikon releases the COOLPIX W150 compact digital camera
April 23, 2019
A waterproof and shockproof camera with a wide variety of scene modes and editing functions to offer users an enjoyable shooting experience
TOKYO - Nikon Corporation (Nikon) is pleased to announce the release of the COOLPIX W150, a compact digital camera that offers superior water- and shock-proofing.
The COOLPIX W150 is a highly water-, shock-, cold- and dust-proof camera that supports shooting in a wide variety of situations, including capturing leisure activities at the pool or beach. A compact, rounded design makes it easy to handle for both children and adults alike. The addition of new and appealing color options and patterns to the camera body will make shooting leisure activities even more enjoyable.
The camera offers an effective pixel count of 13.2 million*1 pixels, and is equipped with a 3x optical zoom NIKKOR lens. It is also equipped with functions that make recording photos and movies with superior image and picture quality fun and easy for anyone. These include the Target Finding AF*2 function, where the camera detects and focuses on the primary subject, and a function for recording Full HD movies*3 with stereo sound.
It also offers a variety of scene modes*4 and editing functions that allow users to capture memories and experiences in impressive photos. The variety of scene modes and effects allow users to explore unique possibilities and share these photos and movies with their loved ones.
Its compatibility with SnapBridge allows photos taken with the camera to be automatically downloaded*5 to a smart device*6 for easy sharing of high-quality photos.
*1

May be reduced with image processing.

*2

With shooting in [Point and shoot] mode.

*3

"Full-HD" indicates an ability to record in the 1920 x 1080 format.

*4

"Scene mode" corresponds to "Choose a style" in this model.

*5

Images (JPEG) reduced to 2-megapixel equivalent can be transferred automatically. Automatic transfer of original JPEG images and movies is not supported.

*6

iPhone®, iPad®, iPod touch®, and Android™ devices to which the SnapBridge app has been installed can be used. The SnapBridge app can be downloaded free of charge from the App Store® and Google Play™. See Nikon's website for further information.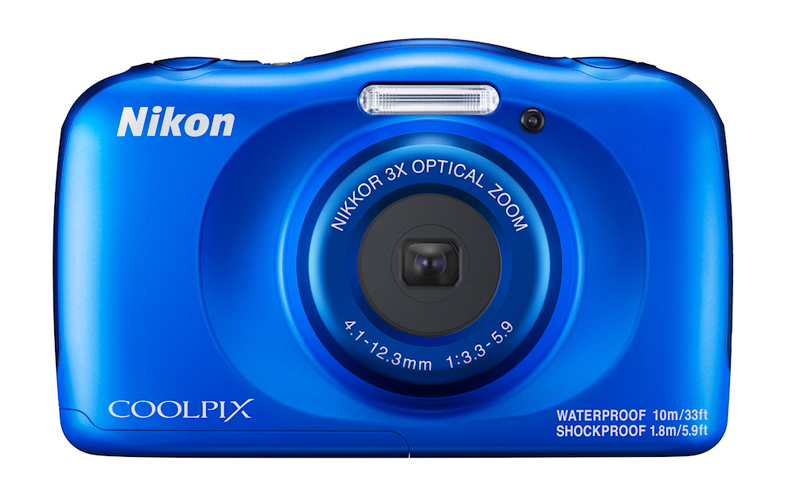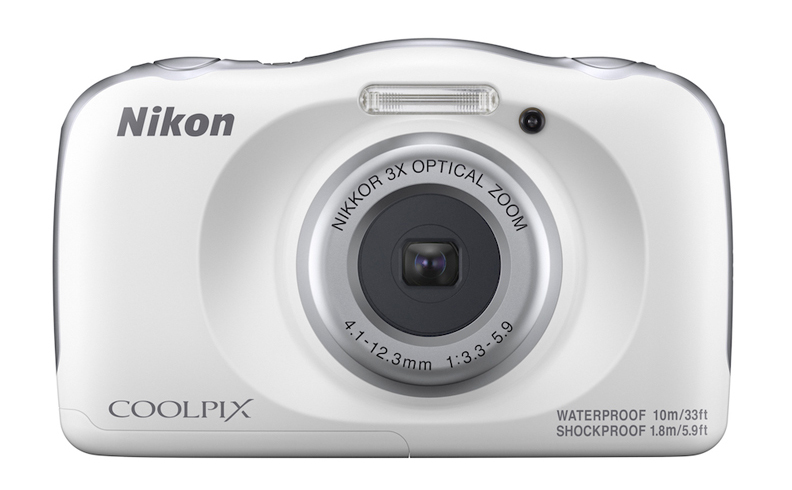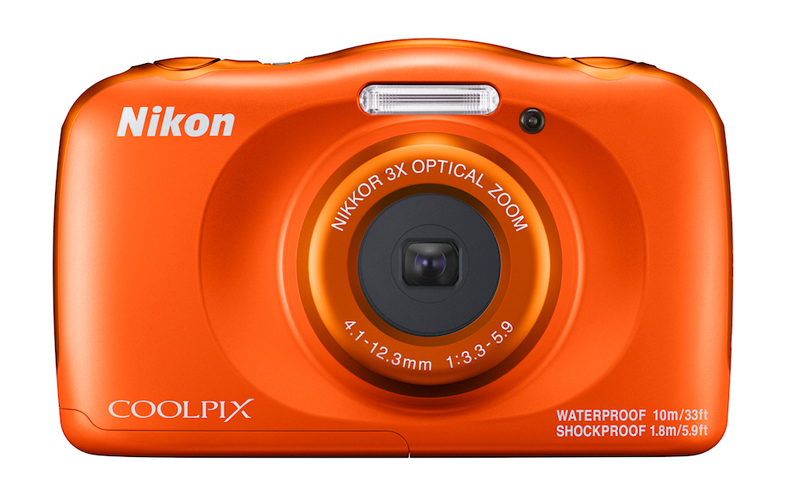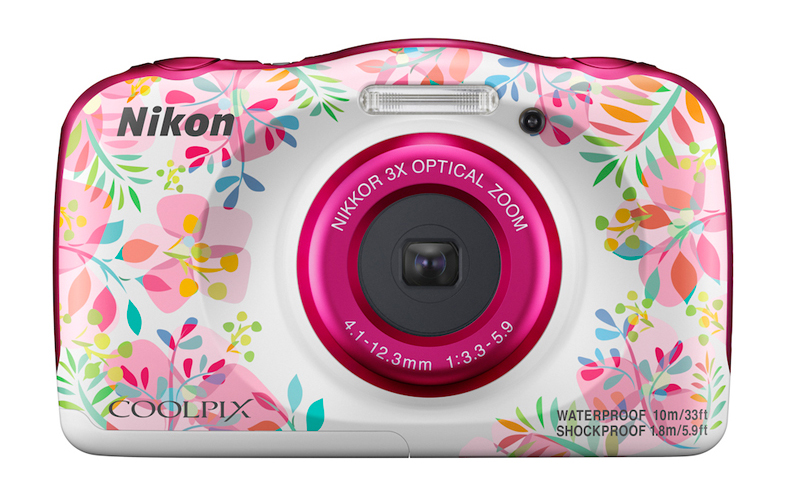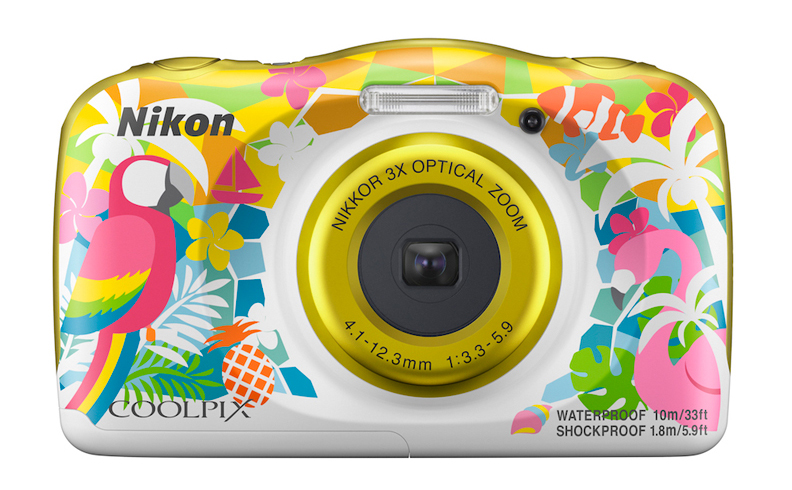 Primary features
1.Tough and reliable for use by children and adults in a variety of leisure and travel situations

The camera is waterproof to a depth of 10 m/33 ft, shockproof to withstand falls from as high as 1.8 m/5.9 ft, dustproof and cold-resistant down to -10°C/14°F. It is a tough camera that can be used in diverse shooting situations, from the pool and beach, to underwater, outside on rainy days, at water events, in the snowy mountains, or even in the sandbox at the local park.



2.A design that appeals to the preferences of a wide variety of users

A neat design that appeals to the preferences of a broad range of users, from children to adults, has been adopted. The camera is designed with a moderately curved form that makes it comfortable to hold and use, even for children with small hands. It is available in the popular basic blue and white options, as well as three new patterns; resort, flower, and orange. Buttons on the back of the camera also match the pattern or color of the front of the camera body.

The graphical user interface (GUI) has also been modified to make it easier for first-time users to navigate. Camera operations can also be customized by selecting the design of the menu screen based on five options, as well as a [Variety menu] feature that can be disabled to limit the availability of selected camera functions.



3.User-friendly functions and operations to enable high-quality shooting easily

The camera offers an effective pixel count of 13.2 million pixels, and is equipped with a 3x optical zoom NIKKOR lens. Dynamic Fine Zoom*, which can be used to achieve approximately 6x zoom while ensuring that resolution remains high throughout the digital zoom range. In addition, the camera offers a number of functions that make capturing beautiful photos easy, including Target Finding AF, where the camera detects and focuses on the primary subject to ensure a sharp capture.

Full HD movies with stereo sound exhibiting superior picture quality can be easily recorded by simply pressing the movie-record button. What's more, the electronic vibration reduction (VR) function can be used to effectively reduce blur caused by camera shake.

*

At the maximum image size. The maximum zoom ratio varies by image size. The zoom ratio indicated for Dynamic Fine Zoom is the combined ratio of optical zoom from the maximum wide-angle position and digital zoom.



4.Enhanced scene modes and editing functions that beautifully preserve once-in-a-lifetime experiences

The camera is equipped with modes that support underwater photography, including [Shoot under water] that applies processing optimized for underwater photography and [Underwater face framing] which automatically detects and captures human faces underwater. As well as this, an editing function [Add clarity underwater] that corrects the blue cast that often occurs with underwater shooting is newly employed for clearer images.

Additionally, more scene modes and editing functions that create special and unique photos that users will want to share with others have also been added. The new scene modes [Picture-in-picture] makes your images appear as if a picture that was taken on an instant print camera is placed in front of the background of another picture. The newly added editing functions include [Add a "little planet" effect] that makes images look like small planets, [Curve pictures] that makes the image rounder, cute new frames that can be added to photos, and even a function for creating a collage from multiple images.

[Add a "little planet" effect]



5.Other features

A [Welcome Screen] which has the ability to change its background based on the number of images captured, and the time of day the camera is being used. It also has an added function that allows the user to select a photo they have taken and use it as the Welcome Screen.
Direct connection to SnapBridge possible with built-in Wi-Fi and Bluetooth®
An Image Lock function that allows users to restrict image deletion by simply holding down two of the buttons on the back of the camera at the same time
[A Smile Timer function] that enables the camera to automatically release the shutter when it detects a smile on the face of a human subject
An Exchange Messages function that allows one of the camera's users to communicate with another by recording and attaching voice messages to photos
A Grading function that allows children and adults to rate or commend each other's photos and movies
* The Bluetooth® word mark is a registered trademark owned by Bluetooth SIG, Inc. and any use of this mark by Nikon Corporation is under license.
* Wi-Fi® and the Wi-Fi® logo are trademarks or registered trademarks of the Wi-Fi Alliance.
* Apple®, App Store®, the Apple logos, iPhone®, iPad®, and iPod touch® are trademarks of Apple Inc. registered in the U.S. and/or other countries.
* Android™ and Google Play™ are trademarks of Google LLC.
* All other trade names mentioned in this document are trademarks or registered trademarks of their respective holders.
Specifications, design, product name and supplied accessories may differ by country or area. Specifications and equipment are subject to change without any notice or obligation on the part of the manufacturer.
The information is current as of the date of publication. It is subject to change without notice.
Share