Nikon releases the NIKKOR Z 24mm f/1.8 S, a fast, wide-angle prime lens for the Nikon Z mount system
September 4, 2019
Sharp and clear imaging throughout the entire frame at any shooting distance, with faithful rendering of subject details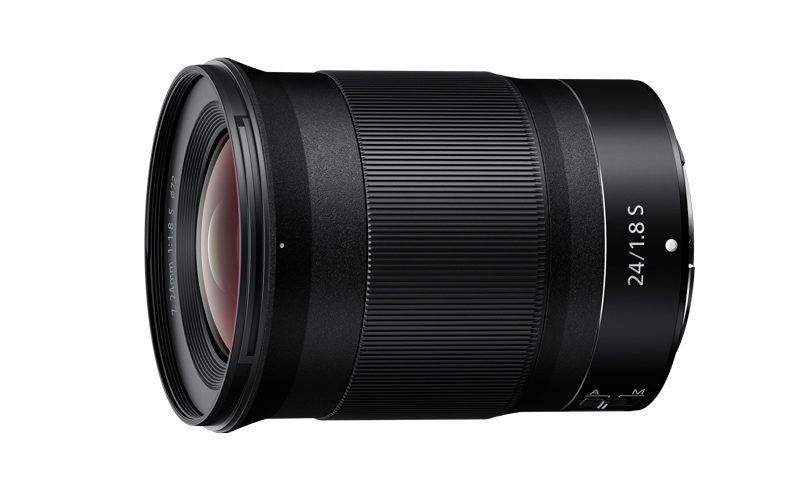 TOKYO - Nikon Corporation (Nikon), is pleased to announce the release of the NIKKOR Z 24mm f/1.8 S - a fast, wide-angle prime lens for the Nikon Z mount system's full-frame (Nikon FX-format) mirrorless cameras.
The NIKKOR Z 24mm f/1.8 S is an S-Line high-performance lens compatible with Z series cameras. With its 24 mm focal length and fast (bright) f/1.8 maximum aperture, the wide-angle NIKKOR Z 24mm f/1.8 S is well suited to a wide variety of scenes - from indoor photography and wide-angle snapshots, to landscapes and starscapes - all of which can be beautifully recorded as high-resolution stills or movies.
This lens achieves superior rendering at any shooting distance. Adoption of a multi-focusing system*1 significantly reduces aberrations, producing images that are incredibly sharp and clear not only at the center of the frame, but all the way to the extreme edges, regardless of the shooting distance. The importance of this feature is emphasized when photographing broad landscapes that require highly detailed rendering throughout the entire frame. Lens optics are constructed with one ED glass and four aspherical lens elements. In addition, the use of Nano Crystal Coat - Nikon's exclusive anti-reflection coating technology - effectively reduces the ghost and flare generated by incident light for sharp and clear images, even when a light source is included in the frame.
The lens barrel is equipped with a control ring that can serve as a focus ring for manual focusing. Functions such as focus (M/A)*2, aperture and exposure compensation can be assigned to it. With its smooth operability, this control ring facilitates comfortable still and movie recording. The lens is also equipped with functions that maximize its performance during movie recording, including an AF mechanism for which a very quiet stepping motor (STM) has been adopted, as well as aperture control that is quieter with smoother operation that minimizes flicker.
The NIKKOR Z 24mm f/1.8 S makes the most of the advantages of the Nikon Z mount system. Despite being a wide-angle lens, it exhibits very little distortion even at the extreme edges of the frame, beautiful blur characteristics (bokeh), and superior point-image reproduction characteristics. Furthermore, effective suppression of color bleeding ensures recording of beautifully sharp and clear images for a wide range of scenes.
*1

Multiple AF drive units work together to control the position of multiple focus lens groups with great precision for superior imaging performance regardless of shooting distance.

*2

A function that enables immediate switching from autofocus to manual focus using the control ring.
Primary features
A high-performance lens that is part of the S-Line, a newly designated grade of NIKKOR Z lenses that adhere to a new benchmark in optical performance, creating new definitions of design principles and quality control
A fast (bright) maximum aperture of f/1.8 enables shooting at faster shutter speeds, even when scenes are dark or dimly lit
An all-purpose lens convenient for both indoor shooting and wide-angle snapshots, as well as for landscapes and starscapes
Equipped with a multi-focusing system that significantly reduces aberrations for excellent imaging performance at any focus distance, including close distances
Constructed with one ED glass element that provides effective compensation for axial chromatic aberration
Adoption of four aspherical lens elements ensures effective compensation for all types of aberration, and superior rendering performance with very little distortion all the way to the extreme edges of the frame
Realizes effective suppression of sagittal coma flare* for superior point image reproduction characteristics beginning at maximum aperture
Nano Crystal Coat, Nikon's exclusive anti-reflection coating technology, suppresses ghost and flare
Equipped with a control ring that demonstrates superior operability with quiet and smooth operation
Adoption of a stepping motor (STM) realizes fast, quiet, and accurate AF drive for both still-image and movie recording
Quiet and smooth aperture control that greatly reduces flicker and makes it well suited for video recording
Thoroughly sealed, ensuring dust and drip resistance
Extremely precise aperture control with the adoption of an electromagnetic diaphragm mechanism
*

A type of aberration that causes the edges of point light sources in night landscapes or similar to appear to flare out like a bird with its wings spread
Specifications, design, product name and supplied accessories may differ by country or area. Specifications and equipment are subject to change without any notice or obligation on the part of the manufacturer.
The information is current as of the date of publication. It is subject to change without notice.
Share