Nikon releases the Z 6II full-frame mirrorless camera
October 14, 2020
Advanced functions for both photo and video in pursuit of greater performance and reliability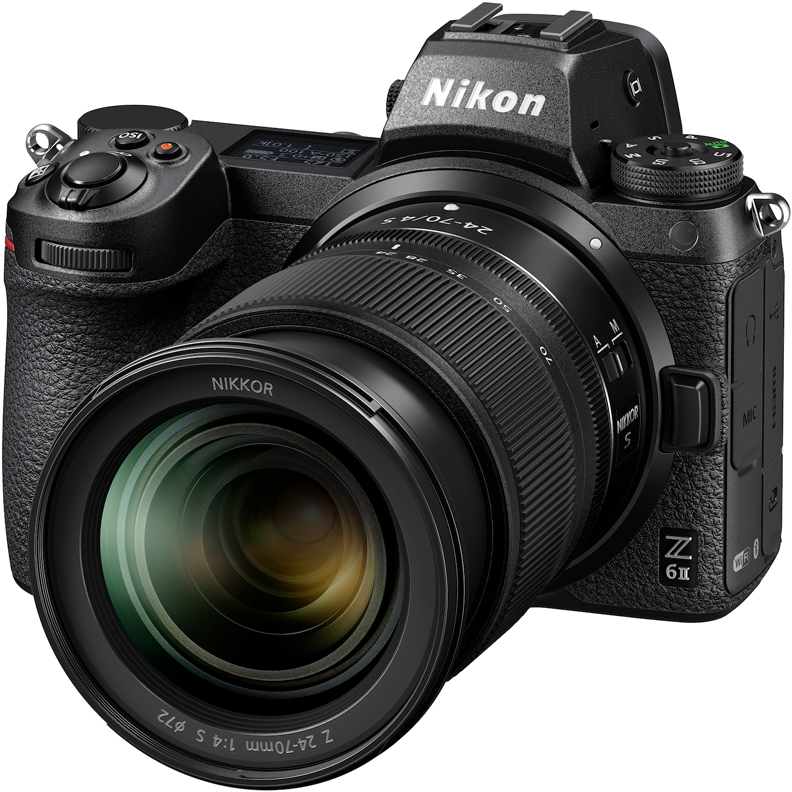 TOKYO - Nikon Corporation (Nikon) is pleased to announce the release of the Z 6II full-frame (Nikon FX-format) mirrorless camera for which the Nikon Z mount has been adopted.
The Z 6II is a full-frame mirrorless camera that supports superior video performance and enables a wide range of expression. Like the Z 7II also announced today, the Z 6II utilizes the large-diameter Z mount to take in rich light, achieving astounding image quality. It inherits the superior rendering capabilities of the Nikon Z 6, while further pursuing greater performance and reliability, responding to advanced still and video shooting needs. As a model that has evolved to thoroughly respond to user needs, the Z 6II inspires creativity and greatly expands the possibilities for imaging expression. The Z 6II supports the creative activities of professional and advanced amateur photographers, especially for shooting scenes that require a range of performance, such as video production and weddings; as well as for capturing subjects with rapid movement, such as people dancing, trains, and airplanes.
Nikon will continue to pursue a new dimension in optical performance while meeting users' needs, contributing to the development of imaging culture, with the hope of expanding possibilities for imaging expression.
Primary Features
1.Video performance that supports advanced imaging production

The Z 6II supports 4K UHD up to 30p and full-HD up to 120p. Eye-Detection AF and Animal-Detection AF can be used with video recording, enabling easy and accurate focus on the intended subject's eye, whether the subject is human, cat, or dog. When the camera is connected to an external recorder via HDMI, 12-bit RAW video*1, *2, *3 can be output in 4K UHD or full-HD format, allowing the abundant information to be utilized with color grading. Further, the N-Log function can be used with 10-bit output*4, while HDR video*4 recording using the hybrid log-gamma (HLG) standard is also supported, responding to a variety of needs.

Additionally, support for 4K/50p/60p, and RAW video output*3 on Blackmagic Design's external recorder is planned for 2021.

*1

The Atomos Ninja V supports Nikon RAW video output, and records videos in ProRes RAW format. Operation is not guaranteed with recorders other than the Ninja V.

*2

4K UHD and full-HD RAW video output is possible with both FX- and DX-based movie formats.

*3

The RAW video output function can be enabled by a Nikon service facility for a fee.

*4

Footage is recorded only to the external device; it cannot be recorded to the memory card inserted in the camera.



2.Still photography further evolved for certain capture of decisive moments

Adoption of Dual EXPEED 6 increases the continuous shooting rate from the approximately 12 fps possible with the Z 6 to approximately 14 fps*1, while the number of shots possible with a single burst of continuous shooting has increased to roughly 3.5x that of the Z 6, from approximately 35 shots to approximately 124*2 shots. Further, AF performance has also been improved, enabling high-precision AF shooting in situations and places as dark as -4.5 EV*3. Eye-Detection AF and Animal-Detection AF are supported in wide-area AF (L) AF-area mode, making it possible to focus only on the eyes of the intended subject. The Z 6II is also equipped with a number of other new functions that pursue improved usability, including a function that maintains focus position when the camera is turned off.

*1

Continuous H (extended) using single-point AF, with AF/AE tracking. 12-bit lossless compressed RAW, with a 128GB CFexpress (Type B) memory card.

*2

12-bit lossless compressed RAW, with a 128GB CFexpress (Type B) memory card.

*3

Using AF-S at f/2.0, ISO 100 and 20°C/68°F with the center focus point selected in single-point AF area mode.



3.Worry-free reliability in a variety of shooting situations

The USB power delivery function can be used not only to charge the camera's battery, but also to deliver power when the camera is turned on*1, enabling stress-free interval-timer shooting and capture of shots for use in time-lapse movies over extended periods of time. In addition, use of the newly released MB-N11 Power Battery Pack, convenient for vertical shooting, enables users to record approximately 1.9x*2 more stills and movie footage. Various functions allow for concentration during shooting. Newly adopted dual memory card slots support not only CFexpress (Type B) cards that are convenient for high-speed transfer of images (as well as XQD cards); SD (UHS-II) cards are also supported, realizing high-speed shooting workflow.

*1

Using an EN-EL15b/ EN-EL15c Rechargeable Li-ion Battery.

*2

With an optional battery pack attached with two fully-charged EN-EL15c batteries. Endurance varies with the condition of the battery, the temperature, the interval between shots, and the length of time menus are displayed.



4.Other features

An effective pixel count of 24.5 megapixels and a high-sensitivity performance of ISO 100-51200*1.
Superior dust- and drip-resistance enables worry-free shooting in harsh environments.
An electronic viewfinder which utilizes Nikon's superior optical and image-processing technologies to offer a clear and natural view.
A large, 3.2-in., approximately 2100k-dot monitor with a tilting mechanism.
Portions of the information display can be hidden with still-image shooting and video recording, allowing the preview of the scene and composition all the way to the edges of the frame.
Simultaneous recording of time-lapse movies with interval timer shooting.
A long-exposure manual (M*) mode that supports exposure times up to 900 s, convenient for shooting scenes that require long exposure time, such as starry skies.
In-camera vibration reduction (VR) that provides camera-shake compensation equivalent to a 5.0-stop*2 increase in shutter speed.
With MF, users have the option to change the rotation direction of the focus ring.
The camera's firmware can be updated to the latest version via the SnapBridge app (Ver. 2.7) without using a computer or card reader.

*1

Sensitivity can be reduced to the equivalent of ISO 50 and expanded to the equivalent of ISO 204800.

*2

Measured in accordance with CIPA standards (using the NIKKOR Z 24-70mm f/4 S at the maximum telephoto position).



The NIKKOR Z Lens Lineup Expansion to 2022
Nikon will continue to lead imaging culture by providing products that stimulate the creative imaginations of customers around the world with a wide variety of high-quality lenses.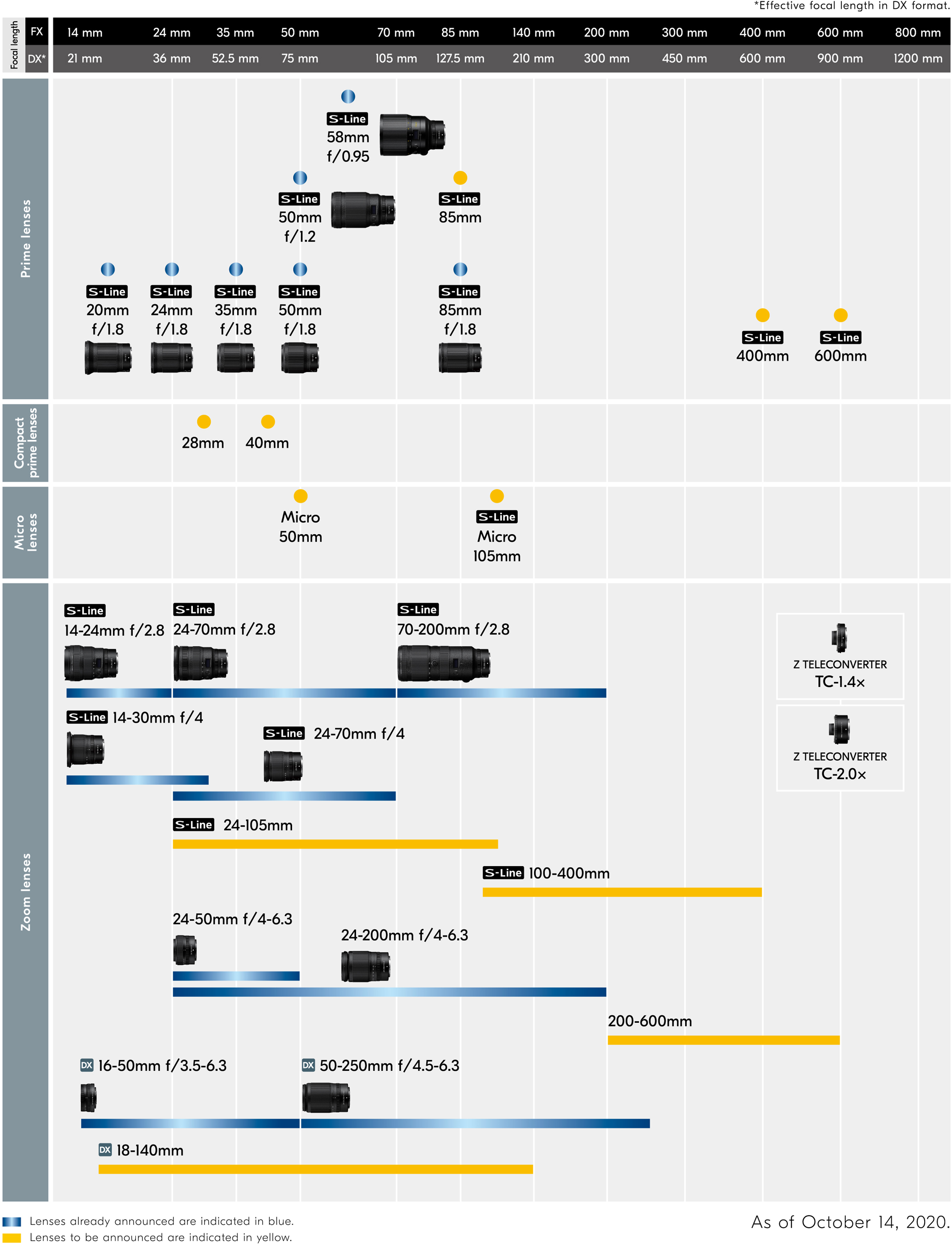 *

Information in the Lens Lineup, including release dates, are subject to change.
*

CFexpress is a trademark of the CompactFlash Association in the United States and other countries.

*

XQD is a trademark of Sony Corporation.

*

Other trade names mentioned in this document are trademarks or registered trademarks of their respective holders.
Specifications, design, product name and supplied accessories may differ by country or area. Specifications and equipment are subject to change without any notice or obligation on the part of the manufacturer.
The information is current as of the date of publication. It is subject to change without notice.
Share