Nikon Exhibits at CES® 2023
January 6, 2023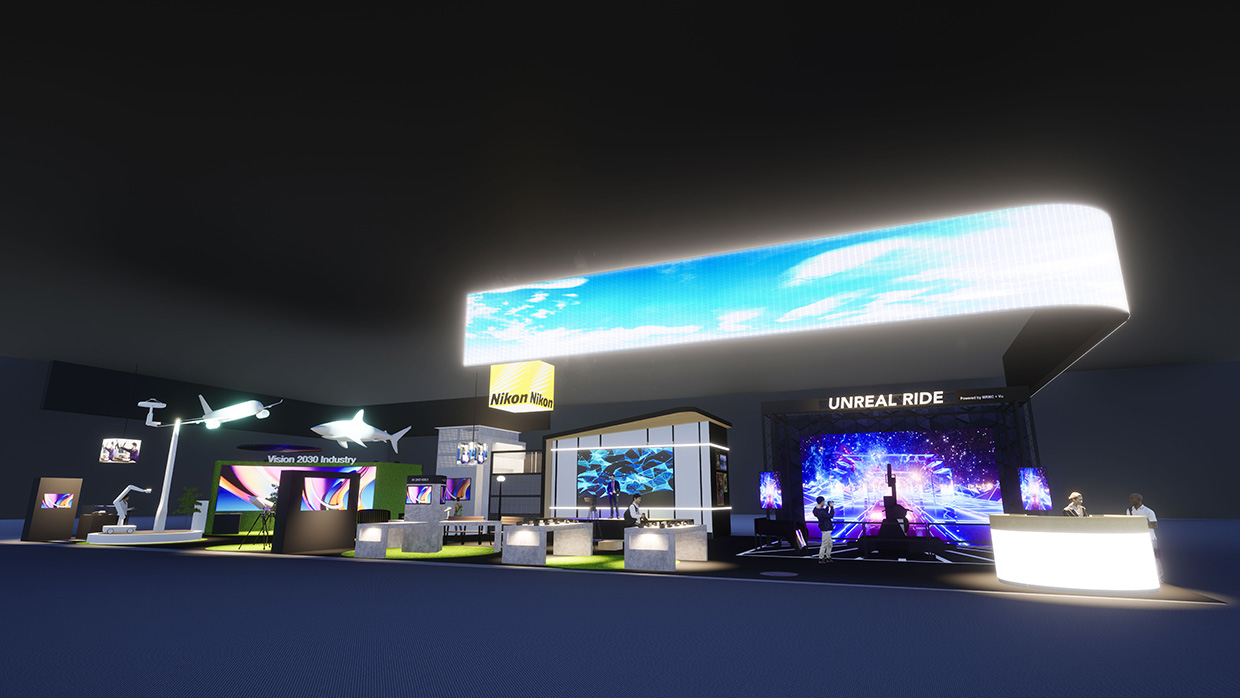 TOKYO - Nikon Corporation (Nikon) will exhibit at CES® 2023, taking place in Las Vegas, Nevada from January 5 to 8.
As set forth in Medium-Term Management Plan (FY2022 - 2025), Nikon aims to become a key technology solutions company in a global society where humans and machines co-create seamlessly by 2030, and at CES® 2023, Nikon will showcase the future of the society Nikon envisages.
Riblet Processing
Inspired by sharkskin, riblet processing uses laser and microfabrication technology to develop micro-surface structures on the object. This can reduce viscosity frictional loss due to the irregular flow of liquids and gases and improve the energy efficiency of various industrial equipment, and when applied to aircraft, wind turbine blades or other parts used in various industries, it can help reduce fuel consumption, power generation efficiency and CO2 emissions. As the realization of carbon neutrality is an increasingly urgent issue, riblet processing is an environmental technology that deserves global attention.
The giant mock-up of a wind turbine blade will be showcased at the venue with drones and industrial robots placed around it. Those drones are equipped with robots that perform riblet processing regardless of operating altitude. Thanks to world-class Nikon precision patterning, metrology and automation capabilities, processing can be performed fully unassisted.
Robot Vision
Nikon has developed Robot Vision systems that can achieve even greater visual acuity than the human eye, enabling robots to identify ultra-small parts and flexibly process them at high speed. Mounted on the end of a robot's arm, they point the way to a future in which robots will be able to carry out complicated tasks that can currently only be performed by humans.
Video footage in the booth shows the placement and recovery of toppled dominos are demonstrating the superior flexibility that such future systems will offer. This superior vision system will boost productivity and bring industry up to a whole new level.
The Unreal Ride
In addition to cutting-edge imaging products such as the flagship full-frame mirrorless camera, the Z 9, Nikon will also be showcasing The Unreal Ride – a demonstration of the power of motion control and virtual production. The Unreal Ride will take participants into an immersive virtual production experience, capturing a video of themselves moving through a virtual environment as if it were the real thing. Participants will sit on a custom-made futuristic motorcycle prop against the backdrop of a giant LED screen. When captured through the lens it will appear as if they are riding through the virtual environment. The ride is captured by Mark Roberts Motion Control Limited - A subsidiary of Nikon's BOLT TM X high-speed camera robot against an LED volume, with the video footage captured by the Z 9. The Unreal Ride combines both the physical and the virtual world. This advanced technology demonstrates how filmmakers can shoot against any background they can imagine, without being bound by time, season, or place. This activation supports Nikon's vision for society where people are connected in ways that transcend time and space with imaging production technologies.
*

The Unreal Ride is collaborated exhibit with Vū Studio.
Under the theme of "Making a better world with trust and creativity," Nikon will introduce various products and solutions from cameras, lenses and astronomical telescopes which improve Quality of Life (QOL) to digital manufacturing solutions bringing innovations in monodzukuri (manufacturing) field.
Nikon will provide innovative technology solutions that anticipate and meet our global customer needs and contribute to a better sustainable world where humans and machines co-create seamlessly to solve societal challenges.
For future information, please check the Nikon special website for CES® 2023.
The information is current as of the date of publication. It is subject to change without notice.
Share