Nikon introduces the Digital Sight 50M Monochrome Camera
Automate acquisition and analysis of high-resolution, wide-field-of-view images for drug discovery research
January 31, 2023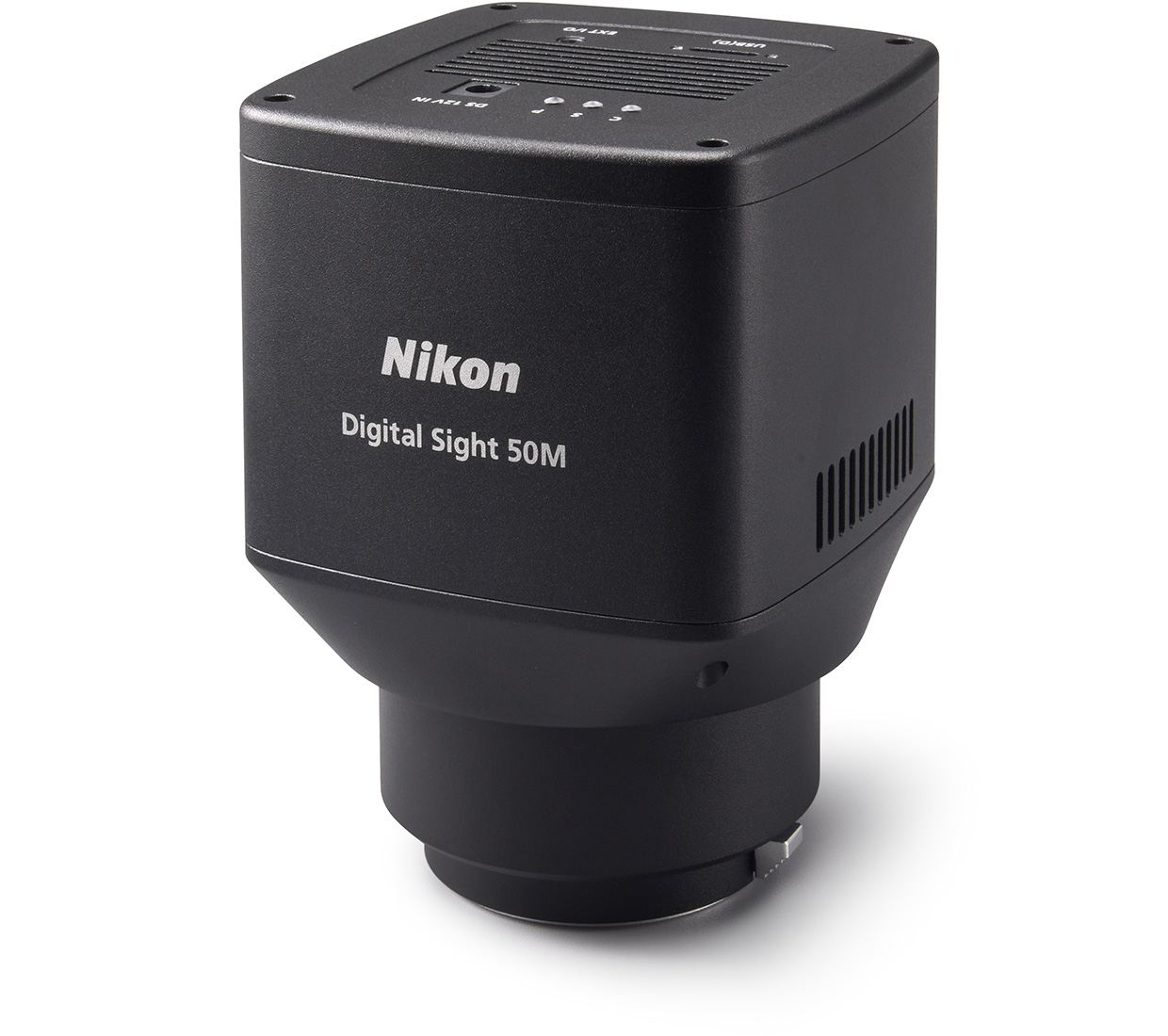 TOKYO - Nikon Corporation (Nikon), announced the release of the Digital Sight 50M monochrome microscope camera for conducting high precision analysis and large volume sampling for use in applications such as well plate screening.
This new 60-megapixel camera makes it possible to efficiently automate the acquisition and analysis with the integrated image software NIS-Elements (sold separately).
Release Overview
| | |
| --- | --- |
| Product Name | Digital Sight 50M Monochrome Microscope Camera |
| Release Date | February 1, 2023 |
Development Background
During drug discovery research, efficacy is required through high-throughput screening, which involves selecting and evaluating chemical compounds that possess the desired effect from a large number of candidate substances. One of the challenges of undertaking drug discovery is capturing and analyzing large volumes of data efficiently and quickly.
Nikon develops cutting edge research microscopes and digital imaging systems and has leveraged this technology to develop the Digital Sight 50M, a microscope camera specifically designed for large-volume, high resolution cell screening with an unprecedented 60-megapixel resolution.
Using the camera in combination with NIS-Elements (sold separately) makes it possible to automate the workflow of acquiring and analyzing images and contributes to improved high-throughput screening, from search and identify to analysis.
Touting support for drug discovery as one of its growth drivers, Nikon is developing products that support facilities involved in drug discovery research with a focus on the precise and efficient evaluation of candidate chemical compounds for new drug treatments.
Main Features
1. Efficiently captures 60-megapixel high-resolution, wide-field-of-view images
The Digital Sight 50M makes it possible to capture 60-megapixel, wide-field-of-view images and conduct high-precision analysis for large volumes of samples, such as cell cultivation well plates.*1 This camera can capture images of individual wells*2 with a single shot and acquire images of regions of interest (ROI) at higher magnifications, thereby making it possible to locate regions without the aid of the naked eye.
*1

Plate-shaped tool with rows of indentations called wells. Each well serves as a test tube or petri dish.

*2

When using 96-well plate.

Conceptual image of observing well plates with a range of magnifications, from low to high.
2. Increased fluorescence sensitivity 1.5x and capture high-speed events, with the reduction of sample damage
With greater fluorescence sensitivity than preceding models, the Digital Sight 50M can capture quickly and with high resolution even in faint light. By reducing exposure time, there will be less damage to samples.
The Digital Sight 50M possesses a region of interest (ROI) mode that allows users to designate the region of a sample and capture images at high speeds. When using an ROI and employing the selectable binning modes, images can be captured at a maximum frame rate of 225.9 fps (640 x 480 pixels, 3x3 binning), making it possible to efficiently capture high-speed signals of moving samples.

3. Improve workflow with integrated software with automated analysis
When used in combination with the integrated image software, NIS-Elements (sold separately), users are able to automate the workflow from image acquisition to analysis by simply inserting the well plate under the microscope. Armed with numerous software functions, the Digital Sight 50M makes it possible to automatically detect regions and assist with imaging areas that meet certain conditions set in advance, quickly and efficiently. When conducting drug discovery research, this contributes to an improved cell-screening workflow.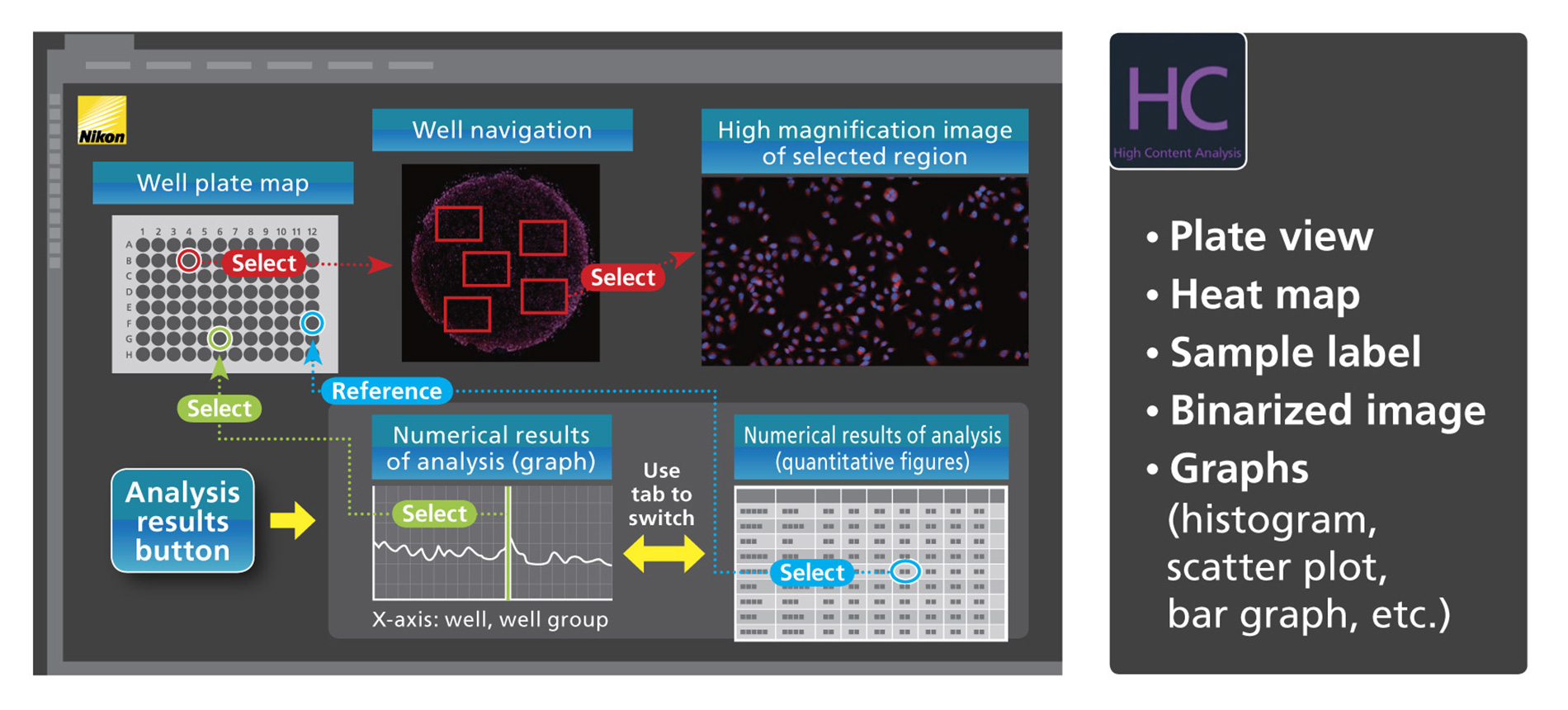 Main Specifications
Swipe horizontally to view full table.
Model
Digital Sight 50M
Image sensor
Nikon FX-format, Monochrome CMOS image sensor
Size: 35.8 x 23.8 mm
Pixel size
3.76 µm
Recordable pixels
9552 x 6336 pixels
Live display mode*
(maximum fps)
Full-screen pixel mode (9552 x 6336 pixels): 6 fps
ROI mode (640 x 480 pixels): 225.9 fps
Exposure time
150 µsec–120 sec
Lens mount
F-mount
Interface
USB 3.2 GEN 1 x 2 (1 to connect to control PC and 1 for input/output external synching)
*

Maximum frame rate depends on exposure time.
The information is current as of the date of publication. It is subject to change without notice.
Share