Nikon releases the MAR-M700MFA, the world's first multi-turn external battery-free absolute encoder with an all-solid-state battery
Contributing to improved functionality and maintenance-free operations in factory automation equipment
November 20, 2023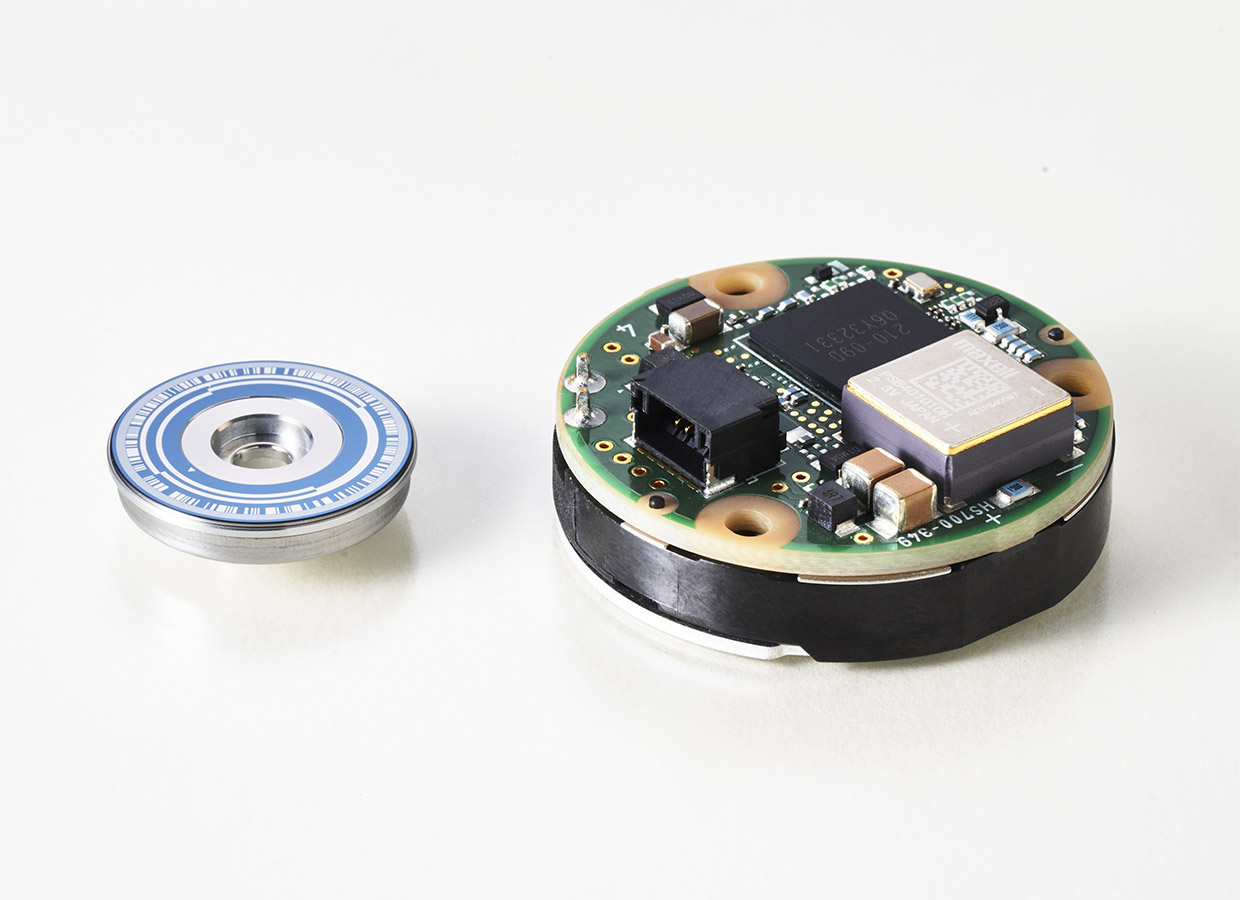 TOKYO - Nikon Corporation (Nikon) is pleased to announce the release of the MAR-M700MFA, the world's first*1 multi-turn external battery-free absolute encoder*2 to use an all-solid-state battery. An absolute encoder is a type of sensor device used commonly in industrial robots on automobile manufacturing lines, machine tools, and many other applications. Its purpose is to detect absolute values for robot-arm rotational displacement and similar measurements.
Nikon's latest absolute encoder, the MAR-M700MFA, offers an increased guaranteed operating-temperature range compared to the company's previous multi-turn external battery-free absolute encoder. This is a result of utilizing the all-solid-state battery which also allows to make this model maintenance-free. Furthermore, this model comes with new features including a predictive maintenance feature and an angular precision self-correction function, which enable an expanded range of possible usage environments for industrial robots along with improved operational consistency and greater precision in motion control.
In pursuit of becoming "A key technology solutions company in a global society where humans and machines co-create seamlessly" as Nikon laid out in their Vision 2030 Medium Term Management plan, they will continue incorporating environmentally friendly new technologies into their products while contributing toward further advancements in industrial robots.
Nikon plans to showcase their new models at iREX2023 (International Robot Exhibition 2023; November 29 to December 2, 2023, at Tokyo Big Sight).
*1

Among multi-turn external battery-free absolute encoders that Nikon could confirm were on the market as of November 20, 2023

*2

This type of encoder is capable of saving information on the previous stop position at the time of power shutoff, as well as multi-turn detection and rotational count data, in nonvolatile memory. Because nonvolatile rather than volatile memory is used, an external power source (from a battery or similar) is required to continuously provide power. Nikon encoders supply the necessary power using an all-solid-state battery embedded in the encoder.
Product Information
Product Name
MAR-M700MFA
Multi-turn external battery-free absolute encoder with an all-solid-state battery
Start of Order Acceptance
June 2024
Development Background
Declines in working populations have led to rapidly accelerating introductions of industrial robots in various fields. Furthermore, market expansions have led to increasingly challenging customer demands in regard to industrial robots, creating pressing needs for more advanced features and greater precision in the absolute encoders which are key components in said robots. Nikon has responded by developing absolute encoders with improved operating-environment resistance and more accurate motion control.
Main Features
1. The MAR-M700MFA is the world's first multi-turn external battery-free absolute encoder mounted with an all-solid-state battery, offers a maximum guaranteed operating temperature of 105 degrees celsius and is maintenance-free
Nikon has eliminated the need for external battery usage by embedding within their encoder an all-solid-state battery developed by Maxell, Ltd. This has enabled Nikon to increase the maximum guaranteed operating temperature to 105°C, which offers greater freedom in motor and equipment design than ever before. Furthermore, this latest model is maintenance-free.
2. Predictive maintenance feature
A new predictive maintenance feature compatible with A-format® communication standards*3 has been incorporated into this model. This enables advance detection of precursors to breakdowns as well as advance notification of approaching part-replacement and maintenance deadlines for industrial robots, which mitigate the risk of sudden equipment stoppages due to breakdowns.
*3

A-format® is a registered trademark of Nikon Corporation
3. Inclusion of a proprietary angular-precision self-correction function
The MAR-M700MFA comes equipped with a proprietary angular-precision self-correction function. It does not require the use of a reference encoder*4 and enables precision corrections to realize better operational consistency and motion-related precision.
*4

A type of master encoder used to guarantee encoder precision (related to positioning information)
4. Designed with consideration for existing-model replacement compatibility
Because the MAR-M700MFA was design with consideration for compatibility when installing it as a replacement for existing Nikon absolute encoder models, there is no need for users to redesign equipment installation points where the new encoder is installed.
Main Specifications
Swipe horizontally to view full table.
Basic specifications*5

| | |
| --- | --- |
| Single-turn resolution | Max. 27-bit (134,217,728 positions/rev.) |
| Multi-turn resolution | Max. 16-bit (65,536 revolutions) |
| Responsive revolution speed | 8,000 min-1 |
| Power supply voltage | DC 5 V (±10%) |
| Current consumption | 120 mA (TYP) |
| Operating temperature range | -20°C to 105°C |
| Outer diameter | Φ35 mm |
| Height | 12.48 mm (TYP) |
*5

Basic specifications are for the developed product at the date of announcement.
Swipe horizontally to view full table.
Communication specifications

| | |
| --- | --- |
| Communication protocol | A-format® |
| Transmission standard | EIA standards RS-485 compliant |
| Transmission method | NRZ code half-duplex serial communication |
| Baud rate | 2.5 Mbps (Options: 4 Mbps, 6.6 Mbps, 8 Mbps and 16 Mbps) |
| Number of signal lines | 4 |
| Bus connections | Supports encoders for up to 8 axes |
The information is current as of the date of publication. It is subject to change without notice.
Share