Strengthening Supply Chain Management
Materiality 6:
Relevant SDGs
Reason for Priority
The processes of development, design, procurement, production, sales, and services form a value chain underpinning the provision of products to customers by business enterprises. The manufactured products delivered to customers must not only be of high quality, but must also guarantee these enterprises' social responsibility on global issues such as human rights, labor, and the environment.
In the procurement process within the value chain, when business enterprises procure raw materials via global supply chains, recognized social issues may be present at individual worksites, such as human rights violations, poor working conditions, environmental destruction, and conflict minerals. The supply chain may also contain many risks with regard to these issues at tier 2 suppliers and beyond.
Business enterprises are required to contribute to solving these social issues by visualizing supply chains and consistently doing business with suppliers who share the same vision and work together to address these issues.
Commitment
The environment surrounding the supply chain is undergoing drastic changes, including the spread of COVID-19 and sustained infections by its Omicron variant, soaring costs of raw materials and other resources due to shifting geopolitical considerations, tightening parts and materials supplies typified by the semiconductor crunch, and disrupted logistics.
Amid an environment like this, the "D" of QCD (Quality, Cost, Delivery ) becomes even more important. To ensure stable delivery within the supply chain, it is essential to strengthen BCP systems across the entire supply chain with the cooperation of procurement partners and to collaborate founded in trust relationships that are stronger than ever before. The Nikon Group aims to deepen its cooperation with procurement partners that comply with Nikon's quality requirements and share our desire for sustainability. Through this cooperation, we will seek to deliver products of higher quality and with greater sustainability to the world, to gain the trust of our stakeholders, and to sustain our corporate activities.
At the Nikon Group, we will seek to establish a supply chain alongside these kinds of procurement partners and work with them to achieve sustainable procurement. By doing so, we will also contribute to the creation of a sustainable society.
Nobuyuki Ishizuka
Executive Vice President,
General Manager of Production Technology Division
Basic Approach for Procurement
Nikon considers its suppliers important partners helping us create and provide products and solutions useful for the world. Based on this belief, we strive to deepen mutual understanding and build trust with these procurement partners, and seek co-existence and co-prosperity with them. Furthermore, as a company working to build a better society and global environment as well as realize sustainable growth, we have established the Nikon Basic Procurement Policy to continually supply the world with useful products and solutions. Under this plan, we carry out our procurement activities in an honest and fair manner.
Main initiatives and results for the fiscal year ended March 2022
CSR Risk Management Through Corrective Action
The Nikon Group takes corrective action, such as CSR assessments, audits, and corrections once every three years. The results of CSR assessments for 211 critical procurement partners accounting for the top 80% of transaction value for the fiscal year ended March 2021 showed that 28 critical procurement partners did not meet the management standards. Since the assessments, two of these companies no longer do business with Nikon, with 26 remaining that were out of compliance. Correction requests were made to 13 companies in the fiscal year ended March 2021, and to the remaining 13 companies in the fiscal year ended March 2022. We provided assistance for making improvements, and corrective actions were successfully completed. As a result, all critical procurement partners were compliant with our CSR procurement management standards.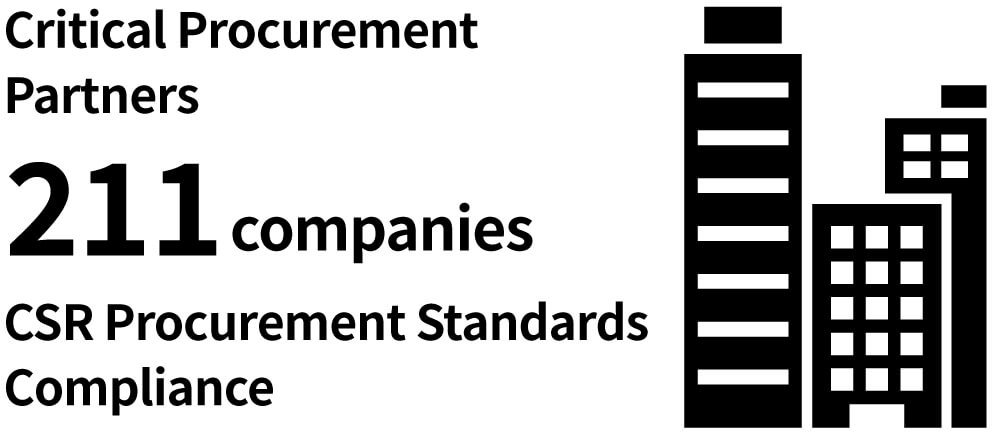 Visualization of Tier 2 Suppliers and Beyond
The Nikon Group has been working to visualize tier 2 suppliers and beyond suppliers since the fiscal year ended March 2021. In this visualization, to understand the state of our tier 2 suppliers, we collect data through CSR assessments using the same method as with our procurement partners.
In the fiscal year ended March 2021, we visualized 60 tier 2 suppliers for 11 procurement partners (trading companies), and in the fiscal year ended March 2022, we visualized 43 tier 2 suppliers for 10 procurement partners (suppliers of outsourced finished goods).
Sustainability Report
For more information, refer to Strengthening Supply Chain Management in the Sustainability Report.
Supply Chain Management
Basic Approach for Procurement

The Nikon Group's Supply Chain

Procurement Partner Management

Supply Chain Materiality

Supply Chain Management System
Promoting CSR Procurement
Basic Approach

Promoting CSR Procurement

Corrective action

Capacity building

Responding to Human Rights Issues Faced by Foreign Workers

Support for Responsible Minerals Sourcing
Promoting Green Procurement
Basic Approach

Environmental Management System Survey and Assessment

Capacity Building

Cultivation of Environmental Management System Assessors
Responsible Minerals Sourcing
Procurement Partner Briefing