The 75th Anniversary of NIKKOR Lenses
March 18, 2008
Tokyo – Nikon Corporation is pleased to announce the 75th anniversary of NIKKOR camera lenses, since the first lens was introduced in 1933. To commemorate this anniversary, we are renewing our commitment to provide NIKKOR lenses that feature advanced functions and superior optical performance. And at the same time, we will introduce several activities to further improve awareness of the NIKKOR brand.
About the NIKKOR brand
NIKKOR is the brand name for Nikon camera lenses. It was created by adding an "R" to "NIKKO," an abbreviation of Nippon Kogaku K.K., the original company name of Nikon Corporation at the time of its founding. In 1933, Nikon marketed its first camera lens under the NIKKOR brand name, the "Aero-NIKKOR," for aerial photography applications.
Since then, NIKKOR has developed extensively into both consumer and industrial markets, becoming a synonym for Japan's leading high-performance lenses. Nippon Kogaku K.K. first began manufacturing lenses for consumer-type cameras in the post-war period, and NIKKOR lenses have come to be cherished as interchangeable camera lenses by photographers around the world. In 1950, The New York Times commented that Nikon cameras and NIKKOR lenses used by photographers for Life magazine were superior to those made in Germany, significantly enhancing the reputations of both Nikon and NIKKOR far and wide.
NIKKOR has always been a leader in innovation, and in 1968 introduced a fisheye lens for SLRs, the OP Fisheye-Nikkor 10mm f/5.6, the world's first SLR lens featuring an aspherical lens.
The Ultra Micro-NIKKOR 105mm f/2.8 introduced in 1962 was the template for projection lenses employed in Nikon semiconductor manufacturing devices that currently boast the world's highest level of resolution.
Nikon continuously introduces new and innovative manufacturing technologies to interchangeable NIKKOR lenses for SLRs. One recent example is Nano Crystal Coat, which originated in the development of the most precise semiconductor manufacturing devices, virtually eliminating internal lens element reflections to effectively reduce ghosting and flare.
In Commemoration of the 75th Anniversary
Nikon created the NIKKOR Lens 75th Anniversary logo. The crescent shape symbolizes NIKKOR lenses' outstanding reliability and superior performance.
(begin delete) From the end of March (2008), (end delete) Nikon will launch a new NIKKOR website (http://www.nikkor.com) featuring stories about NIKKOR recounted by the world's leading photographers, and will include their works and interviews. We hope that through this you will be able to get a glimpse of the fascinating world of the NIKKOR brand.
(The site opening date will be changed in April as of March 31, 2008)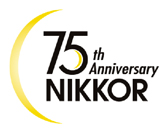 This year, 2008, is also a commemorative year for Nikon cameras, given that it marks the 60th anniversary since the introduction of the first Nikon compact 35mm camera, the Nikon I, in 1948.
The information is current as of the date of publication. It is subject to change without notice.