Nikon D3, D300 and AF-S NIKKOR 14-24mm f/2.8G ED Honored with TIPA European Photo & Imaging Awards
May 13, 2008
Tokyo – Nikon Corporation is pleased to announce that the Technical Image Press Association (TIPA) has honored three Nikon products with significant awards this year. TIPA named the Nikon D3 digital SLR camera "Best D-SLR Professional in Europe 2008," the Nikon digital SLR camera D300 "Best D-SLR Expert in Europe 2008," and the AF-S NIKKOR 14-24mm f/2.8G ED "Best Professional Lens in Europe 2008."
TIPA is a non-profit, independent professional organization open to all magazines within the European photo and imaging publishing industry. Each year a group of editor members representing leading photo and imaging magazines from across Europe choose the TIPA "European Photo & Imaging Award" winners by vote. These prestigious awards for the best photographic and imaging products of the year are widely recognized throughout the industry.
TIPA's official announcement included the following comments on the three winning products:
The Best D-SLR Professional in Europe 2008 – D3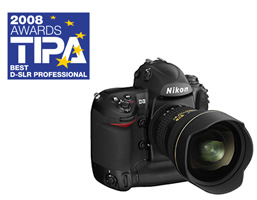 This professional D-SLR is a milestone for Nikon. It's the first camera from the company with a full-frame,'FX' sensor size of 23.9x36.0 mm. As a result of this, each pixel featured on the 12.1-megapixel CMOS sensor has a larger size, and that means the low-light performance of this camera is truly incredible. The Nikon D3 can easily be used at ISO 6400, and if needed, the ISO can be cranked up to an awesome equivalent of 25,600. The rugged, magnesium-alloy chassis provides a solid foundation for the camera, and its fast burst rate of 9 frames per second in full-frame mode provides the necessary speed of use for the most demanding professional.
The Best D-SLR Expert in Europe 2008 – D300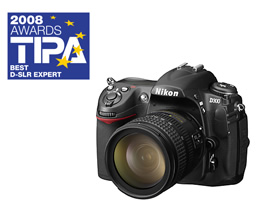 With its solid design, excellent handling and robust, weather-sealed build quality, the Nikon D300 offers professional quality at a reasonable price. The 12.3-megapixel CMOS sensor delivers stunning results – even at ISO 1600 – and it can be boosted to ISO 6400 (Hi 1.0) if needed. The camera sports a fast, responsive autofocus system, the viewfinder offers virtually 100% coverage, the large 3-inch screen gives a bright, clear display and all the high-end features like Live View, HDMI connectivity and antidust protection are included. On top of these exceptional features, the D300 shoots at an impressive speed of 6 frames per second, and will do this in bursts of up to 100 consecutive JPEGs or 27 RAWs.
The Best Professional Lens in Europe 2008 – AF-S NIKKOR 14-24mm f/2.8G ED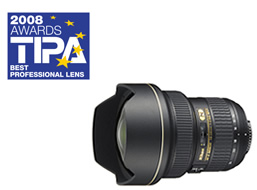 This unique ultra-wide-angle zoom offers an extensive array of shooting opportunities for professionals and photo enthusiasts looking for superb optical quality. The lens construction consists of 14 elements in 11 groups with 2 ED glass elements and 3 aspherical lenses. A newly developed Nano Crystal Coating reduces ghosting and flare between the lens elements and the sensor. The lens offers a constant maximum aperture of f/2.8 at all focal lengths – allowing for shooting in low light conditions – and the close focusing distance on offer is just 0.28 m/0.9 ft. A rounded diaphragm opening with 9 blades makes out-of-focus elements appear more natural. The SWM (Silent Wave Motor) allows quiet and fast autofocus, and permits manual override at any time with no delay.
The awards for these three products – the flagship model of the Nikon FX-format camera, a flagship model of the Nikon DX-format camera, and a professional lens of the NIKKOR brand that celebrates its 75th anniversary this year – mean that Nikon's latest digital imaging technologies as well as its accumulated optical and precision engineering technologies have been highly evaluated. The official award ceremony will take place at Photokina 2008, held in Cologne, Germany in September.
The information is current as of the date of publication. It is subject to change without notice.