Nikon employees volunteer to participate in the "Mt. Fuji Reforestation" project
June 2, 2008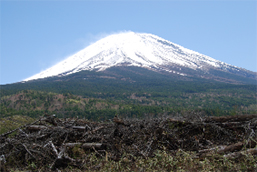 As a part of its social action programs, Nikon Corporation (President: Michio Kariya) is taking part in the "Mt. Fuji Reforestation" project advocated by the OISCA (Organization for Industrial, Spiritual and Cultural Advancement-International, President: Yoshiko Y. Nakano) and is supporting its activities to carry out reforestation of an area at the foot of Mt. Fuji.
Since 2007, the OISCA-International has been promoting this project to many organizations and companies, in cooperation with the Yamanashi prefectural government, with the aim of restoring about 100 hectares of forest. This area, located on the western slope around the second station of Mt. Fuji, had previously been an artificial, single-species forest (Avies Veitchii, Pinaceae) but had suffered from large-scale damage by pests. The project involves planting a variety of indigenous species with the intention of returning the area to its original, natural forested condition as much as possible.
On Saturday, May 24, 2008, 120 volunteers consisting of Nikon employees and their families planted 1,000 seedlings of several tree species that grow naturally around Mt. Fuji. Before starting to plant, participants listened to lectures outlining the serious status of Mt. Fuji's forests and received basic knowledge about afforestation in order to more fully understand the significance of their activities.
In addition to supporting this project, Nikon Corporation is actively tackling many other natural environmental conservation issues: a theme of Nikon's CSR activities.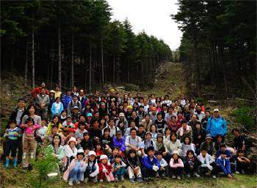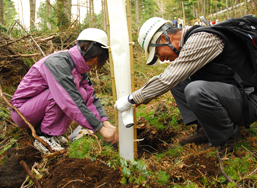 The information is current as of the date of publication. It is subject to change without notice.