Nikon Announces New Inverted Metallurgical Microscope ECLIPSE MA200
September 8, 2008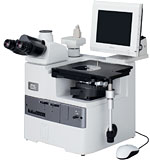 Tokyo – Nikon Corporation (Michio Kariya, President) is pleased to introduce the ECLIPSE MA200, a new-type inverted metallurgical microscope for the material science world that enables microstructural observation, and evaluation and analysis of a variety of materials, including metals, ceramics and polymers. The uniquely designed cube-shaped microscope provides solutions for research and development, and for inspection and quality assurance in the automotive and materials-related industries.
Product concept
This metallurgical microscope is categorized as an industrial microscope. It is used for visual inspection of industrial materials such as metals, ceramics and polymers.
The ECLIPSE MA200 has been developed as a replacement model for the currently available inverted microscopes TME300 and TME200, and a higher-level version of the mini inverted metallurgical microscope ECLIPSE MA100, which was released in November 2006.
The ECLIPSE MA200 boasts improved operation, such as with the objective lens, sample visibility and other operations. Furthermore, digital imaging capabilities have been enhanced by parameter output for image capture and analysis.
Main features
1. Cube-shape ergonomic design; space-efficient; high vibration resistance
The ECLIPSE MA200 requires 33 percent less surface space than the TME300. The new design is more efficient, leading to an improvement in operability and a reduction in stress to user that invariably occurs during lengthy observations.
2. Infinity corrected optical system CFI60
The CFI60 optics delivers bright, clear, high resolution images with superior contrast and minimal flare. The newly designed 1X objective lens allows φ25mm field of view observation, making it possible for the user to fully view the whole image of a sample embedded in resin. Bright/dark field episcopic illumination, DIC illumination, fluorescence illumination and polarizing illumination are also possible. In addition, the special diascopic pillar enables multi-diascopic illumination.
3. Energy efficient
The 12V 50W halogen lamp light source affords a brighter image than 12V 100W, reducing power consumption by 50 percent.
4. Digital imaging linkage
The operation detection nosepiece system sends objective lens information to Nikon microscopes digital camera control units DS-L2 (stand-alone control unit) and DS-U2 (PC-based control unit). Image sizes are automatically adjusted for PC by magnification changes on the microscope. This digital imaging magnification setting is automatically executed, eliminating the possibility of error.
5. Digital image capture (optional)
Nikon Imaging Software NIS-Elements stitching function enables the stitching and analysis of larger images. Automated measurement (optional) in NIS-Elements is capable of grain analysis of metals. In addition, "Metalo" grain-sizing software and cast iron software can automatically analyze cast iron and grain size based on ASTM and JIS.
Specifications
Optical system
CFI60 Optics
Beam-split ratio: Eyepiece tube / back port: 100/0, 55/45
Image orientation
Erect
Observation method
Bright/dark field, simple polarizing/DIC/epi-fluorescence
Focusing mechanism
Focusing nosepiece (fixed state)
Coaxial coarse / fine adjustment knob (torque adjustable)
Coarse adjustment of 4.0 mm per turn
Fine adjustment of 0.1 mm per turn
Revolving nosepieces
MA2-NUI5: Brightfield/darkfield/DIC (quintuple)
LV-NU5A: Motorized brightfield/darkfield/DIC (quintuple)
D-NID6: Brightfield/darkfield with stage detection (sextuple)
D-NI7: Brightfield with stage detection (septuple)
Stage
Dimension: 295 x 215mm
Stroke: 50 mm x 50 mm
Standard accessory: φ22 universal specimen holder (with sample clip)
Illumination
With flare prevention
Field diagram: Dialing continuous variable (centerable)
Aperture diagram: Dialing continuous variable (centerable)
Filter: Double turret (ND16, ND4/GIF, NCB, more options available)
Polarizing block (with or without 1/4 λ plate)
Fluorescence filter blocks: B/G/V/BV
Built-in 12V 50W halogen lamp
Trinocular eyepiece
Siedentopf, adjusts interpupillary distance 50-75 mm
Power input
100-240V, 50-60Hz
Maximum power consumption
1.2A 75W
Dimension
413 (W) x 308 (H) x 337 (D) mm
Weight
Approximately 26 kg
Options
Intermediate magnification unit
Turret (1x, 1.5x, 2x)
Scale
MA2-GR grain size reticle (ASTM E112-63 grain sizing numbers 1 to 8)
Grid reticle (20-line, 0.5 mm apart)
MA2-MR reticle (for 5-100x objective, read in um, dial system)
The information is current as of the date of publication. It is subject to change without notice.