NIKKOR SLR Lenses — 45 Million and Counting
September 22, 2008
Tokyo — Nikon Corporation is pleased to announce that production of our NIKKOR SLR interchangeable lenses has now surpassed the 45 million mark.
This year marks the 75th anniversary of NIKKOR lenses, used by photo enthusiasts and professionals throughout the world, and last month (August), Nikon announced that production had reached 45 million units. Indeed, sales are expanding so rapidly that Nikon added five million lenses of that total since 2007.
Nikon views this achievement as an affirmative evaluation of the company's expertise in manufacturing high-quality products, and as a measure of the reliability enjoyed by a vast and diverse range of users.
The present NIKKOR lineup features 60 lenses* that cover a wide range of applications.
*

As of September 22, 2008 (not including Teleconverters)
About the NIKKOR brand
NIKKOR is the brand name for Nikon's photographic lenses, and this year celebrates its 75th anniversary. NIKKOR was created by adding an "R" to "NIKKO," an abbreviation of Nippon Kogaku K.K., the original company name of Nikon Corporation at the time of its founding. In 1933, Nikon marketed its first camera lens under the NIKKOR brand name, the "Aero-NIKKOR," for aerial photography applications. Since then, NIKKOR has been used as a brand name for Nikon's lenses.
NIKKOR — synonym for reliability and high performance
NIKKOR has become the world's leading name in SLR interchangeable lenses — a legacy of Nikon's original optical designs, advanced production technologies and rigorous quality control.
Nikon's cutting-edge optical innovations include ED (Extra-low Dispersion) glass, aspherical lenses, large-diameter Precision Glass Molding (PGM) aspherical lenses and our original Nano Crystal Coating technology. We have also developed various lens drives and control techniques, such as our Silent Wave Motor (SWM), which enables fast, quiet autofocus operation, and our VR function, which reduces image blur caused by camera shake, thereby realizing more comfortable shooting.
Nikon will continue to deliver products and services that meet and surpass your standards and expectations, while raising the level of our technologies even higher under the strictest quality controls.
Nikon F-mount
Nikon F-mount is a format that has been consistently employed on Nikon SLR cameras and NIKKOR lenses since Nikon's first Nikon F SLR camera was introduced in 1959.
The lens mount for the Nikon F was a bayonet type and its inner diameter was set at 44mm in anticipation of future demand for large-diameter lenses. Since then, Nikon has introduced numerous advanced technologies, such as aperture control, autofocus, and information exchange with the camera body. These technologies have been integrated into the latest digital SLRs and NIKKOR lenses.
In celebration of reaching the 45-million-unit production mark, Nikon designed this new logo.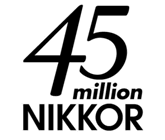 TIPA The Best Professional Lens in Europe 2008 — AF-S NIKKOR 14-24mm f/2.8G ED
The AF-S NIKKOR 14-24mm f/2.8G ED was named The Best Professional Lens in Europe 2008 by TIPA (the Technical Image Press Association) at its "European Photo & Imaging Awards," a prestigious annual award for the finest photographic and imaging products in Europe.
EISA European Professional Lenses 2008-2009 — AF-S NIKKOR 14-24mm f/2.8G ED and AF-S NIKKOR 24-70mm f/2.8G ED
The AF-S NIKKOR 14-24mm f/2.8G ED and AF-S NIKKOR 24-70mm f/2.8G ED were designated European Professional Lenses 2008-2009 by EISA (the European Imaging and Sound Association), Europe's largest multimedia editorial organization, with a membership of 50 audio, video and photo magazines from over 19 European countries.
The information is current as of the date of publication. It is subject to change without notice.