Nikon D3 Awarded iF Product Design Award
January 22, 2009
Nikon Corporation (Michio Kariya, President) is pleased to announce that the Nikon D3 digital SLR camera is the recipient of Germany's International Forum Design's Product Design Award. This award is presented annually by International Forum Design GmbH, sponsor of the globally prominent industrial design awards.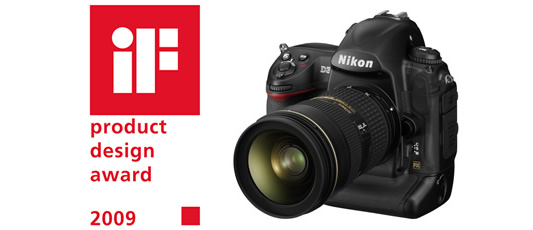 The International Forum Design (iF), based in Hannover Germany, has sponsored the iF Product Design Awards since 1953, selecting industrial products exhibiting superior design from those manufactured the world over, making them highly prestigious and globally respected awards. Aspects including quality of design, functionality, degree of innovation, ease of use, as well as any effects the product may have on the environment are considered with product evaluation and award selection.
The D3 is Nikon's flagship FX-format digital SLR camera, the first FX-format model released by Nikon. In designing the D3, Nikon first asked premier industrial designer, Giorgetto Giugiaro, to present a design exhibiting form and value immediately recognizable by anyone who sees it. Next, our in-house design team thoroughly examined each individual component to achieve a more ergonomic and refined form based on Mr.Giugiaro's original design. Our primary design goal was an intuitive design offering operation that supports accurate and comfortable shooting under any circumstance with a high-quality and attractive look. The D3 has been extremely well received by professional photographers, primarily sports and press photographers, since its release in November 2007.
The information is current as of the date of publication. It is subject to change without notice.