Nikon Introduces New Industrial Microscope ECLIPSE LV150L
May 11, 2009
Tokyo—Nikon Corporation (Michio Kariya, President) is pleased to announce the launch of the new industrial microscope "ECLIPSE LV150L", part of Nikon's LV microscope lineup designed for the inspection of electronic devices, and automobile and aerospace related parts. The LV150L is also suitable for use on the production floor and for educational purposes.
The newly designed LV150L features a white LED light source that provides bright and long lasting illumination. With the LV150L, ESD protection and Nikon LV microscope quality are now available at an affordable price.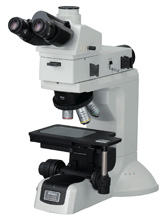 Product Information
| | |
| --- | --- |
| Product name | Nikon Industrial Microscope ECLIPSE LV150L |
| Availability | from May 11, 2009 |
Key Features
1. Newly developed 3.7 W white LED illuminator
The LV150L has a built-in white LED illuminator that is bright and long lasting, and features low power consumption that is friendly to the environment.
The illuminator's maximum lifespan of 50,000 hours reduces the inconvenience of lamp replacement and increases work efficiency.
2. Newly designed CFI60 LE Plan objective lens for brightfield observation
The new objective lens delivers bright, clear images with superior contrast and minimal flare.
3. ESD protection
ESD protection is an LV150L standard that improves anti-contamination and prevents samples from being damaged by electrostatic.
Electrostatic decay time: 1,000-10 V, within 0.2 sec.
4. Three-plate rigid stage
As with all LV series microscopes, the three-plate stage design (6x6, 3x2 stages) ensures durability and ease of operation.
5. Eco-efficient design
Lead-free optics (lens, prisms)
Low power consumption
Specifications
| | |
| --- | --- |
| Optical system | CFI60 optics |
| Observation method | Brightfield, simple polarizing*, DIC* |
| Light source | 3.7 W white LED epi-illuminator |
| Aperture diaphragms | Dialing continuous variable (centerable) |
| Focusing mechanism | Stroke 40 mm (torque adjustable with refocusing mechanism) |
| Maximum specimen height | 47 mm (with a combination of accessories, height up to 116.5 mm can be accommodated) |
| Stage | LV-S6 6x6 stage, LV-S32 3x2 stage |
| Eyepiece tube | LV-TI3 Trinocular (erect image, F.O.V. 25), Y-TB Binocular (inverted image, F.O.V. 22, non ESD type) |
| Power source | 100-240 V, 50/60 Hz |
| Dimensions | 250 (W) x 341 (D) x 505 (H) mm |
*

L-NU5 Nosepiece and LU Plan Fluor only
The information is current as of the date of publication. It is subject to change without notice.