Nikon D700 Wins the CAMERA GRAND PRIX 2009 Readers Award
May 15, 2009
Nikon Corporation is pleased to announce that the Nikon D700 digital-SLR camera has been awarded the CAMERA GRAND PRIX 2009 Readers Award.
This award was established last year to commemorate the 25th anniversary of the Camera Grand Prix. Selected through polling of general users during the Photo Imaging Expo (PIE) 2009 held in Tokyo, March 26–29, this award recognized the great popularity of the D700 with a majority of general users. Last year, the Nikon D3 was the recipient of this award as well as the CAMERA GRAND PRIX 2008 Camera of the Year, giving Nikon digital-SLR cameras the honor of winning these prestigious awards two years in a row.
The D700 is sold in Japan through Nikon Imaging Japan Inc., and has been extremely well received by users, primarily advanced amateur photographers, since its release last July.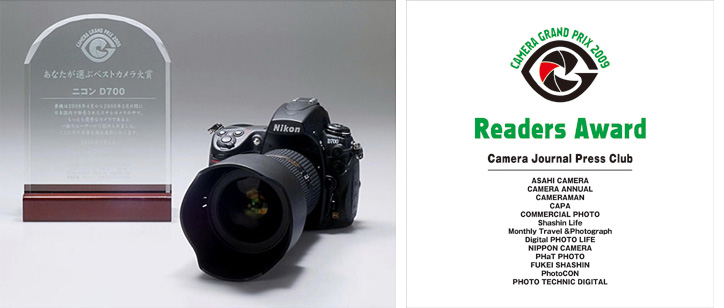 Primary reasons for Nikon D700 selection
The D700 is a digital-SLR camera equipped with the same large CMOS image sensor of 36.0 mm (h) X 23.9 mm (w) as the D3, which has been highly praised by professional photographers. It also offers great cost performance in a compact and lightweight body.
Users who voted for the D700 were extremely pleased most notably with the camera's extraordinary image quality delivering outstandingly low noise characteristics at high sensitivities, its excellent cost performance, as well as its great flexibility and operability.
Nikon D700 major features
12.1 megapixel Nikon FX-format CMOS sensor (36.0 X 23.9 mm)
Extremely wide sensitivity range of ISO 200 to 6400 that offers an extraordinary image quality at low sensitivity settings, while also delivering outstandingly low noise characteristics at high sensitivities. In addition, sensitivities can be increased up to the equivalent of ISO 25600 and decreased down to the equivalent of ISO 100.
Quick response with a power-up time of approximately 0.12 seconds and a shutter release time lag of only 40 milliseconds (according to CIPA standards)
Continuous shooting at up to 5 fps for up to 100 frames. When the optional Multi-Power Battery Pack MB-D10 is used, high-speed continuous shooting at up to 8 fps is possible.
High-speed image processing based on Nikon's exclusive comprehensive digital image processing concept, EXPEED
The Scene Recognition System redefines the scope, accuracy and performance of autofocus, auto-exposure, and auto white balance control
High-density 51-point AF system achieved with newly developed Multi-CAM3500FX autofocus sensor module
Two built-in Live View modes: Tripod and Hand-held
The highly durable shutter has passed release testing for 150,000 cycles
Body made of extremely lightweight and durable magnesium alloy
The Image Sensor Cleaning function, which vibrates the low-pass filter to remove dust and foreign matter
The information is current as of the date of publication. It is subject to change without notice.